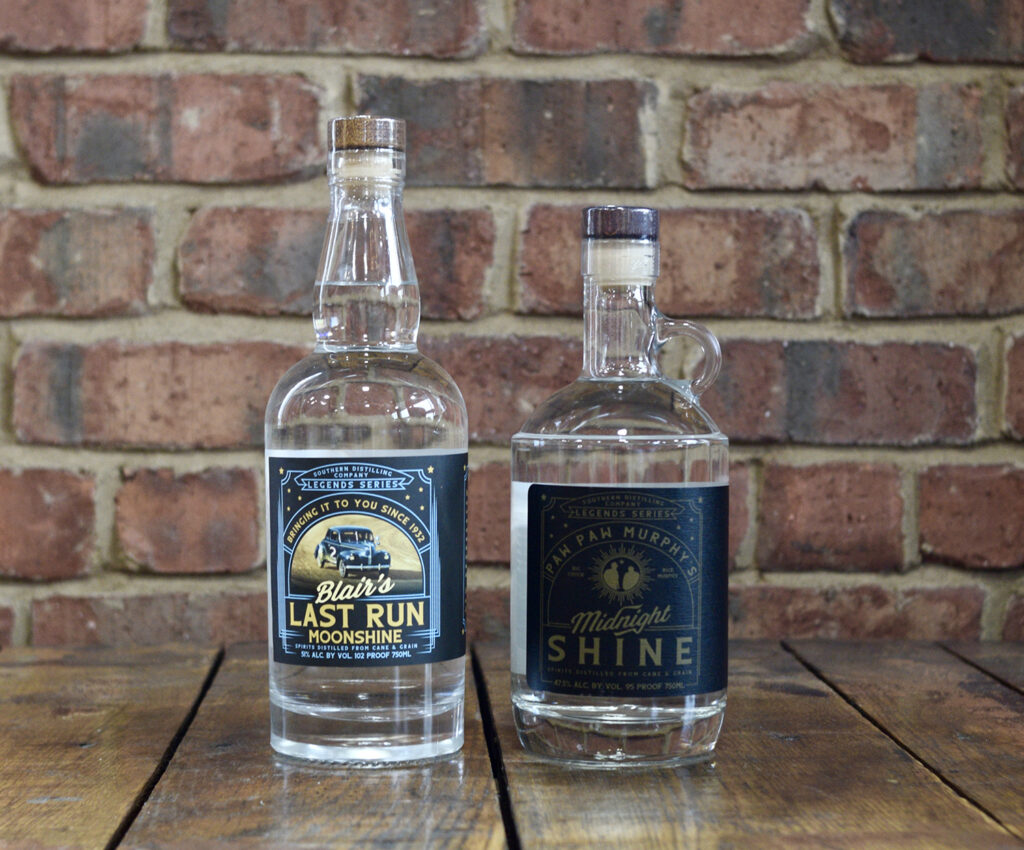 Moonshining is a storied part of North Carolina's long distilling tradition and Statesville-based Southern Distilling Co. is honoring two of the greats through its Legends Series released this month at the distillery. The launch of Bill Blair's Moonshine and Paw Paw Murphy's Moonshine will be celebrated at a special event from 3-7 p.m. June 10 at the distillery in Statesville.
"One of our goals at Southern Distilling is to restore North Carolina's prominence in the spirits industry," said co-founder Pete Barger. "Moonshining is an important piece of the state's history and it is important to us to recognize that — and more importantly, to recognize the distillers who kept that tradition alive during Prohibition at no small risk to themselves. We're honored to work with Bill Blair and Rick Murphy and we are excited to celebrate with them at the distillery."
Immigrants brought their distilling traditions with them to America and adapted their techniques to the local resources, finding North Carolina's extensive waterways and abundant agriculture perfect for making liquor.
"The recipes came from Ireland, starting with potatoes," Murphy said. "Then they migrated down to the foothills and leaned into the local agriculture and found that it made great liquor for bartering." The fresh, clear water running from the mountains also made for great whiskey-making, Murphy said.
Moonshining wasn't just a hobby, it was a livelihood, Blair said. "We did it so we could eat and feed our families when there was no other work to do," he said. "Good people with good intentions who weren't looking to hurt anyone."
Murphy learned from his grandpa who started in the 1890s — corn liquor was the first thing he learned to distill. Blair started distilling in 1923 with tutelage from his father. In 1932, Blair's father was caught hauling liquor from Virginia, engaged in a shootout, and ultimately relied on his dad's connections with politicians and pastors to avoid jail.
Over the years, moonshining's reputation has changed — from the popular Discovery TV show to the popularity of NASCAR and recognition of stock car racing's bootlegging roots.
Blair, whose dad got into moonshining to fund his car racing endeavors and created a raceway, said it no longer feels like moonshining is frowned upon. "Now it's more a badge of honor," he said. NASCAR celebrates 75 seasons this year and will pay homage to its history on May 21 at the historic North Wilkesboro Speedway in North Carolina — including a moonshining tribute that will include Blair being chased by a revenuer on the track.
Southern Distilling Company will host a launch party for Paw Paw Murphy's Midnight Shine and Blair's Last Run Moonshine from 4-7 p.m. June 10, at the distillery, 211 Jennings Road in Statesville. Product will be available to sample and purchase — with Murphy and Blair on-hand to sign bottles. At 4:30 p.m., Southern Distilling co-founder Pete Barger will talk about the Legends Series and introduce Blair and Murphy so they can share their stories. A special cocktail menu will highlight the Legends Series moonshines. The event will also include distillery tours, live music, and food trucks.
Paw Paw Murphy's Midnight Shine ($29.95/47.5% ABV/750mL) and Blair's Last Run Moonshine ($29.95/51% ABV/750mL) are available to purchase at the distillery.