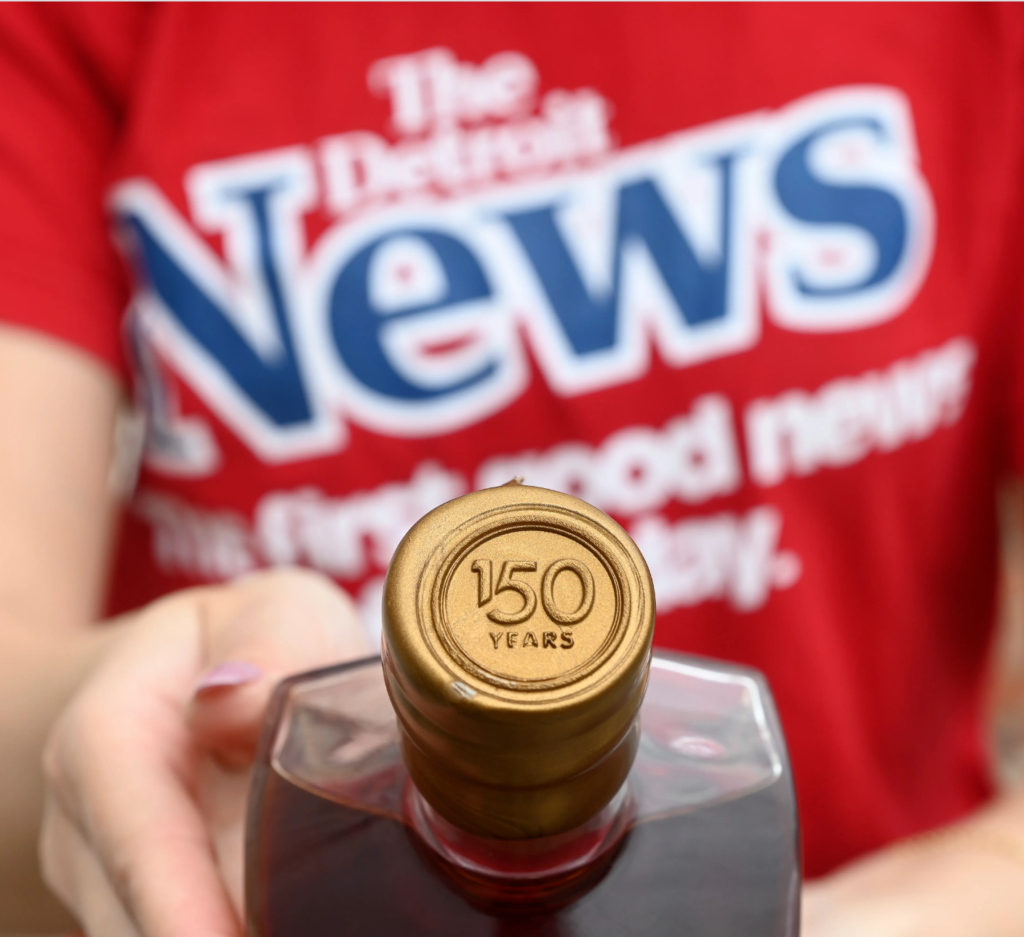 In celebration of The Detroit News' 150th anniversary this year, their newsroom leaders have partnered with Detroit City Distillery to produce a one-of-a-kind bourbon that nods to the city's prohibition history while fundraising for local charities.
The Detroit News celebrates its 150th anniversary on Aug. 23, 2023. The News' history stems back to 1873, when it was first published in the afternoons as The Evening News and in the morning on weekends. Since then, The Detroit News has covered every major moment in history while staying true to its local roots. Looking back at our archives, it was obvious that "Prohibition Out" front page from Dec. 6, 1933, stands as a reminder that our journalism is the first draft of history.
The front page is displayed on the bottle that's hand-dipped in gold wax and sealed with a custom 150 stamp. We hope this makes a perfect collector's item and is just in time for Father's Day.
The bourbon is a 4-year, 3-month-aged single-barrel bourbon whiskey hand-selected by distillery experts, newsroom leaders and the Detroit News Restaurant Critic Melody Baetens on St. Patrick's Day. It's 100 proof!
Bottles retail at $150 each, and $100 of each bottle fundraises for two charities The News selected: The Rosa L. Parks Scholarship Foundation, which supports interns in Michigan newsrooms and CATCH, dedicated to improving the quality of life for pediatric patients and their families at Children's Hospital of Michigan and Henry Ford Hospital. Again, these charities are chosen beneficiaries. They are not part of producing the bottles.
The Rosa L. Parks Scholarship Foundation has given more than $2 million in college scholarships to more than 1,000 Michigan high school seniors since 1980 and is sponsoring four interns at The News this summer.
"This is a unique time for not just our newsroom, but to watch this city shift into a new era," said editor and publisher Gary Miles, who has spent 23 years at the paper and took on the role of publisher in 2019. "Reflecting on our history reminds us of the importance of the work we do each day and makes us strive to produce the best product in the Midwest, which is why we've partnered with a Detroit business to celebrate with an outstanding bourbon."
Detroit City Distillery, founded in Eastern Market in 2014, began production on the historic bottle in February. While their tasting room is on Riopelle St., the bottle was crafted at their Whiskey Factory just a short distance from Maple Street. The Whiskey Factory is the old Goldberg's Brewing and former Stroh's manufacturing facility.
"This was selected as one of the best barrels of bourbon laid down at DCD's historical whiskey factory," said Michael Forsyth, one of three founders of Detroit City Distillery. "This is a huge honor for our distillery to play a small part in celebrating the history of The Detroit News. We take a lot of pride in making things the Detroit way and The Detroit News has been doing that for 150 years. Cheers to 150 more."
Sales go live: 8 a.m. Friday, June 9. Only 250 bottles are available at this link until it sells out. Max 2 per order. EXPECTED TO SELL OUT QUICKLY! Pick up at the Detroit News Release Party starting 4 p.m. at The Detroit City Distillery Tasting Room, 2462 Riopelle St., Detroit.
Note: bourbon orders can not be shipped but can be picked up at the bar at a later date.
Also, supporters don't have to purchase a bottle to attend the party. The Detroit City Distillery has a crafted cocktail to try at the bar for the event and can make specialty mocktails.
Join us for a night of music, food and share story ideas with Detroit News reporters.
What makes this bottle special?
"We make things from scratch," Forsyth continued. "We call ourselves DCD and that comes with a responsibility to honor that – whether it's making bourbon or printing journalism… there's a certain level of excellence with things made in Detroit and this bourbon is a celebration of things made in Detroit. Like the Detroit News' 150 years."
Bourbon will be showcased at Mackinac
Per tradition, Opinion Editor Nolan Finley will host an Off the Record party on Mackinac Island on the lawn of the Grand Hotel on Thursday, June 1. There, Finley, Miles and Forsyth will show off the first bottles of The Detroit News bourbon ahead of its release.
"For me, this connects two of my biggest passions – bourbon and The Detroit News. It touches on the rough and tumble history of the newspaper business," said Finley, who joined the News as a copy boy in 1976 while at Wayne State University and has been editorial page editor since 2000. "When I started here, there was a whiskey bottle in every drawer and an ashtray on every desk. This is absolutely the coolest bourbon bottle design I've ever seen."
& AN AM DRINK!
In addition to the bourbon, The Detroit News also partnered with a former newspaper delivery alumn, now chief bean officer at Detroit Bold to produce a medium roast coffee blend.
The anniversary coffee grounds are a 100% Arabica blend from the coffee-growing regions of Central and South America, including Guatemala, Colombia and Brazil.
"It is a nice, mild roast with a hint of smokiness to it, but it has a really sweet finish and full body," said Nicholas Becharas, CEO and president of Becharas Brothers Coffee Co. "I've been packing coffee since I was 4 years old and we're now going on four generations. This is a great product."
The coffee is on sale exclusively at detroitboldcoffee.com. Partial proceeds (20%) will benefit Detroit News charity partner, the Rosa L. Parks Foundation, by entering the code "DETNEWS."
Learn more about A.J. O'Neil's story and how the coffee was produced here.
Sales for coffee are already live. A 12 oz bag is $17.99, a three pack is $49.99 and six pack is $79.99.
Note: Coffee is shipped directly!