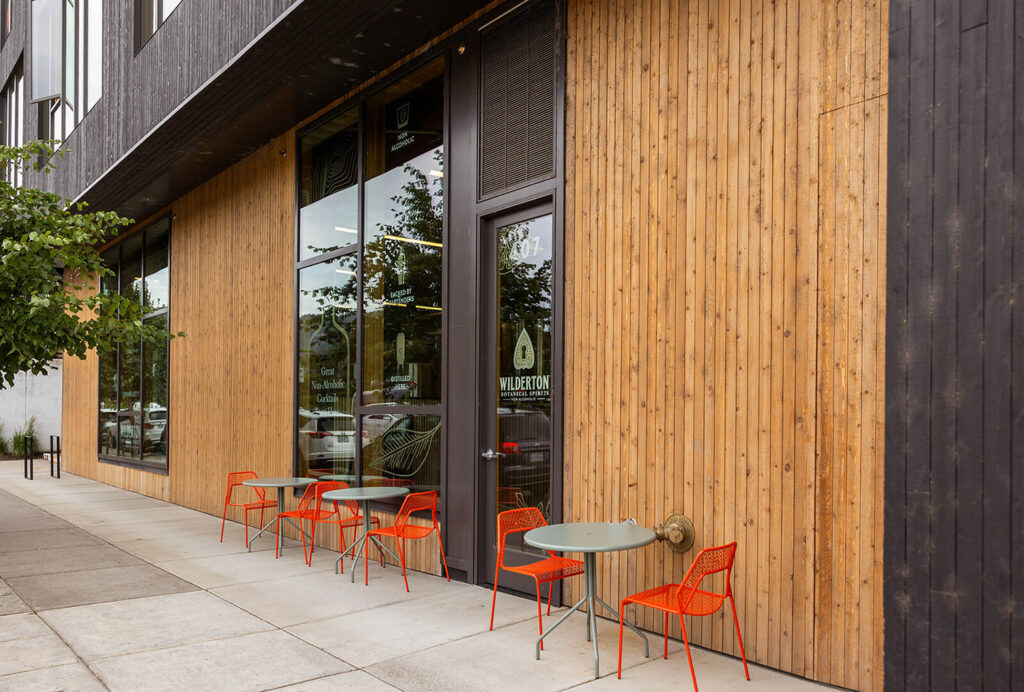 Wilderton of Hood River, Oregon, will open what it calls the country's first exclusively non-alcoholic distillery and tasting room on July 1. Set against the stunning beauty of Hood River, this revolutionary venture represents a significant milestone for the non-alcoholic spirits industry and will serve as a hub for brand and category education, community engagement, and the exploration of non-alcoholic craft spirits.
Wilderton CEO & Co-Founder Brad Whiting shares, "In the traditional spirits world, I have seen firsthand how a home distillery and tasting room provides a powerful anchor for exploration, innovation, and brand transparency. This is crucial in the non-alcoholic space as we introduce a whole new experience to our guests and elevate the appreciation of our craft process and products with bartenders. Spearheading this milestone and doing so in my hometown of Hood River feels especially sweet."
Wilderton's new distillery, attached to the tasting room, will house its distillation and production facility, including a 1,500-gallon stainless vessel for extraction of whole, raw botanicals, and a 1,000-gallon stainless vacuum pot still. The immersive tasting room will be open daily and offer scheduled tours of the facility and a behind-the-scenes look at Wilderton's R&D lab where art, science, and innovation merge. The distillery tours will allow visitors to witness the production process and experience a sensory journey through the various Wilderton botanicals: citrus, bitter roots, exotic spices, precious woods, and everything in between. Distillery tours will be available for visitors weekly and are by reservation only.
Prior to building this state-of-the-art facility, Wilderton was produced at partner facilities in Portland. Seth O'Malley, Wilderton Founding Distiller, expressed his excitement about the implications of this new production facility, "Having the right equipment hand-picked by our team for extraction and distillation at our own Wilderton distillery means we have more opportunities to tinker and continually refine our offerings. It also gives us space to develop new products, including limited edition releases and seasonal offerings. In addition to creating our own production space, it was equally important for us to have a physical space to build community, share ideas, and connect over the rich world of botanical spirits."
Striving to expand inclusivity in cocktailing and provide healthier alternatives for those seeking options that fit a more active lifestyle, Wilderton wanted to create a tasting room that would be a gathering place, encouraging exploration. This tasting room vision was brought to life by the Wilderton team and Christina Tello of Tello Interiors. The Wilderton Tasting Room interior design reflects the unique spirit of the Pacific Northwest. Notably, a stunning 40'x16″ hand-painted botanical mural by J. Brinkerhoff will serve as a signature anchor and pay homage to the botanicals that comprise Wilderton's signature spirits. Sustainability was also a priority during the design process, with the building constructed to LEED Gold standards.
Wilderton's tasting room will feature a range of experiences for visitors, including complimentary guided tastings of their unrivaled spirits and mouth-watering, non-alcoholic craft cocktails for purchase. Additionally, a rotating specialty cocktail will be available along with Wilderton Spritz happy hours each week during the Summer.
The tasting room is set to open its doors on July 1st, 2023. Wilderton's new tasting room and distillery are located at 407 Portway Ave, Suite 100, Hood River, OR with outdoor seating facing the Columbia River and Hood River's bustling waterfront. It will be open to the public seven days a week from 12pm to 6pm. Walk-ins are welcome for tastings, while tours of the facility will require prior appointments. To learn more about Wilderton's new tasting room and distillery or to make a reservation visit https://wildertonfree.com/pages/tasting-room.