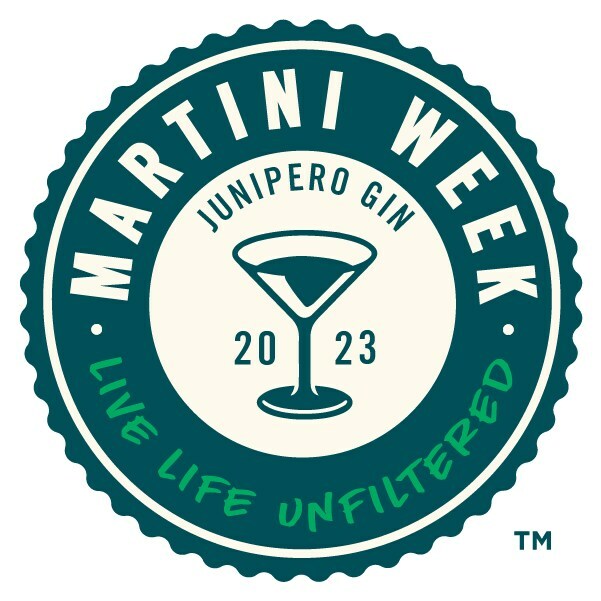 Junipero Gin of San Francisco is hosting the second annual Martini Week and expanding across the U.S. What started in 2022 as a tribute to San Francisco, the birthplace of both the Martini and Junipero Gin, is now a country-wide invitation to honor one of the world's most celebrated cocktails. Participating bars and restaurants in Oakland, Sacramento, Boston, Chicago, Atlanta, Nashville, Brooklyn, and Los Angeles will join San Francisco in bringing Martini enthusiasts together from July 9 through 15, 2023 to raise a glass and do good while enjoying an iconic cocktail. 
Long established as a cornerstone of our cocktail culture, the popularity of the Martini continues to rise across the country. In 2022, CGA by NielsenIQ's cocktail tracker reported that Martinis have overtaken Moscow Mules as the second most popular cocktail in the U.S. right after Margaritas, while various industry surveys have noted Martinis as favorites in several states, including Massachusetts, California, and New York. As such, it only made sense to expand Martini Week™ so more cocktail lovers can join in on the celebration at their favorite cocktail bars. Martini Week™ is the perfect occasion to discover why there is no one, or right, way to order a Martini. Whether you like it dry, dirty, shaken, stirred, or with an olive and/or a twist, the art of ordering a martini is uniquely individual, much like the eccentric city of San Francisco and the bold expression of Junipero Gin.
This year's Martini Week™ will continue to raise funds for the Sisters of Perpetual Indulgence, a San Francisco-born non-profit and cutting-edge Order of queer and trans nuns devoted to community service and activism that now has chapters worldwide. Participating bars and restaurants will be crafting their take on some of the best martini recipes featuring Junipero Gin's bold unfiltered expression. Junipero Gin will donate $2 from every signature Junipero Martini sold during Martini Week™ in support of the Sisters' local chapters. The Sisters will put the money raised towards their grant program that funds grassroots organizations and projects serving marginalized communities and promotes wellness, joy, tolerance, and diversity. Martini lovers can also donate directly by visiting https://www.justgiving.com/sistersofperpetualindulgenceinc.  Last year, Martini Week™ raised $12,000 for the Sisters of Perpetual Indulgence. 
"We are thrilled to bring back Martini Week™ after a fun and successful first year in San Francisco and expand to new cities. This allows more amazing bartenders the opportunity to share their Martini cocktail recipes with drinkers across the country. Junipero Gin encourages everyone to live their life unfiltered. What better way to do so than experimenting with unique recipes of our classic, iconic Martini?" says Brian Radics, CMO of Hotaling & Co. "Also, we are proud to continue our work with the Sisters of Perpetual Indulgence, expanding support of respecting diversity to additional chapters."
For more information and a full list of participating bars and restaurants nationwide, please visit https://juniperogin.com/martiniweek.