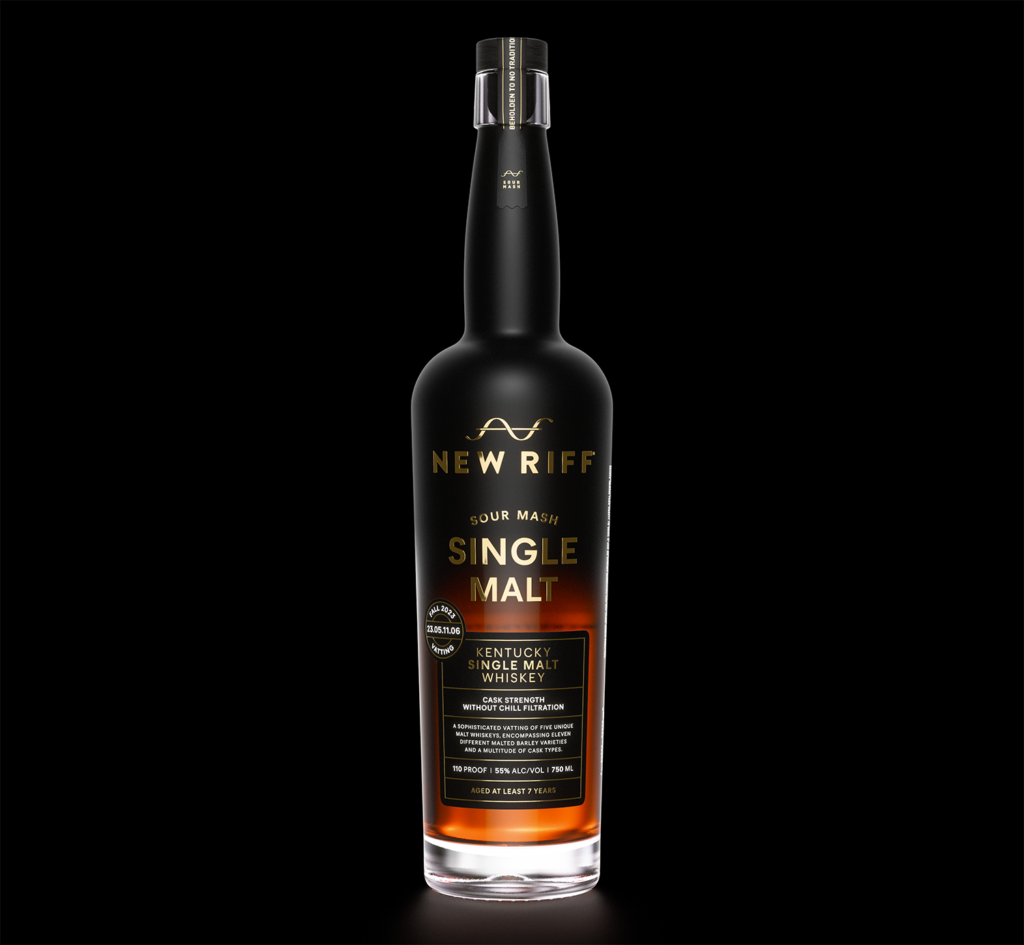 Newport, Kentucky-based New Riff Distilling is announcing its Sour Mash Single Malt project, an unprecedented exploration of the intersection of malted barley and the sour mash Kentucky whiskey making regimen. A provocative riff on a very old tradition, New Riff began distilling batches of malt whiskey back in 2014, in the first six months of the distillery's history — with the first batch set to debut this fall. For more information, visit newriffdistilling.com.
"Even before the distillery opened, we were talking about the possibilities of malted barley distillation using the Kentucky regimen — that is, sour mashing, open fermentation, copper column still and using a continuous doubler for the second distillation," said co-founder Jay Erisman. "Malt whiskeys are made in Kentucky today on a modest basis — and they have a historical basis as well — but they are rarely mentioned and even more rarely bottled."
While Kentucky is certainly Bourbon Country, the founders and distillers of New Riff couldn't let go the idea of making a malt whiskey. The concept is inspired by the Celtic tradition, but also by New Riff Head Distiller Brian Sprance's 15 years of professional brewing experience, encompassing nearly every style of modern beer. Through the reimagination of both old world and new world beer styles, the New Riff Distilling team set out to produce a whiskey that showcased all the wonderful malted varieties they've experienced as brewers.
"Our first malt whiskey came off the still before we'd even been distilling for six months," Erisman said. "After that, one malt whiskey led to another, and another, and many types of casks … and all that led to a full-fledged malt whiskey program. Our Single Malt program represents a level of complexity and exploration in malted barley not seen before in Kentucky's whiskey history."
The distillery has six different malt whiskey mashbills which Erisman said will be blended into a range of New Riff malt whiskeys. The mashbills include whiskeys made with 100% Golden Promise, Maris Otter and Chevallier Heirloom malted barleys as well as mashbills inspired by a peated Scottish barley and two beer-inspired mashbills based on classic Barleywine and Belgian Quadrupel recipes. Each offers a very distinct flavor profile.
The malt whiskeys have matured in a variety of barrels, ranging from new charred oak, de-charred toasted oak, red wine casks, Portuguese brandy casks, classic sherried oak casks, and more.
The core offering will be released in fall of 2023, comprised of five of those six recipes, melded into a complete, composite whole that is "greater than the sum of its parts," Erisman said. Sour Mash Single Malt will be bottled at cask strength, and like all New Riff products, without chill filtration. More information on this offering will be released in upcoming months.