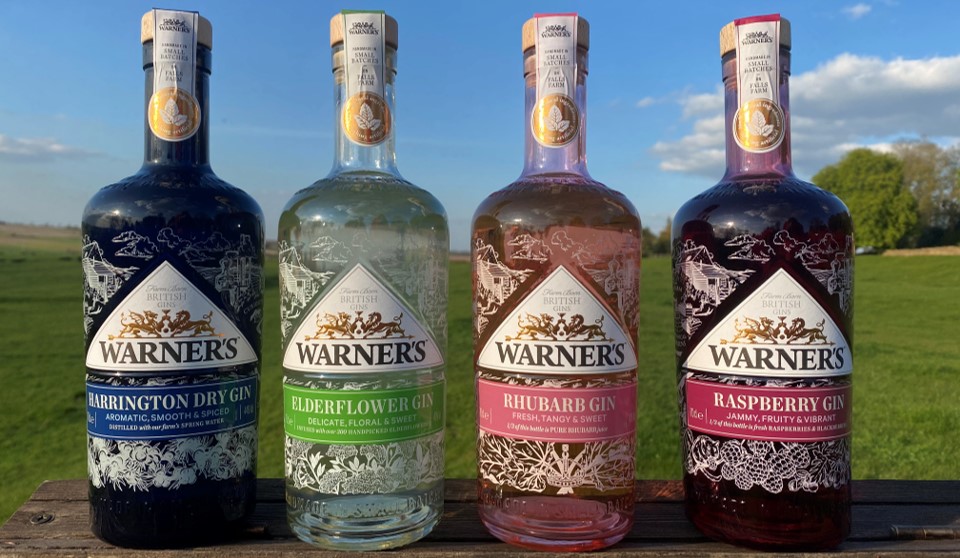 Louisville, Kentucky-based 375 Park Avenue Spirits, a division of the Sazerac Company, is pleased to announce that it has entered into a spirits distribution agreement with the United Kingdom's largest independent craft gin distillery, Warner's Distillery. Under this agreement, 375 Park Avenue Spirits will assume responsibility for all sales of Warner's Distillery's portfolio of super-premium spirits within the United States, as well as supporting the brand's marketing efforts in the U.S. market. 
Founded in 2012 and owned by husband and wife, Tom Warner & Tina Warner-Keogh, the UK's number one independent super-premium flavored gin brand is famed for its market-leading portfolio and notably launched the world's first Rhubarb Gin. Boasting a 100% natural range of gin and non-alcoholic spirits that are crafted on the Warner family's Northamptonshire farm where the business grows and harvests many of its own botanicals, Warner's Distillery is a B Corp-certified business that is hoping to become the leading natural flavor spirits business in (and for) the world.
Commenting on the announcement, Jason Schladenhauffen, President & CEO of 375 Park Avenue said, "We're thrilled to be partnering with Tom, Tina, and the team from Warner's to bring this exceptional range to market for the first time in the United States. This team pioneered the Flavored Gin craze in the UK, so the roadmap has been built, we just need to apply those learnings and then let the consumer decide. We're confident given the early returns from pre-sell efforts and the excitement that's building with wholesaler and retailer partners that the industry will be talking about Warner's as a Rising Star brand come year-end."
Tina-Warner Keogh, Co-founder, and Co-CEO of Warner's Distillery said, "We've been looking for the right partner to enter the United States for a number of years now so we are delighted to be taking this next step in our journey alongside the formidable 375 Park Avenue team. We couldn't hope for a better partner to help us save the world from mediocre drinks whilst helping to save the planet, one sip at a time!"
Tom Warner, Co-founder and Co-CEO of Warner's Distillery added, "Our international footprint has been growing for a few years now, as we continue to show the world that 'real tastes better' with our range of 100% natural Gin and 0% Spirits. Launching into the United States is a dream for us, and we have met a team of brilliant people at 375 Park Avenue Spirits who show a fantastic approach to brand building, so we're very excited to be taking the next step of our journey with them to tell our story to consumers across the U.S."
The Warner's Distillery range will be available in the U.S. during the Summer of 2023 and will initially include the following products: 
Warner's Rhubarb Gin: (40% ABV) A third of every bottle is real rhubarb juice. Real, farm-grown rhubarb – born and bred in the British countryside – are pressed and squeezed until there is enough juice for every bottle. Fresh, tangy & sweet.
Warner's Harrington Dry Gin: (44% ABV) The first edition in the Warner's range and named after the distillery's home of Harrington, a small village in the British countryside. This London Dry Gin is distilled with 11 botanicals and is the most distinctive and bold of them all. Aromatic, smooth & spiced.
Warner's Raspberry Gin: (40% ABV) Fruity lovers, this one is for you. Jam-packed with flavor, one-third of every bottle is real berry juice.  Infused with local hand-picked elderflower and distilled on the Warner's family farm in the British countryside. Jammy, fruity & vibrant. 
Warner's Elderflower Gin: (40% ABV). Inspired by Tom Warner's Mum Adele, each bottle is distilled on the Warner's family farm and infused with over 300 elderflowers, hand-picked in the British countryside.  Delicate, floral & sweet. 
The below 0% Sprits are set to follow in the near future:
Warner's 0% Pink Berry: (0% ABV) Proudly baring all with no alcohol to cover its modesty, this 0% spirit is distilled with real farm-grown ingredients. Fruity bursts of raspberry & blackcurrant sage, spicy Szechuan pepper, ginger, and chilli, all work together to give it the recognizable 'kick' of a top-shelf spirit. Fruity, fragrant & tangy.
Warner's 0% Juniper Double Dry: (0% ABV) This non-alcoholic spirit is expertly distilled with lemon thyme, lemon verbena, and water drawn from the spring on the Warner's family farm in the British countryside. The spicy base, herbal hit, citrus edge & peppery finish gives it the recognizable 'kick' of a top shelf-spirit. Herbal, aromatic & zesty.