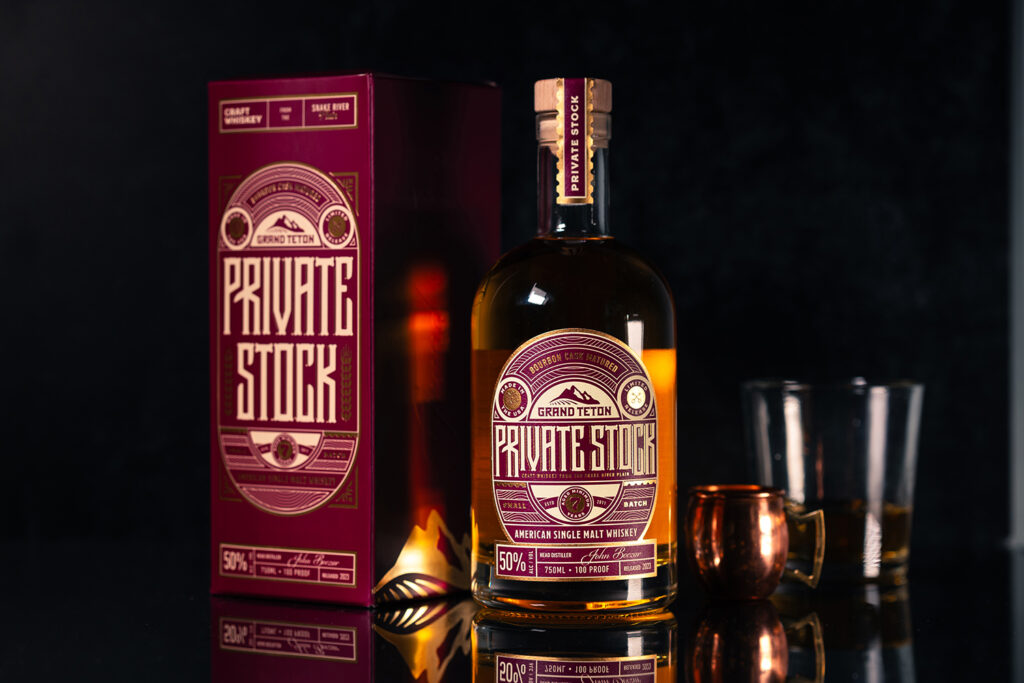 Driggs, Idaho-based Grand Teton Distillery announced the release of its Private Stock American Single Malt Whiskey. Aged in used bourbon barrels for seven years, this release is one of the longest-aged American Single Malts on the market. This is Grand Teton's third bottle in the Private Stock collection and it is now available direct to consumer.
"This is our distillery's second American Single Malt, and this version truly showcases our craft," says John Boczar, head distiller at Grand Teton Distillery. "We wanted to create a pure expression of a single malt and this bottle does just that. Not only has it be aged three years longer than our first ASM, it has 10% more alcohol and has a distinctly unique finish."
Dark golden in color, this whiskey has aromas of sourdough, candied ginger, chamomile, sprouts, mint and cinnamon. Overall herbaceous, it has a soft and dry light body and a chocolate babka finish. This premium whiskey has been aged in 53-gallon barrels at 6,000 feet, in extreme temperatures at the foothills of the Teton mountain range.
A true grain-to-glass whiskey, the single-grain malted barley is all milled, fermented, distilled, aged and bottled in-house. Additionally, Grand Teton Distillery complies with the American Single Malt Whiskey Commission requirements found here.
Product specs include:
● 100% Idaho malted barley
● 750ml bottles
● 100 proof, 50% ABV
● Suggested retail price, $79.95
Grand Teton's Private Stock collection features limited-release, small batch barrels that have been individually selected, proofed with pure mountain water and hand-bottled. Every barrel showcases the craftsmanship of head distiller, John Boczar. Grand Teton Distillery has released unique Private Stock bottles annually since 2021. Additional bottles in this series will be released in the coming years.
Sold in an embossed gift box, bottles from 22 initial barrels are now available for purchase online. In the coming weeks, the spirit will be available at the distillery's tasting room, as well as at select retailers throughout the West.