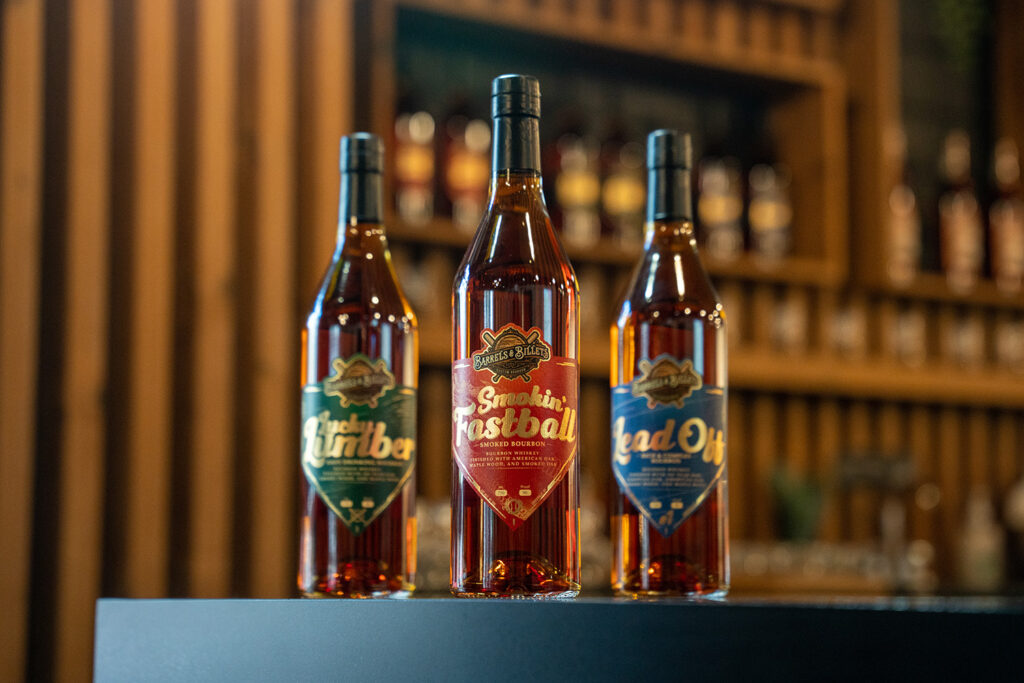 Louisville, Kentucky-based Barrels & Billets, Hillerich & Bradsby Co.'s (H&B) unique experience where guests blend, create and bottle their very own bourbon, has joined the Kentucky Distillers' Association—the historic nonprofit trade group that unites and leads Kentucky's signature Bourbon and distilled spirits industry—as a craft member.
Located at H&B's downtown Louisville campus at 8th & Main Street, the bourbon experiences enjoyed by locals and tourists alike opened in February 2022 and has seen more than 13,000 guests in its first year. 
"We look forward to working with the Barrels & Billets team as we continue our tireless work to unite our historic industry and secure Kentucky as the one true home for Bourbon," said Eric Gregory of the Kentucky Distillers' Association. "We congratulate them on their success and gladly welcome them to the KDA."
More than just a tasting, guests at Barrels & Billets blend with six award-winning WoodCraft finished bourbons including a 200-year-oak, European oak, American oak, cherry wood, maple wood and smoked oak. During the experience, guests learn the art of bourbon blending before the chance to test their skill at blending to their own preferred flavor profile. Once the blending experience is complete, guests are able to have their unique recipe bottled onsite in a personalized, commemorative package.
"The entire Barrels & Billets team is ecstatic to join KDA and play a role in such an incredible Kentucky industry," said Patrick Shortridge, director of guest experience at Hillerich & Bradsby Co. "This is a big milestone for us and we look forward to building onto Barrels & Billets' fun and unique take on what people can experience in downtown bourbon." 
Home Plate Series bourbons celebrate baseball heritage
Along with the position on the bourbon trail, Barrels & Billets will also release a suite of three new bourbons. The Home Plate Series featuring baseball iconography includes Lucky Lumber Easy Drinking Bourbon, Lead Off Rich & Complex Bourbon and Smokin' Fastball Smoked Bourbon. Available exclusively in the Barrels & Billets shop, each bourbon is offered for a retail price of $40 and is presented at 90 proof/45% ABV.
Lucky Lumber shows a lithe and lively bouquet of Bing cherry, dried flower, white chocolate, and raw honey. On the palate, sweet maple flavors arise with notes of baked molasses and a lingering impression of ripe berry fruit.
Lead Off offers a bold yet inviting nose that carries hints of freshly baked snickerdoodles, cigar smoke, and saddle leather. It's remarkably soft on the palate from start to finish, bringing flavors of stewed maraschino cherries, baked orchard fruit, and candied pecans before clove spice kiss the finish.
Smokin' Fastball's complex nose showcases a medley of young leather and cigar box aromas with muddled orange peel and bran muffin. Comforting flavors of ripe stone fruit, baked apricots, and vanilla custard come through, rounding out and creating a pleasingly smooth profile that lingers through a smooth finish.
"We entered the tourism and entertainment industry more than 25 years ago when we opened the doors of Louisville Slugger Museum & Factory right here on West Main," said John Hillerich, president & CEO of Hillerich & Bradsby Co. "We're excited to join KDA with a one-of-a-kind, fun experience that not only adds to the excitement of historic Main Street, but also complements Louisville's flourishing bourbon tourism industry. "
Barrels & Billets is one of 3 venues at H&B's campus located at 800 W Main St. in downtown Louisville, including the award-winning Louisville Slugger Museum & Factory and The Skybox, a 5,000 sq. ft. event space.
Tickets are available at BarrelsAndBillets.com. Custom bourbon experiences are offered for $35 per person and custom blend 750ml bottles can be purchased for $50. Guests can also try the Flight School experience where they can sample 3 bourbons and 3 different cocktails crafted with the Home Plate Series bourbons. A variety of Barrels & Billets bourbons are available exclusively at the attraction, including its premium bourbon J. Frederick, created in honor of J. Frederick Hillerich who immigrated to America from Germany on October 7, 1842 as a woodworker and made barrels for the burgeoning whiskey business.