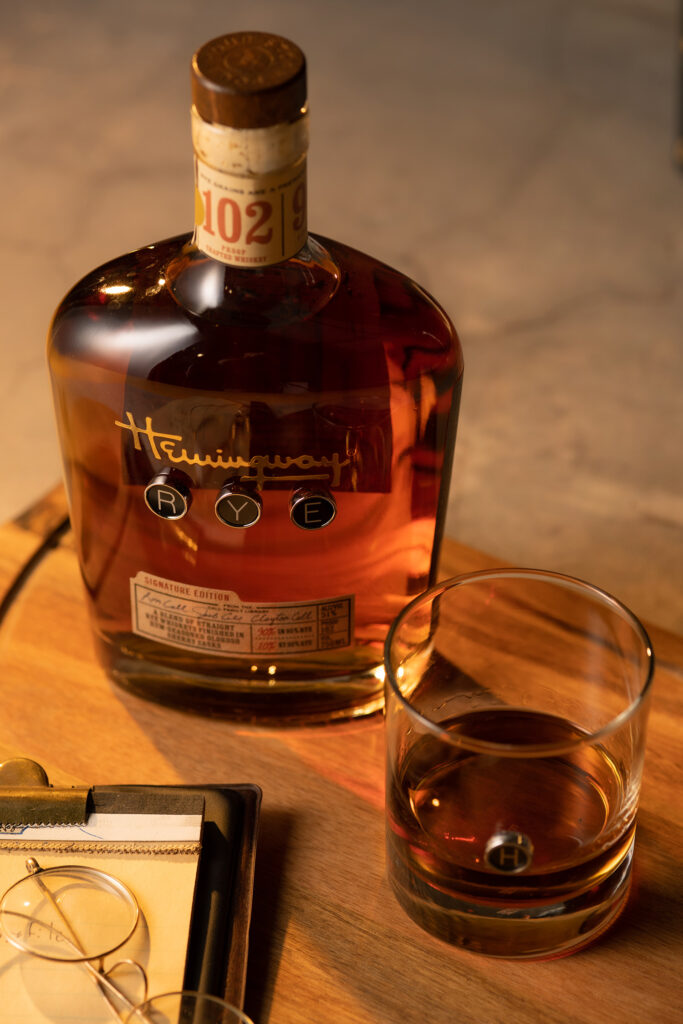 Beaver Dam, Kentucky-based Hemingway Whiskey Co. announced the highly anticipated debut of its core expression, Hemingway Rye Whiskey Signature Edition. This new offering is family-made and builds upon eight generations of Kentucky whiskey heritage. In addition to Kentucky, Tennessee and Florida, Signature Edition will be available in 10 new states for the brand. It can also be conveniently purchased online in most states via hemingwaywhiskeys.com.
Hemingway Rye Whiskey Signature Edition represents the coming together of three families, eight generations and one mission: to tell a new story, rich in history, via high-quality Kentucky rye whiskey. The new whiskey draws its inspiration from the legacy of the legendary American author, journalist and storyteller, Ernest Hemingway. His family works in true collaboration with Hemingway Whiskey Co., sharing behind-the-scenes stories of the writer and helping the team uncover hidden gems to be used as inspiration for the brand.
The Groth family, including Hemingway Whiskey Co. founder and leader Steve Groth, a whiskey pioneer and co-founder of the revered Angel's Envy Bourbon, brought the brand to life through rich storytelling and authentic promotion. The Call family, seventh-generation master distiller Ron Call and his sons, Call family ambassador Clayton Call and eighth-generation master distiller Jacob Call, hand source, blend and finish the rye whiskey, building on generations of distilling expertise and innovation. The Call family's whiskey roots reach back to the earliest days of bourbon when Samuel Call distilled whiskey on his Kentucky farm in the late 1700s. This whiskey stands as a testament to their passion, tradition and commitment to crafting high-quality spirits.
"We've been thrilled to see the overwhelmingly positive reception to our inaugural whiskey releases, and we couldn't be more proud to share our Signature Edition," said Steve Groth, founder of Hemingway Whiskey Co. "Our families came together to create this new whiskey, filled with tradition and passion, and we can't wait to hear what people think." 
A New Signature Blend
The first batch of Hemingway Rye Whiskey Signature Edition is a blend of straight rye whiskeys – 90% 6-year-old Indiana Straight Rye and 10% 4-year-old Kentucky Straight Rye, the latter crafted by master distiller Jacob Call. Both whiskeys undergo a special finish in Master Distiller Ron Call's own rum-seasoned Oloroso Sherry casks, resulting in a perfect balance of sweet and spicy flavors. The whiskey is a robust 102 proof and a dark amber color. Rich and full of character, this new rye whiskey has notes of dried fruits and raisins, toasted nuts, nutmeg and cocoa on the palate, and followed by a hint of citrus zest. This leads to a complex grand finale of baked fruit, a touch of baking spices, and a lingering caramel sweetness. Judges at the ASCOT Awards called Signature Edition "a lovely, lovely whiskey" and commented that it has "a beautiful balance between this warm, spicy, and orange peel flavored whiskey and the wine barrel influence."
"Crafting a new signature whiskey is a significant endeavor for any distiller, and the entire Hemingway Whiskey team has worked hard to get it just right," said Jacob Call, a master distiller of Hemingway Whiskey Co. "When tasting the new Signature Edition Rye Whiskey, you'll get a smoothness mixed with complexity. It has the traditional rye spice notes but because it was finished in my dad's rum-seasoned Oloroso Sherry casks, it has just the right sweetness to soften the spice. This is a whiskey we were all extremely proud to put our signatures on."
The home for Hemingway Rye Whiskey will be the new Western Kentucky Distilling Co. in Beaver Dam, Kentucky, co-founded by Jacob Call. The distillery is proud to support the Kentucky economy by purchasing all equipment in the state and using all locally grown Kentucky corn. The distillery will be open for visitors in the future, when Hemingway Rye Whiskey fans will be able to see the passion that goes into each bottle first-hand.
Presentation and Accolades
This latest release comes in a custom bottle with a typewriter key design alongside Hemingway's famed signature. The label is adorned with the signatures of the esteemed Call Family and an accompanying neck piece showcasing the expression's special attributes on a rye grain receipt signed by Jacob Call. The bottle includes a commissioned portrait of Hemingway, created by UK typewriter artist James Cook using only a 1950s typewriter, that reveals itself when the bottle empties. The portrait includes hidden words that are part of the brand story. Unique to this offering, the bottle presents an opportunity for aficionados to delve deeper into the story of Hemingway Rye and get to know the accomplished families behind it. Additionally, there are a few delightful surprise items to be discovered; something imbibers will come to expect from the Hemingway Whiskey Co.
For the launch of Signature Edition and in honor of Ernest Hemingway's legacy as a master storyteller, the Hemingway Whiskey Company also announced the Hemingway Six-Word Story Challenge. Inspired by Hemingway's famous six-word short story, "For sale: baby shoes, never worn," this challenge invites participants to create their own six-word tales. To enter the challenge and have your story voted on, visit http://hemingwaysixword.com.
Hemingway Rye Whiskey Company has already garnered significant acclaim, receiving 97 Points from Tasting Panel, awarded 5 Double Platinum, 4 Platinum, 2 Double Gold, 4 Gold, 'Best of Year' packaging, and was one of the most decorated brands at the 2023 ASCOT Awards spirits competition by the award's founders.
Availability and Pricing
Hemingway Rye Whiskey Signature Edition is now available for purchase with a suggested retail price of $79.99 for a 750ml bottle online and in-store in Florida, Kentucky, and Tennessee, along with new states for the brand including California, Connecticut, Georgia, Illinois, Indiana, Michigan, Missouri, Montana, South Carolina and Texas. For additional information about Hemingway Rye Whiskey and upcoming releases, secure your bottle online, find a local retailer, or join the Hemingway Social Club, visit www.hemingwaywhiskeys.com.