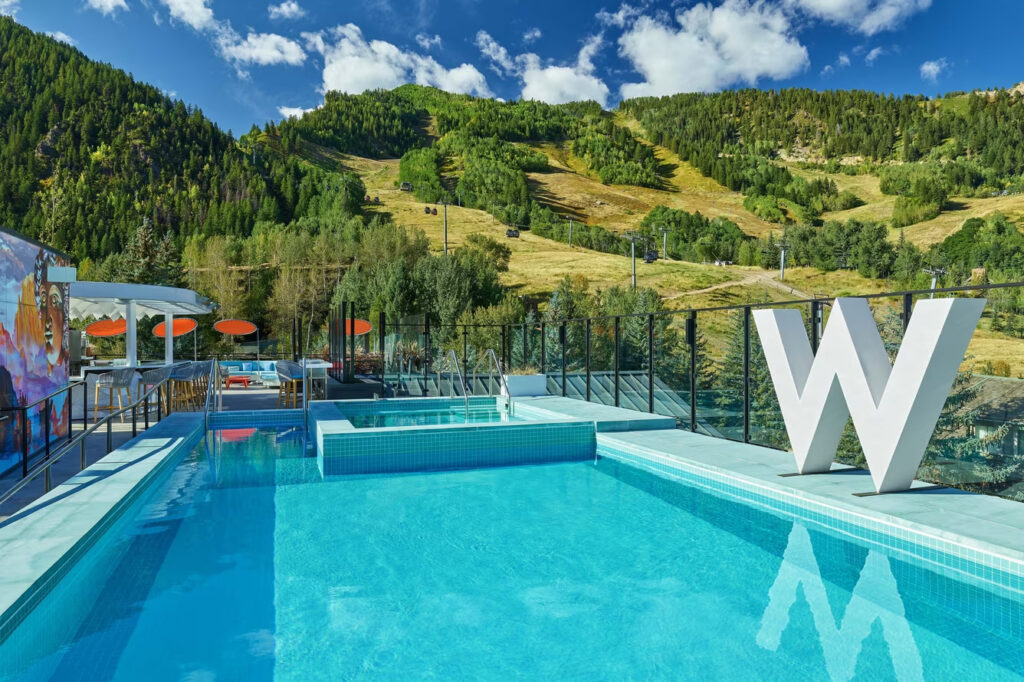 W Aspen, the home for creative purveyors and a year-round destination for entertainment and adventure in Aspen, Colorado, is continuing its successful bar takeover series with the next installment featuring Three Dots and a Dash for an exclusive two-day pop-up, Aug. 17-18, on the hotel's iconic Rooftop WET Deck. Aspen's only year-round, open-to-the-public rooftop venue will bring the vibes of Chicago's award-winning, speakeasy-style take on a tropical bar with acclaimed Three Dots and a Dash beverage director, Kevin Beary, overseeing the menu and cocktail creation.
"Three Dots and a Dash has such a distinct style when creating and presenting their cocktails that pairs so well with the personality of W Aspen. We are excited to bring their tropical expertise to the mountains." said Chris Jaycock, general manager, W Aspen. "The enthusiasm we have seen surrounding our previous pop-ups inspires us to continue welcoming more venues from around the world to W Aspen."
Guests will enjoy a menu of signature Three Dots and a Dash cocktails that feature the freshest exotic fruits and spices, finest rums and distilled spirits, and house-made cold-pressed juices and elixirs. A few of the famed cocktails that will be available on the WET Deck Rooftop include the Strawberry Jungle Bird, made with Overproof Jamaican rum, Select Apertivo, lime, pineapple, and clarified strawberry and the Italian Astronaut, a combination of London dry gin, Amaro Montenegro, lemon, almond orgeat and passionfruit.
The Three Dots and a Dash pop-up marks W Aspen's fourth takeover experience. The hotel first welcomed Brooklyn-based Ponyboy to the Grotto in the winter of 2022; the collaboration has resulted in Ponyboy becoming Aspen's growing after-hours hub. W Aspen has most recently hosted Brooklyn's Mexican hotspot, Aldama, at the WET Deck Rooftop and New York speakeasy, Employee's Only.
W Aspen looks forward to continuing its ongoing pop-up series with Three Dots and a Dash this August and introducing top bars and restaurants from around the world to Aspen in the coming months. This experience is open to all individuals 21 years of age and older.
To learn more about the W Aspen, visit Marriott.com/aspen or call 970-431-0800. Find the W Aspen on Instagram and Facebook.