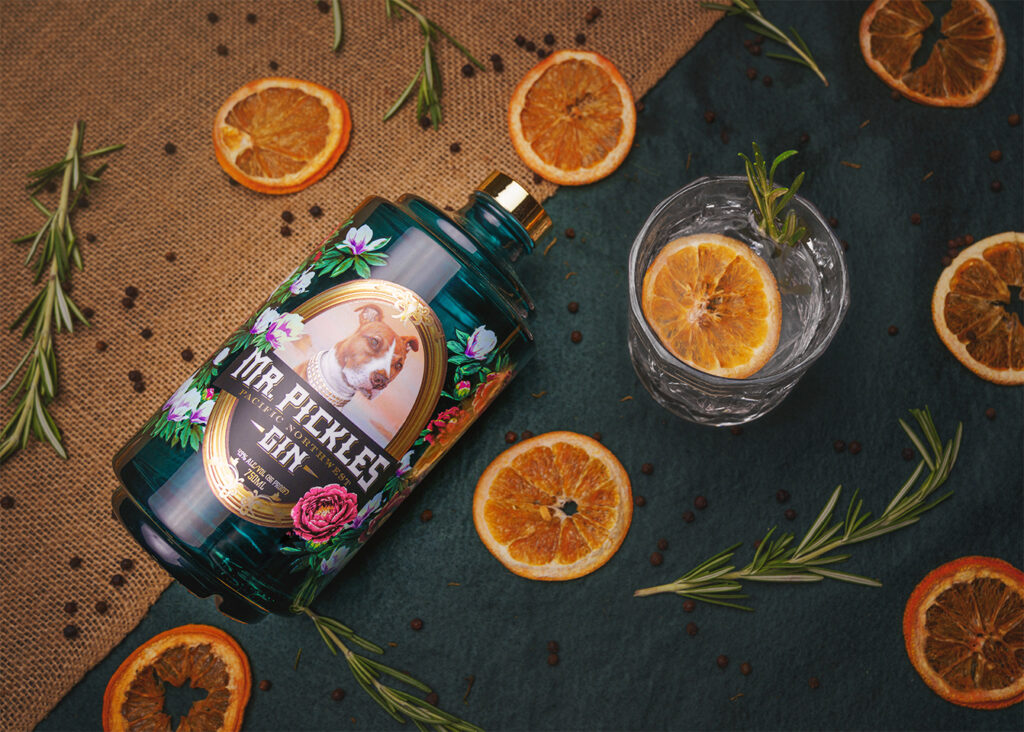 Eugene, Oregon-based Wolf Spirit proudly announces the launch of Mr. Pickles Pacific Northwest Gin. Named for master distiller Ben Green's pit bull rescue pup, Mr. Pickles is a smooth, premium international style gin that reflects the personality of the distillery's gregarious mascot and Oregon's majestic mountains.
Distilled to a driving heavy metal beat and under watchful (yet often dozing off) canine eyes, Mr. Pickles is born from 100% soft, white winter wheat, mono-sourced just down the road at the Camas Country Mill. The exceptionally soft base spirit is triple distilled with the final distillation including a vapor basket to introduce the botanicals. It leads with the same enlivening juniper notes you might encounter on a hike to majestic Mount Hood, which are quickly softened by 11 other botanicals, including sencha green tea, pink peppercorns, and marshmallow root, revealing an approachable, aromatic, and sweet spirit reminiscent of Cascade Mountains meadows.
"We created this gin to honor Mr. Pickles for his loyalty, friendship, and undying love for everyone at Wolf Spirit," said Wolf Spirit master distiller Ben Green. "Mr. Pickles may appear intimidating, but he is truly a warm, welcoming spirit filled with unbridled joy and I think we have done a great job in capturing that in our first gin."
Mr. Pickles Gin opens with juicy citrus and sweet, bright herbal notes, with a slight undernote of black pepper. Soft woodland notes accompany the more traditional, aromatic pine and spice, grounded in an earthy, herbaceous base. The finish is long and smooth, allowing the flavors to continue to reveal themselves long after the gin leaves the palate. Mr. Pickles is 86 proof and retails for $34.99 SRP for a 750ml.
Mr. Pickles Gin comes in a striking blue-green bottle wrapped with an ornate silkscreened design strewn with hand-drawn white and red flowers reminiscent of a Baroque masterpiece. Front and center in an elegant gold frame is a stoic illustration of Mr. Pickles, echoing a Kehinde Wiley portrait. Mr. Pickles stands tall and proud, looking off into a Pacific Northwest setting sun… or at his dog bowl.
Mr. Pickles is available at retailers across the U.S. and online at www.mrpicklesgin.com