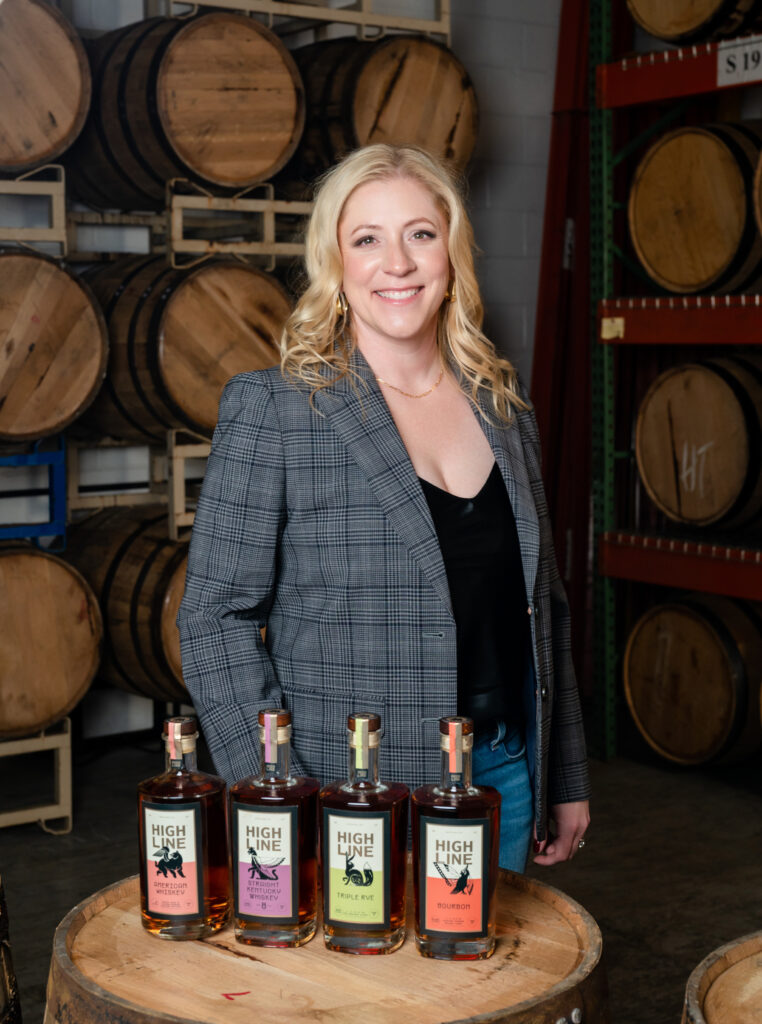 A new spirits brand and four inaugural offerings have entered the market under the name of Highline Spirits. At the helm of the Dexter, Michigan-based operation is CEO and founder Christi Lower, a former pediatric surgery PA, mother of four, and whiskey enthusiast who dared to ask "why?" when starting her own spirits company:
Why was talking about blending such a taboo?
Why did it matter if a spirit was from a single distiller and a single location?
What happens when different spirits are placed in different types of barrels?
Why did she have a hard time getting some industry reps to return her calls, when her partner would get an immediate response?
Why wasn't there more diverse representation in the spirits industry?
Lower believes that the convergence of different cultures and crafts creates something greater than the sum of its parts. With that pillar as her foundation, she envisioned a transformative spirits company untethered by tradition, history, orientation, gender, or beliefs. Tired of the sea of sameness in the category, Lower created Highline Spirits: focused on sourcing, blending, batching, and special-finishing super-premium and ultra-premium small-batch spirits completely unique unto themselves.
"As I started learning about the industry over 10 years ago, I was fascinated with the evolution of a spirit based on weather, terroir, wood, grain, and yeast. Yet I was also struck by how myopic the final distillate landing in the bottle could be. Most whiskey on the shelf is controlled by a very small group of people, marketing to an American consumer who no longer looks as it did when the industry started. Our culture is evolving. Our spirits should also be evolving with different personalities, perspectives and practices to reflect that growth and dimension."
To that end, Lower has hired Kate Keister, Highline Spirits warehouse and production manager and proud member of the LGBTQ+ community with eight years of warehouse and supply chain management experience. Kate Arbour also joins the team as the company's director of operations, who brings over 20 years of global hospitality and project management experience. Lower has also assembled a world-class advisory board of spirits industry experts bringing decades of experience in support of Highline's mission, its products, and ongoing operations.
Highline Spirits enters the market with four limited-edition flagship products:
Bourbon Whiskey – A blend of five, six, and eight-year straight bourbons featuring caramel and butterscotch notes with a hint of baking spice on the nose. The full and robust palate finishes with the light oak undertones of aged Kentucky bourbon. 51% ABV/102 proof. $64.99
Triple Rye Whiskey – Lively aromas of cocoa and dark cherry, with lingering and robust flavors of malt chocolate and stone fruit. A blend of five, 5 1/2, and 10 year old whiskies. 48.5% ABV/97 proof. $79.99
Straight Kentucky Whiskey – Eight years of aging brings caramel, vanilla and malted chocolate flavors with a smooth, approachable palate and a light, lingering finish. 50% ABV/100 proof. $49.99
American Whiskey – An exquisite blend of two high rye Indiana bourbons, a Kentucky heritage bourbon and a straight wheat whiskey all finished in new American, French and Hungarian toasted oak barrels. Bottled at cask strength, this smooth blend of five, six, seven, and eight-year old whiskies evoke caramel richness, sweet stone fruit and baking spice. 56% ABV/112 proof. $139.99
Now available for distribution and sale in Michigan and online at highlinespirits.com, each of Highline's flagship products features a mythical chimera created to represent the unique blend of region and culture that lives within each bottle.
Says Lower: "Throughout the course of history, whiskey distillers got all the credit, but it was the master blenders who maintained the integrity of the product. It's a delicate task to take a unique chemical process and maintain its consistency from barrel to bottle, and from case to pallet. Highline Spirits will put the art of small-batch blending at the forefront of its brand, and seek to educate our customers on why 'blended is beautiful'."
As for production, Highline is well stocked with over 4,000 barrels aged 10 years to new fill, and has secured production schedules of over 3,500 barrels per year going forward. Lower plans on launching a full line of spirits including gin, rum, tequila, and vodka in the coming months and is aspiring to achieve global scale within the next 10 years.
In addition to retail distribution, Lower will be opening the Highline Spirits Tasting Room in Dexter early September of this year. The space will include a 2,400 square-foot gathering space for locals and visitors to relax and enjoy a craft cocktail, take a whiskey tasting class or pick up a few bottles for purchase. A second tasting room in Plymouth, Mich. is scheduled to open in late fall.