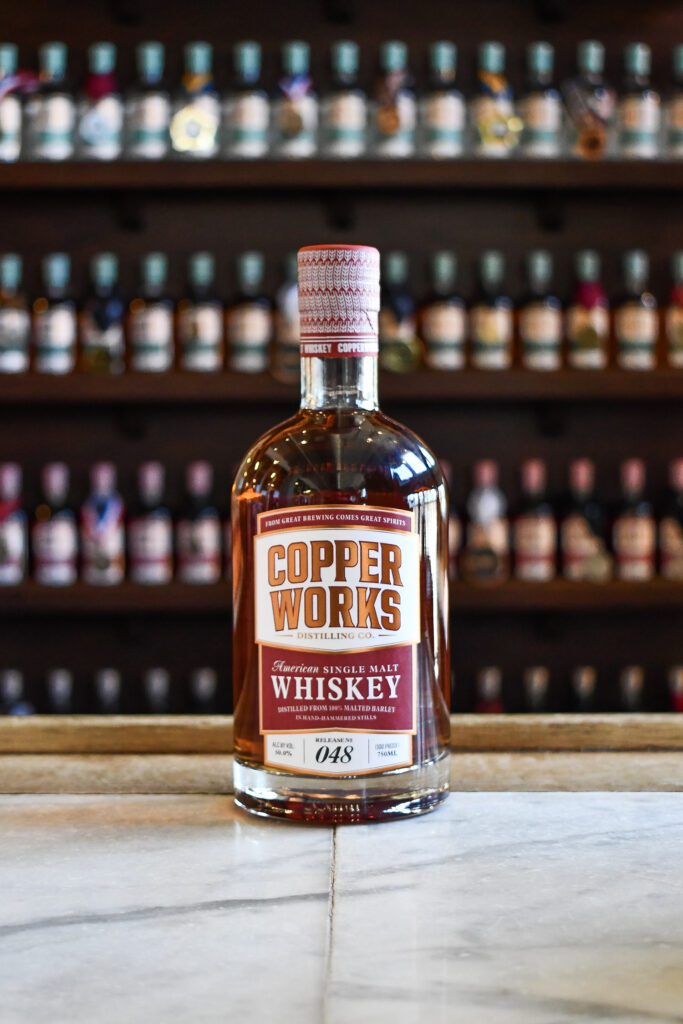 Some people return with trinkets from a trip abroad. In the case of Copperworks Distilling Co. president and co-founder Jason Parker, he returned with plans for Spanish sherry casks to be shipped overseas to his Seattle waterfront distillery.
Introducing Copperworks American Single Malt Whiskey Release 048.
Copperworks' latest whiskey was crafted from the same whiskey used in Release 047, and with the addition of another Copperworks whiskey made from pale malt and matured in a Manzanilla sherry cask for five and a half years. The additional whiskey accounts for 7.5% of the overall blend.
"I had the pleasure of hand-picking casks during a visit to Spain several years ago," said Parker. "While many sherry casks used in whiskey production nowadays are new casks seasoned with sherry, these were used for sherry production for several decades in Spain before making their way across the ocean to Copperworks."
Manzanilla is a type of sherry, a fortified wine from the province of Andalusia in southern Spain. It can only be produced and matured around the seaside town of Sanlúcar de Barrameda. The sherry is matured for at least two years under a layer of flor, an indigenous yeast. Manzanilla is the Spanish word for chamomile, an aroma often found in this type of sherry along with dry, saline notes thanks to its coastal origins.
"The flavor from sherry casks is remarkable. The casks can impart an array of flavors on whiskey, and many European whiskeys (especially Scotch) have been 'sherried,'" said Copperworks Distilling Co. vice president and co-owner, Jeff Kanof. "While our production methods differ from traditional distilleries, we've enjoyed exploring how sherry flavors incorporate with our American Single Malt Whiskey."
"A great way to taste the impact of a sherry cask would be to taste Copperworks' Release 047 and Release 048 side by side," added Parker.
Copperworks American Single Malt Whiskey Release 048
1,310 bottles produced (750 ml)
50% ABV (100 Proof)
$69.99 (+ tax and shipping)
Now available at Copperworks Seattle Distillery & Tasting Room and online store.
Tasting Notes
The appearance of a translucent orange agate, Release 048 makes a few laps around the flavor wheel and offers a little something for everyone. On the nose, one finds bread pudding, browned butter, finger lime, chocolate, stone fruit, and suede. On the palate are fruit leather, pie crust, raspberry, vanilla pipe tobacco, and red wine. Rounding out the experience, the finish lingers with notes of dried fruit, pink peppercorn, green tea mochi, and lapsang souchong.
To Purchase
To purchase online:
https://store.copperworksdistilling.com/products/copperworks-american-single-malt-whiskey-release-048-750ml.
To purchase in person:
Coppworks Seattle Distillery & Tasting Room Address: 1250 Alaskan Way, Seattle, WA 98101