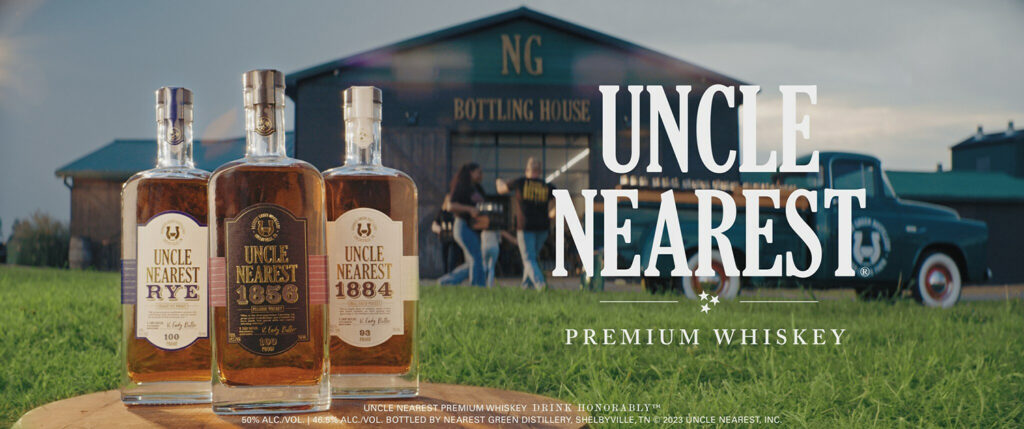 Shelbyville, Tennessee-based Uncle Nearest Premium Whiskey, the super-premium bourbon and Tennessee whiskey maker, announces the release of its newest commercial, "My Sugar Baby," which will begin airing across all 50 states via cable networks, streaming platforms, and every place TV is enjoyed. The spot, set to the music of Frank Wilson, legendary Motown writer and producer, and father of Fawn Weaver, Uncle Nearest CEO and Founder, stars the passionate and diverse team of the Nearest Green Distillery enjoying themselves doing what they do best – making award-winning whiskey.
The commercial aims to encourage viewers of all backgrounds to partake in a moment of fun wherever they are watching and whoever they are watching with. Emmy Award-winning actor and Uncle Nearest investor Jeffrey Wright returns as the narrator for the new commercial spot.
"The calling card of the Uncle Nearest brand is authenticity. Our company has one of the most diverse employee populations in America, and the fact that we've built that in the heart of Middle Tennessee will be surprising for so many to see," said Weaver. "In these past few years, more than ever, our country needs a reminder that we all have more in common than what will ever separate us, and a great Motown tune does better than anything to remind us of that. Millions will be joyously dancing together – somewhere in this country – every time this commercial plays."
With "My Sugar Baby," Uncle Nearest will once again introduce American audiences to one of Wilson's solo records for the first time. Written and performed by the Motown great, "My Sugar Baby" was unbeknownst to his family until just months ago when Weaver was looking for the perfect song to set the optimistic tone for the brand's next commercial. In her search, Weaver uncovered this joyful solo record, which was previously released exclusively in the U.K. as part of "A Cellarful of Motown!," a series of compilation albums featuring rare Motown records. Uncle Nearest's previous commercial "Do I Love You (Indeed I Do)" introduced the namesake song to the American public for the first time in August 2020. Since then, Bruce Springsteen re-recorded the song and released it as the first single on his 2022 album, "Only the Strong Survive."
"My father never released a song, choosing to focus on writing and becoming one of the top producers in the nation, but he recorded a couple of songs that made it into the vault," said Weaver. "We had no idea this song existed until two weeks before we filmed, but once it was discovered, I knew hands down it needed to be the backdrop for our next commercial."
"My Sugar Baby" was directed by Nashville-based filmmaker David Poag and produced by Steve Lamar of Lamar Brothers, the same creative duo who has crafted all of Uncle Nearest's commercials and brand films to-date.
"The work we've done with Uncle Nearest has always felt special, and completely authentic to who they are as a company," said Poag. "Fawn called me with this idea to feature their bottling process and her real employees dancing as they worked. I was nervous about the team being camera shy, but they all just went for it! The shoot was an absolute blast."
You can watch "My Sugar Baby" on YouTube. For more information on Uncle Nearest Premium Whiskey, and to book a tour of Nearest Green Distillery, please visit www.unclenearest.com.