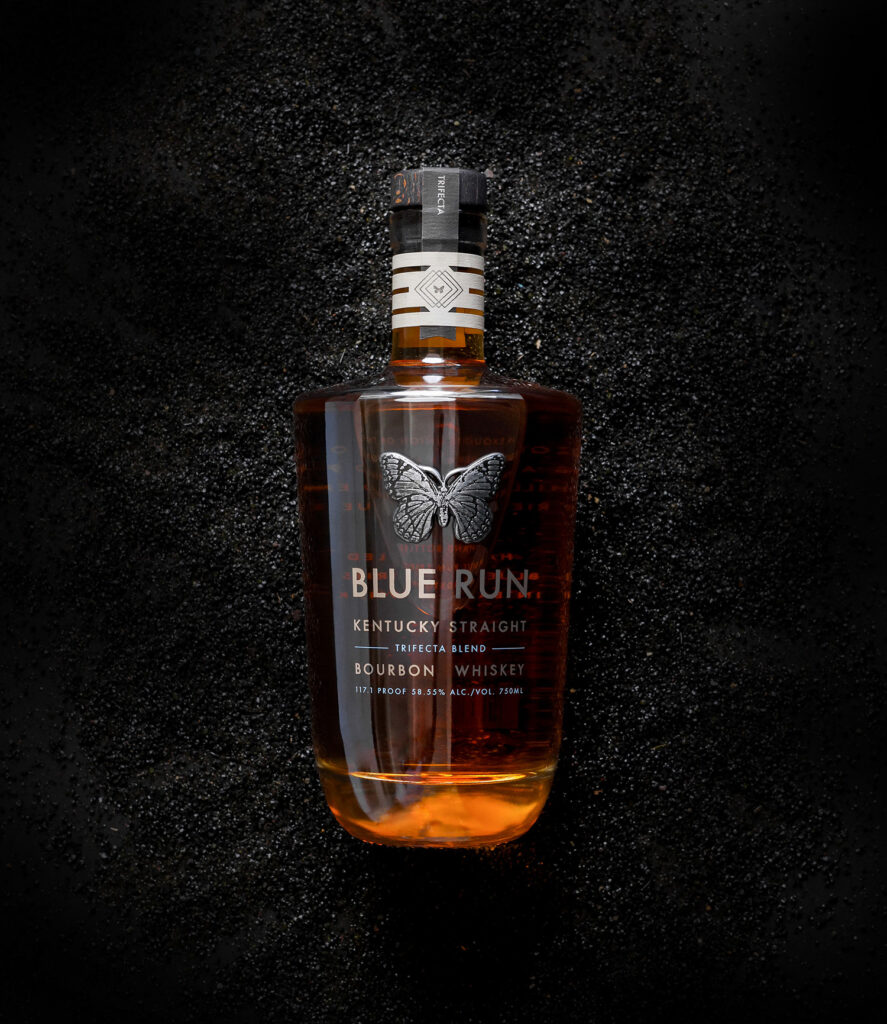 Georgetown, Kentucky-based Blue Run Spirits today announced Trifecta – the company's first three-age Kentucky Straight Bourbon Whiskey. Trifecta will be available at retailers nationwide in August and at http://www.bluerunspirits.com/shop starting at 3 pm Eastern on Wednesday, August 23, 2023. This is the first bourbon from Blue Run since the 12 Days of Bourbon holiday 2022 collection.
Blue Run Trifecta Kentucky Straight Bourbon is a small-batch whiskey that demonstrates the delicate balancing act required when blending a high-quality base whiskey with the vivid flavors and aromas from older "wood heat" whiskeys. Trifecta starts with a base of finely crafted six-year-old whiskey, which makes up less than half of the composition of the total liquid. To add additional depth and character, Blue Run Whiskey Director Shaylyn Gammon blends that with two whiskeys aged in the upper reaches of their respective rickhouses, giving them what she calls "wood heat."
"'Wood heat' barrels are those that experienced the highest temperatures the warehouse has to offer due to their position at the top, forcing out the water molecules and concentrating the alcohol within the barrel," said Gammon. "These higher-proofed barrels, in turn, extract more of the components of the wood from the barrel that can contribute a particular wood intensity to the whiskey, which needs to be approached with a knowledgeable, restrained hand when blending."
Shaylyn chose these nine- and eight-year-old barrels from Blue Run's more than 5,000-barrel inventory knowing that the six-year-old Kentucky whiskey would help balance the spiciness of the aged product. It is a precise art, making sure the "wood heat" barrels add the desired layers of complexity without overpowering the base whiskey. To perfect the blend, Shaylyn used 10% more of the nine-year-old than the eight-year-old specifically to achieve greater approachability at Trifecta's near barrel proof of 117.1.
The respective mash bills are:
9-year-old: 78% Yellow Corn, 10% Rye, 12% Malted Barley
8-year-old: 75% Yellow Corn, 21% Rye, 4% Malted Barley
6-year-old: 78% Yellow Corn, 12% Rye, 10% Malted Barley
And the blend ratios are:
9-year-old: 32%
8-year-old: 22%
6-year-old: 46%
Fun Fact: Shaylyn calls the nine-year-old Bourbon in Trifecta the "Lost Whiskey." After being purchased from the partner distillery, it was discovered the whiskey had somehow made its way from Kentucky to Spain, causing a lot of head scratching and some logistical hoop jumping to get it back to the Commonwealth.
Tasting Notes
Nose: Unsalted brown butter, French vanilla cream, warm dark brown sugar and cinnamon, spicy pepper, juicy hints of figs and dehydrated apples. ​​
Taste: Silky, cinnamon spice-dusted candied apple, baked bread, drizzled with caramel and peppermint, white chocolate. Balanced wood char lingers.​​
Finish: Warm vanilla, weathered oak. Medium finish overall which works well to counterbalance the upfront heat.
Blue Run Trifecta Kentucky Straight Bourbon Whiskey will be available at $179.99 for a 750ml. For this release, Blue Run's signature butterfly medallion on the bottle is pewter, an alloy made from three separate metals, which serves as a nod to the three separate aged whiskeys in Trifecta.