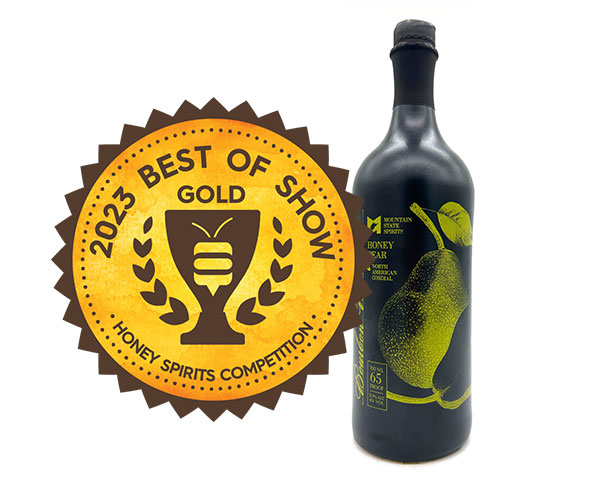 A bright and floral liqueur with hazelnut honey and single barrel bourbon won Best of Show honors at the National Honey Board's Honey Spirits Competition. Handmade in Bristol, West Virginia, the cordial named Hazelnut Honey Bourbon Ratafia bested more than 50 entrants in the competition that recognizes the best spirits in the United States that use honey either as a sweetener, flavor or distillate.
This year's competition featured seven Gold Medal winners in addition to 25 spirits that took home Silver and Bronze Medals. An expert panel of judges evaluated the entries on their appearance, nose, palate and the role honey played in the spirit. Gold and Silver Medals were also awarded in a design/packaging category.
"This year's competition showcased how far the use of honey has come in the spirits category," Catherine Barry, National Honey Board's vice president of marketing, said. "Most of the spirits used honey to create a more complex product, adding aromatics, depth and mouthfeel, in addition to flavor."
The Gold Medal winners of the 2023 Honey Spirits Competition:
Best of Show, Liqueurs/Specialty Spirits: Honey Pear Bourbon Ratafia — Mountain State Spirits, Bristol, West Virginia
Vodka: Vodka — Denmark Distilling, Denmark, Wisconsin
Rum: Denver Distillery Navy Strength Spiced Rum — Denver Distillery, Denver, Colorado
Bourbon/Whiskey: Honey Whiskey with Natural Flavor — Manatawny Still Works, Pottstown, Pennsylvania
Honey Liqueurs/Specialty Spirits: Cold Brew Coffee Liqueur — Honey House Distillery, Durango, Colorado
Honey Liqueurs/Specialty Spirits: Honey Pear Bourbon Ratafia — Mountain State Spirits, Bristol, West Virginia
Spirits Distilled From Honey: Distillers Reserve — Big Island Distillers Inc./DBA 12th Hawaii Distiller, Kailua Kona, Hawaii
Packaging/Design, Vodka: Maid of the Meadow — Denning's Point Distillery, Beacon, New York
For a full list of winners, more information and pictures, please go to honeyspiritscompetition.com.
The National Honey Board (NHB) is an industry-funded agriculture promotion group that works to educate consumers about the benefits and uses for honey and honey products through research, marketing and promotional programs. The Board's work, funded by an assessment on domestic and imported honey, is designed to increase the awareness and usage of honey by consumers, the foodservice industry and food manufacturers. The 10-member-Board, appointed by the U.S. Secretary of Agriculture, represents producers (beekeepers), packers, importers and a marketing cooperative.