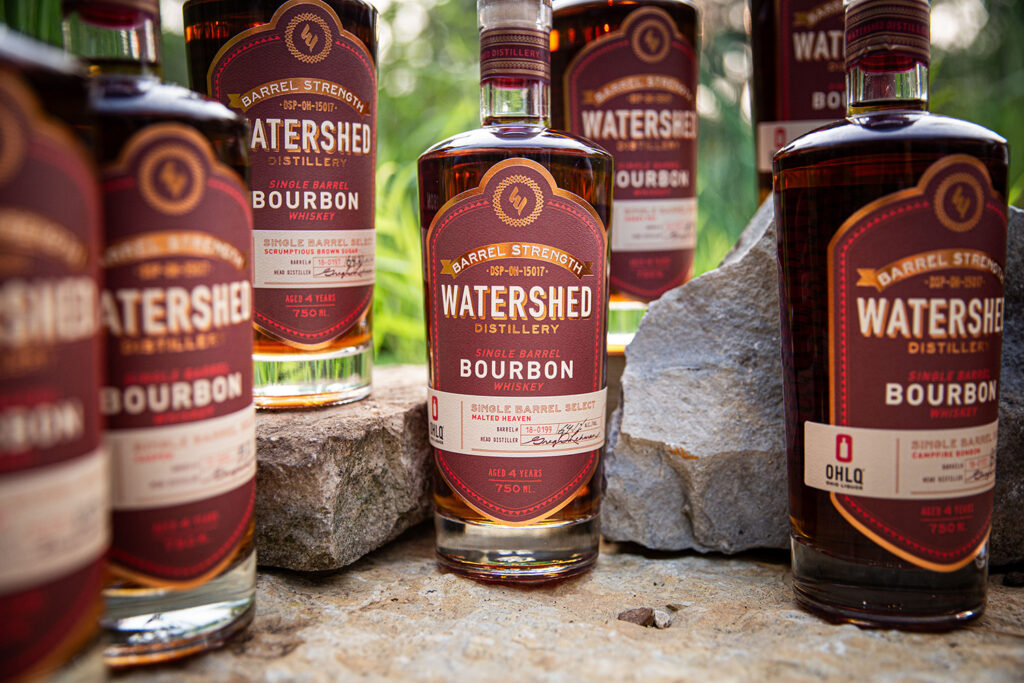 Columbus, Ohio-based Watershed Distillery, in partnership with Ohio Liquor (OHLQ), has announced another Ohio bourbon treasure hunt. Together the teams at Watershed and OHLQ have handpicked seven exclusive single barrel selections just for Ohio bourbon lovers. These expressions will be available at select liquor stores throughout the state beginning August 28.
OHLQ's single barrel program is celebrating its sixth year. Watershed became the first-ever Ohio bourbon producer chosen by OHLQ to participate in a private single barrel release back in 2021. This single barrel release marks the third year of the partnership.
Unblended with distinct flavors, these seven barrels capture the passion for redefining American whiskey and blending tradition with innovation.
Campfire Bonbon – A light and sugary delight, notes of marshmallow on the palate create an inviting sensation. Its approachable nature makes it effortlessly smooth, ensuring a pleasurable sip every time (129.5 proof).
Caramel Cream Delight – A sweet and inviting aroma, followed by notes of vanilla cream, butterscotch, caramel, a hint of brown sugar, and a satisfying punch of robust oak spice in the finish (131.1 proof).
Honeypot – Harmonious notes of honey nut cereal, banana bread, wheat, honeycomb, and a satisfying bite in this flavorful tasting experience (128.9 proof).
Malted Heaven – A single malt-like experience, with notes of craisins and tartness, complemented by a satisfying mouthfeel and a lingering, memorable finish (128.2 proof).
Plum Crazy – A rich and complex profile, reminiscent of brandy, scotch, or tawny port, with a luscious blend of plum and raisin flavors (128.2 proof).
Scrumptious Brown Sugar – A delightful aroma of candy, a consistently sweet brown sugar flavor, reminiscent of a cognac, providing a comforting and warm embrace with every sip (128.4 proof).
Stonefruit Nectar – A light, buttery nose leads to flavors of apricot and green tea, with a refreshing, creamy note and smooth finish (130.0 proof).
"As Ohio bourbon producers, it's been incredible to see the expansion of the OHLQ private barrel pick program over the years, and we are grateful to be partnering again this year," shares Greg Lehman, Founder of Watershed Distillery. "We have chosen seven incredible barrels from Watershed's barrel room that have some special qualities and character that bourbon lovers will get excited about."
Fifteen single barrels were sampled and ultimately seven were selected for a variety of unique flavor profiles. All are aged more than four years in Ohio-coopered American White Oak barrels and will retail for $59.99 per bottle (plus tax). Bourbon hunters are encouraged to utilize OHLQ.com to locate these spirits.
"OHLQ is proud to be celebrating another exciting OHLQ Exclusive release with Watershed Distillery," said Jim Canepa, Superintendent of the Ohio Division of Liquor. "Working with Ohio producers like Watershed Distillery allows us to bring the best single barrels we can to bourbon enthusiasts across the state."

Bottle signings will take place in Columbus on August 30, 31 and September 1, and in Brimfield on September 1. For more information on bottle signings with Watershed's founder Greg Lehman and cask manager Ryan Venrick, please visit https://www.ohlq.com/events-calendar.
For more information on Watershed Distillery, please visit www.watersheddistillery.com, and for information on OHLQ or to utilize its product locator, visit www.OHLQ.com.