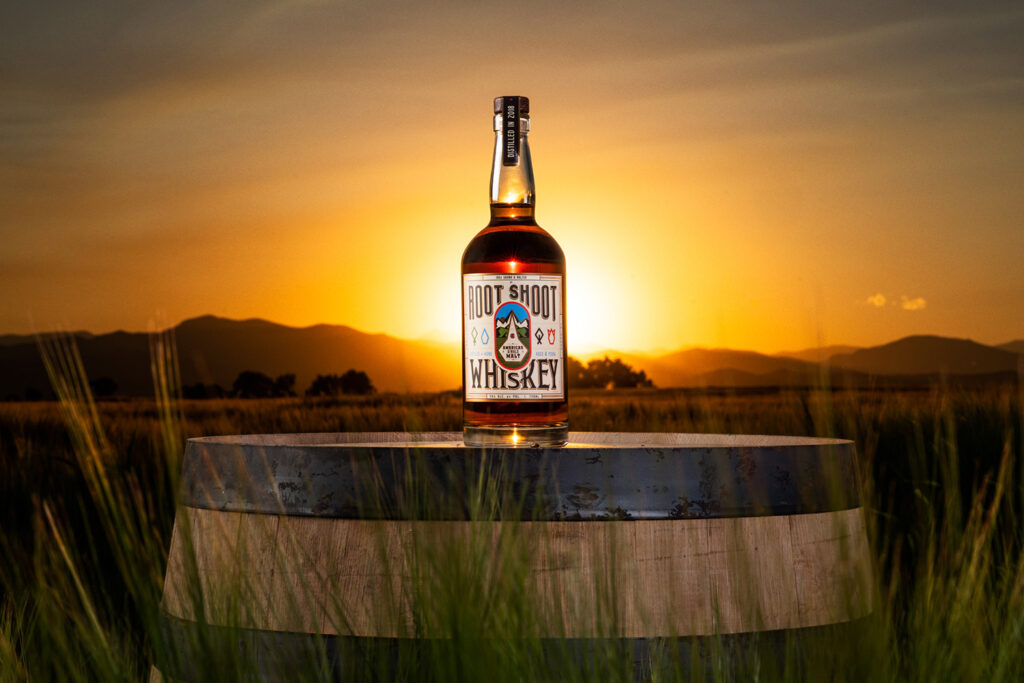 One month after its release, Root Shoot Spirits' American Single Malt Whiskey (50% ABV) has earned a Gold Medal at the New York World Wine & Spirits Competition (NYWSC). This award-winning whiskey incorporates 100% Colorado-grown and malted grain, sourced from the 5th generation family run Olander Farms and malted by the sustainability-minded craft maltsters at Root Shoot Malting. 
The Root Shoot Whiskey experience starts with aromas of cobbler and honey granola. Upon first sip, clean flavors of alpine florals breeze across the palate, and the whiskey finishes with an alpenglow of rich pastry, faint cocoa dust and long, lingering bright-yet-spicy flavors. Five years in the making, Root Shoot's unique take on American Single Malt Whiskey is one of local grain, a tradition of family farming, and a dedication to regenerative agriculture.
"From our grain to your glass, the whiskey travels only about 30 miles. You can't get any more Colorado than this whiskey," said Root Shoot farmer and founder Todd Olander. "We're so proud to release our first completely local spirit into the wild, and are honored to be recognized by the New York Wine & Spirits Competition."
In the Competition's 13-year history, the NYWSC has established itself as one of the most respected judging events in the US, featuring judges who are among the wine and spirits industry's most trusted authorities. Through a highly controlled blind-tasting of hundreds of spirits, the esteemed panel of judges awarded Root Shoot Whiskey Gold Medal at this year's competition.
Find Root Shoot's Gold Medal winning American Single Malt Whiskey on shelves across the colorful state of Colorado using the Whiskey Finder at rootshootspirits.com.