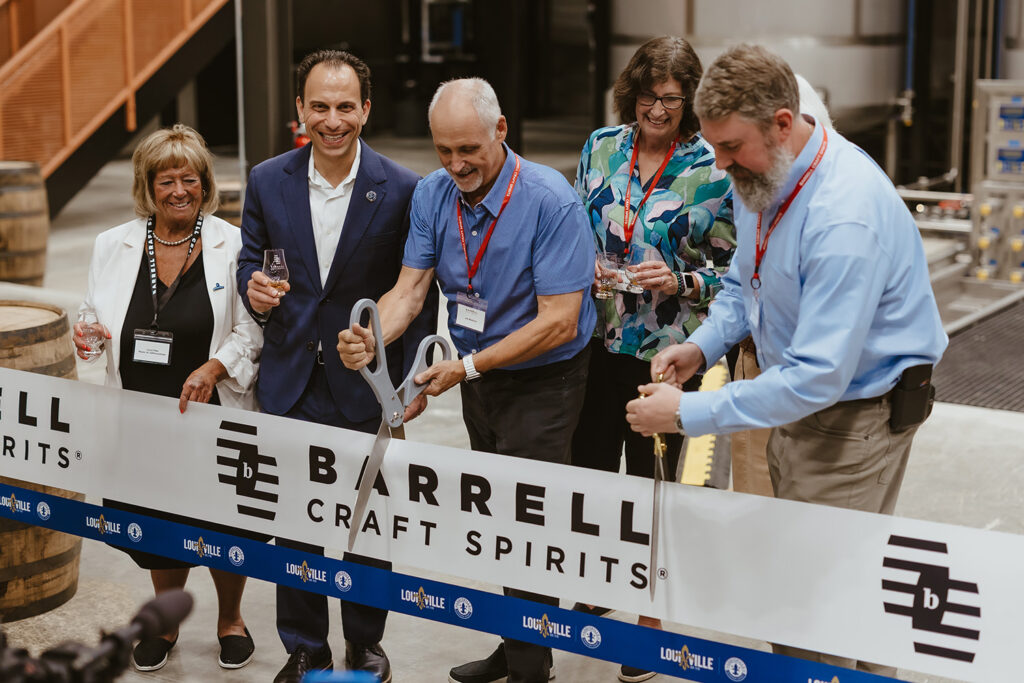 Louisville, Kentucky-based Barrell Craft Spirits unveiled its new state of the art blending facility in Jeffersontown, during a private ribbon cutting ceremony. The event was hosted by Susan Reigler and featured speakers Mayor Craig Greenberg of Louisville and Mayor Carol Pike of Jeffersontown.
Ten years ago, BCS set out to source exceptional bourbon casks from established producers and to blend and bottle them at cask strength. The goal was to elevate barrels of whiskey into something greater than the sum of their parts. Since that time, the company's commitment to innovation, quality, and transparency has had a significant impact on Kentucky and the larger whiskey industry. In 10 short years, founder Joe Beatrice has built BCS into a national brand sold in 49 U.S. states which has won countless awards from the industry's most prestigious competitions and earned the respect and praise of the most esteemed whiskey authorities. He has also inspired several other non-distilling producers to pursue blending with whiskey. Today, Joe remains intimately involved with every step of the production process at BCS, using his exceptional palate alongside the BCS blending team to choose and create great spirits.
After a decade of pushing the boundaries of blending, BCS is celebrating a new blending facility that can support its rapid growth. The 31,000 square foot facility was designed specifically to support how BCS operates as a company under one roof in the most efficient manner possible. Large office spaces encourage a free-flowing discussion of creative ideas around innovative product development. The new blending operation features (8) blending tanks with 64,000 gallons of capacity, allowing BCS to increase its blending capacity by over 500%. New bottling lines are capable of a one million case annual throughput on a single shift, ready to package innovative releases. The facility will support the growth of current brands and new product launches. BCS also recently acquired an historic 18,000-barrel rickhouse – strategically located just minutes away from the new blending facility – which features 42 ricks and five levels and offers a multitude of locations throughout to provide unique character to each cask.
"We're thrilled to unveil our new state of the art blending facility and to continue our 10-year legacy of developing sought-after award-winning blends that push the boundaries of American whiskey," said Beatrice.
"I am proud to celebrate the expansion and 10th anniversary of Barrell Craft Spirits, a local blender of unique, aged whiskey and rum. They have recently invested $15 million back into Louisville's economy and are creating new high-wage jobs for our residents," said Mayor Craig Greenberg. "Congratulations on your success and continued growth!"
In honor of the company's 10th anniversary, attendees were treated to a limited-release, Anniversary Bourbon which was available online before quickly selling out.
Founded in 2013 in Louisville, Kentucky, BCS selects and blends products that explore different distillation methods, barrels, and aging environments. BCS's extensive stocks of high-quality casks mean it can craft extraordinary blends that maximize the nuances of each ingredient. Creative finishes, a liberated approach to blending, and a deep-seated commitment to releasing each whiskey at cask strength guides every product release.