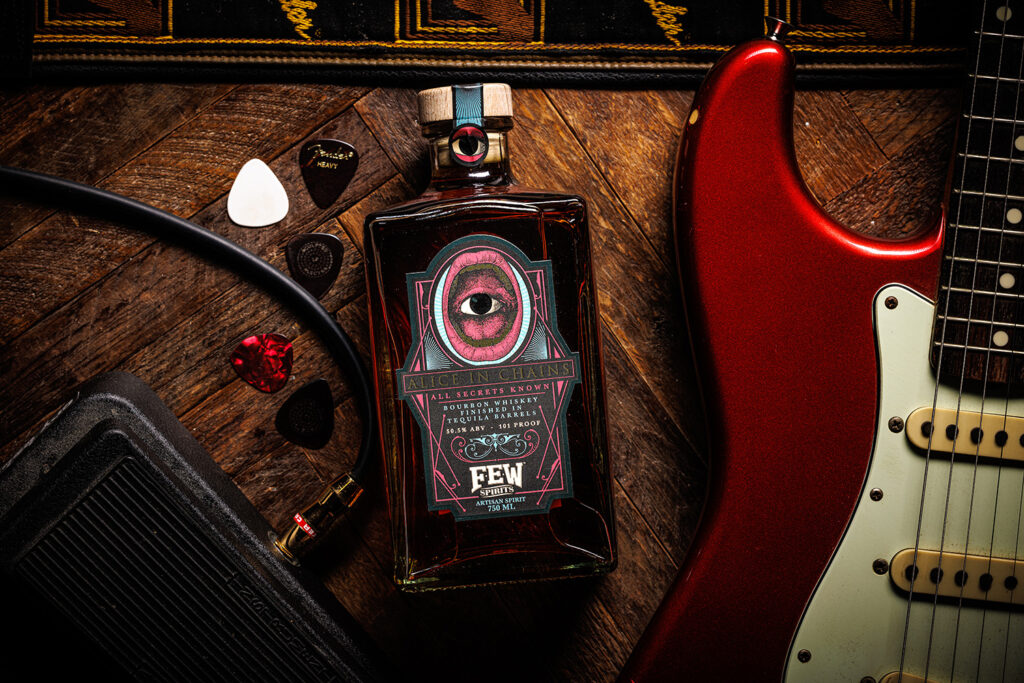 Evanston, Illinois-based FEW Spirits and Alice In Chains announce the reissue of All Secrets Known Bourbon, a limited-release expression distilled by FEW Spirits master distiller Paul Hletko in collaboration with the Seattle Grunge pioneers. Bottles feature a custom-designed label by artist Justin Helton.

The Whiskey
All Secrets Known (SRP: $60/750 ml) is a reference to the title of track one on Alice In Chains' fourth studio album Black Gives Way To Blue, which has sold more than 1 million copies worldwide.

For this special whiskey release, FEW Bourbon is finished for six months in tequila barrels and bottled at the most rock and roll of proofs, 101 (50.5% ABV). Bold, sweet, and spicy bourbon top notes are accentuated by grassy agave undertones.

Said Heltko, back in 2019 upon the original release of the whiskey, "Alice In Chains is part of one of very few movements that can be legitimately credited with shapeshifting an entire culture, beginning with their first album, Facelift."

Continues Hletko, "Today, it gives me great pleasure to once again bring this whiskey to music fans everywhere, and to continue to merge these great passions of mine – distilling, and music – with legends like Alice in Chains. Pour a glass of All Secrets Known, turn on your favorite track of theirs, and just enjoy the experience."
The Label Design
Artist Justin Helton, of Status Serigraph, who is no stranger to working with musical giants like Phish, The Avett Brothers, My Morning Jacket, Ween and The Black Keys created the custom label. For the design, Helton found inspiration in the name All Secrets Known. The eye in the mouth graphic is a play on seeing all that's been spoken, while the color scheme is a nod to the cover art on Black Gives Way to Blue.

Helton designed the label in Adobe Illustrator and Photoshop TMI, also using a mix of hand-rendered illustrations with imagery from the 19th century to create a distinctive look.

A Legacy of Rock and Roll Partnerships
In 2016, Hletko partnered with The Flaming Lips to create Brainville Rye Whiskey before connecting with Alice In Chains for the original release of All Secrets Known. In 2022, FEW teamed up with indie darlings Black Rebel Motorcycle Club for Motor Oil Whiskey, an American whiskey finished in rum and vermouth barrels.

"It's hard to put into words how much fun it's been to work with the bands," Hletko said. "I've been a huge admirer of the band forever and in the same way musicians inspire one another, working with them inspired me as a distiller to do something different. I'm really excited to build on that legacy."

Beginning September 28, just 3,300 bottles of All Secrets Known will be released, all of which will be available nationally through FEW's direct-to-consumer channel, www.BuyFEWSpirits.com and at select venues & retailers in Illinois and Washington state.