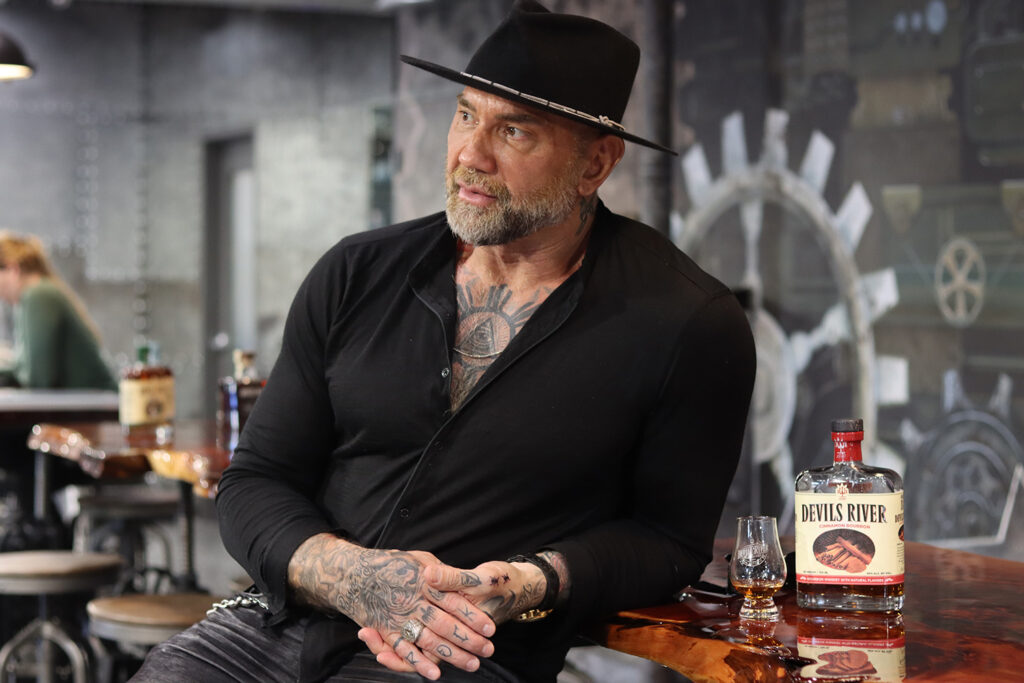 San Antonio-based Devils River Whiskey welcomes actor and producer Dave Bautista to its ownership team and as the newest member of its Devils Advocates: a group of Devils River Whiskey and bourbon enthusiasts involved in supporting the brand's social responsibility efforts and overall mission.
Since the introduction of the brand in 2017, Devils River Whiskey has expanded from its roots in San Antonio to 36 states, five countries and cruise lines offering premium and craft bourbons with a growing portfolio of flavored expressions. Devils River Whiskey aims to advance time-honored traditions of distilled spirits while being welcoming and accessible to everyone looking to enjoy quality bourbon, from long-standing whiskey enthusiasts to those looking to expand their palates.
"We are thrilled to have someone of Dave's caliber as an investor and partner," said Mike Cameron, co-founder and CEO of Devils River Whiskey. "Dave's involvement in our brand is a major step toward Devils River Whiskey leading the diversification of bourbon culture and elevating Texas whiskey."
Bautista is well-known for his critically acclaimed portrayal of Drax the Destroyer in Marvel's "Guardians of the Galaxy" franchise. He can next be seen in "Dune: Part Two" the sequel to the award-winning film "Dune" and in "My Spy 2" which he stars in and produces. Bautista was last seen in "Glass Onion: A Knives Out Mystery" and in the M. Night Shyamalan thriller film "Knock at the Cabin" where he won rave reviews for this powerful performance. Bautista is a celebrated wrestler with the WWE who retired in 2019 at WrestleMania 35.
"I'm extremely honored to join the Devils River family," said Bautista. "I was blown away by their products and the love and pride that goes into making them. I couldn't be more excited to contribute to the growth of the company."
Devils River Whiskey offers eight expressions ranging from premium Bourbon, Rye, and Barrel Strength to a growing assortment of flavored whiskey that consists of Coffee, Agave and Cinnamon options. Devils River Whiskey also offers ultra-premium whiskey, including its Single Barrel and Distiller's Select. With more than 63 national and international awards, Devils River Whiskey has gained a reputation as a rich and bold bourbon distilled using Texas' purest water sources located on the Devils River in Southwest Texas. The limestone-filtered water from the Devils River is a key ingredient in the finishing process, giving the bourbon its uniquely smooth flavor.
"When we set out to build Devils River Whiskey six years ago, I always envisioned a brand with longevity," said Cameron. "Our goal is to create a bourbon legacy that can compete directly with recognized world-class distillers in Kentucky and other places with long-established whiskey industries. With Dave's support and vision, we are confident that we will continue to elevate our brand and gain broader recognition for the Texas whiskey industry."