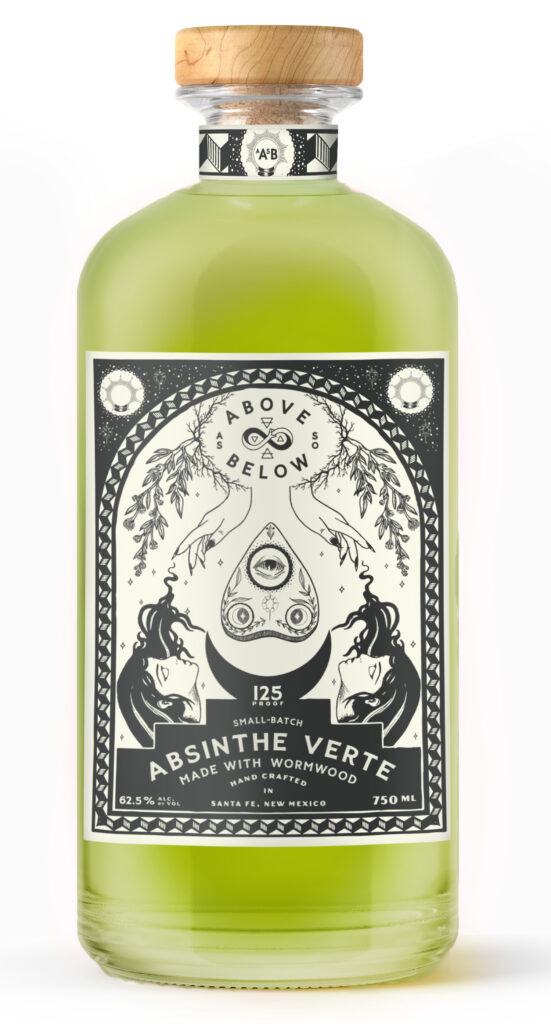 Santa Fe, New Mexico-based As Above So Below Distillery, co-founded by master distiller Caley Shoemaker, presents its newest craft spirit—Absinthe Verte. Launching Oct. 13, Absinthe Verte, is a classic Absinthe made using wormwood, fennel, anise, marjoram, hyssop and mint. This new expression, available in 750-mL bottles, will be available for purchase at AASB Distillery's lounge and bottle shop for $69.99.
To craft the 125-proof Absinthe Verte, Shoemaker begins by macerating absinthe in As Above So Below's house high-proof spirits. The maceration process is started during a full moon and as the next lunar cycle reaches its peak additional botanicals are added to round out the profile of this classic sipping spirit. As the moon reaches fullness for a third time, Shoemaker distills the macerate adding a few additional botanicals for one final short maceration before bottling this unique expression.
"We are very proud of our newest release, Absinthe Verte, which has a herbal spicy profile that is best highlighted in classic, spirit-forward cocktails," said Shoemaker. "This expression can also be served the way authors and artists of the 19th century enjoyed it—with water and a sugar cube. We invite you to our distillery lounge and bottle shop to sample this spirit through our traditional Absinthe service or crafted into a cocktail by one of our expert bartenders."
To celebrate the launch of Absinthe Verte, As Above So Below will be hosting a release party open to the public on Friday, Oct. 13 from 6 – 11 p.m. at AASB Distillery's lounge and bottle shop. Guests will have the opportunity to enjoy this new craft spirit from a full Absinthe cocktail menu or through the traditional Absinthe service. The celebration will also feature High Desert Alchemy, offering Tintype portraits, and Crow B. Rising of Talis Fortuna Tattoos creating hand poke tattoos. Bottles of Absinthe Verte and traditional Absinthe glassware and service accessories will be available for purchase to craft at-home Absinthe cocktails.
AASB Distillery's lounge and bottle shop is open for cocktails Wednesday – Sunday from 2 – 11 p.m. with earlier hours beginning at 12 p.m. on Saturdays and Sundays.