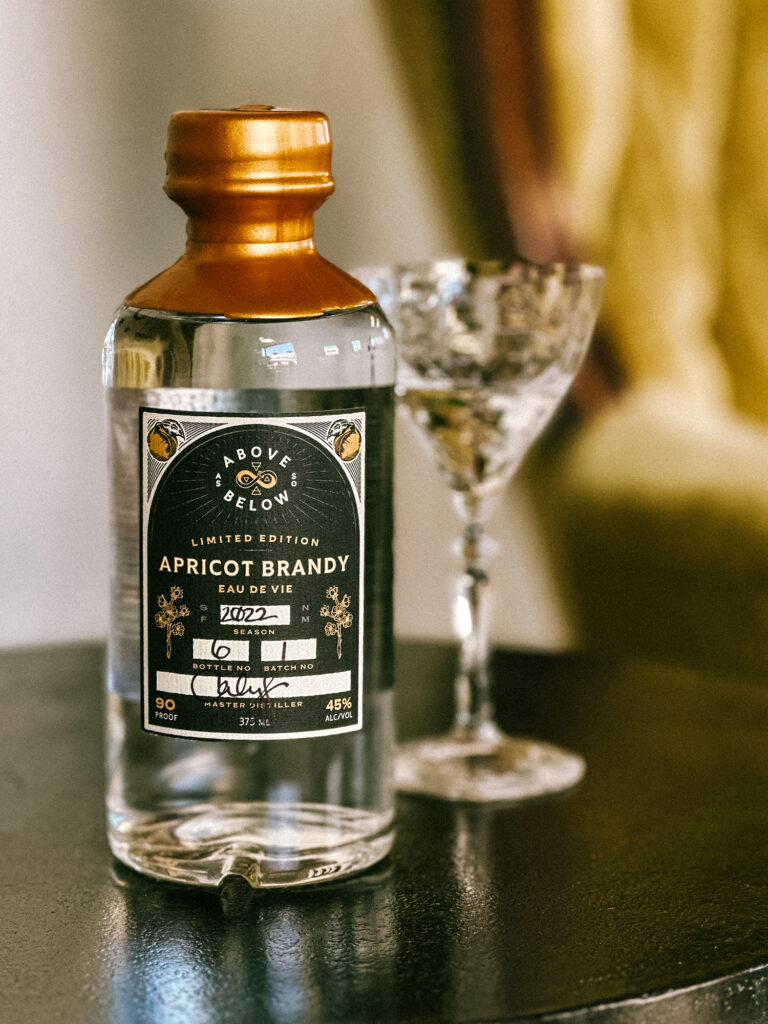 As Above So Below Distillery (AASB), a Santa Fe distillery co-founded by master distiller Caley Shoemaker, announces the limited release of its Apricot Eau de Vie. With apricot trees in abundance producing plentiful stone fruit all around Santa Fe, the distillery has partnered with the local community to gather the apricot fruit, then fermented and distilled it — making Eau du Vie. The bottles will go on sale in the As Above, So Below Distillery bottle shop on Friday, July 21, 2023.
The limited-edition, 90-proof Apricot Eau de Vie, is available in 375 ml for $60.00, with each bottle individually numbered. Each bottle contains fruit that was grown and harvested by hand from the local Santa Fe community and then fermented by AASB Distillery using white wine yeast. The labor-intensive process creates an expression that captures the full essence of the fruit, which is perfect for sipping.
"Our goal is to create this expression annually," says Shoemaker. "To create this first edition, we hand-picked for the full three-week growing season of 2022, pitted each of the apricots, and produced a limited number of 216 bottles. This year we hope to increase our production by getting the community excited to bring us their extra fruit."
While the community picks the stone fruit seasonally and uses it in jams, compotes, and a variety of dishes, the trees are often so abundant that much of the crop goes to waste. In the tradition of European-crafted Eau de Vie, AASB Distillery is using the extra fruit grown around the city to create their limited-edition expression.
To create the 2023 expression, AASB Distillery will offer tasting room gift cards in exchange for fruit and assistance with pitting the fruit for the remainder of the 2023 growing season. To participate, please email info@aasbdistillery.com.
AASB Distillery's lounge and bottle shop is open for cocktails Wednesday – Sunday from 2 – 11 p.m. with earlier hours beginning at 12 p.m. on Saturdays and Sundays. Guests visiting the lounge and bottle shop will also have the opportunity to sample As Above So Below spirits, take home a bottle, and enjoy the seasonally crafted cocktails.