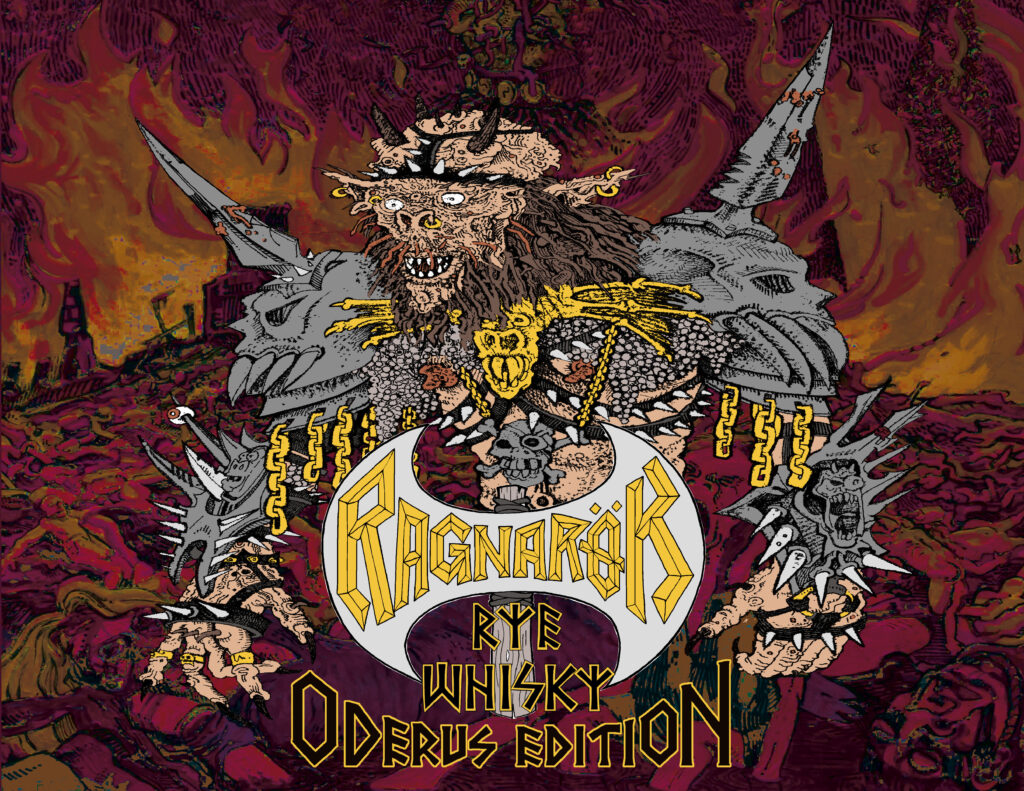 Catoctin Creek Distilling Company, The Virginia Rye Whisky℠, is excited to continue their partnership with GWAR with the release of their brand new batch of Ragnarök Rye: Oderus Edition.
This year marks the tenth anniversary of the passing of Oderus Urungus, and to commemorate his immortal spirit, together with GWAR we are releasing a bottle just for Oderus!
"With jubilation we announce the Oderus Edition of Ragnarök Rye. Featuring art from the Scumdog himself there is no more fitting beverage to consume before vanquishing your foes on the battlefield or at a small gathering, relishing in tales of conquest amongst your comrades," says guitarist Pustulus Maximus.
Raise a glass to the memory of Oderus Urungus, the legendary frontman of intergalactic warriors and shock rock legends GWAR. This special bottling of Ragnarök Rye whisky is a bold and spicy tribute to Oderus's larger-than-life personality and unapologetic irreverence. Whether you're a die-hard GWAR fan or just looking for a unique and delicious whisky to enjoy, Ragnarök Rye is as exceptional as the Immortal Corruptor himself … Hail Oderus!
This year's expression has a special label of Oderus Urungus, drawn by Dave Brockie himself, with a commemorative pewter bartop featuring Oderus. The whisky is our same, 93-point, award-winning 100% rye whisky that has been aged with white oak, sugar maple, and cherrywood, and this year, we've added a rum finished barrel for extra chaos! Look for a ridiculously delicious whisky!
Up to 200 cases of Ragnarök Rye: Oderus Edition (92 proof/46% ABV) $99/750mL will be available throughout Catoctin Creek's national distribution footprint beginning Tuesday, August 1st. It will also be on sale in the distillery's online store for curbside pickup or direct shipping in Virginia only. Nationwide orders can be purchased at ReserveBar.com. In Virginia, Rye Society™ members may call the distillery to obtain a bottle any time before the release date. For more information, video content, or merchandise, visit GWAR.net.
Catoctin Creek Distilling's distribution footprint includes the following 26 markets in the United States: Arizona, California, Colorado, Connecticut, Delaware, District of Columbia, Florida, Hawaii, Idaho, Illinois, Kansas, Kentucky, Maryland, Massachusetts, Michigan, Minnesota, Missouri, Nevada, New Jersey, New York, South Carolina, Tennessee, Texas, Virginia, Washington and Wyoming, and internationally in Canada, Finland, Germany, Mexico, the Netherlands, Italy, Spain and the United Kingdom.