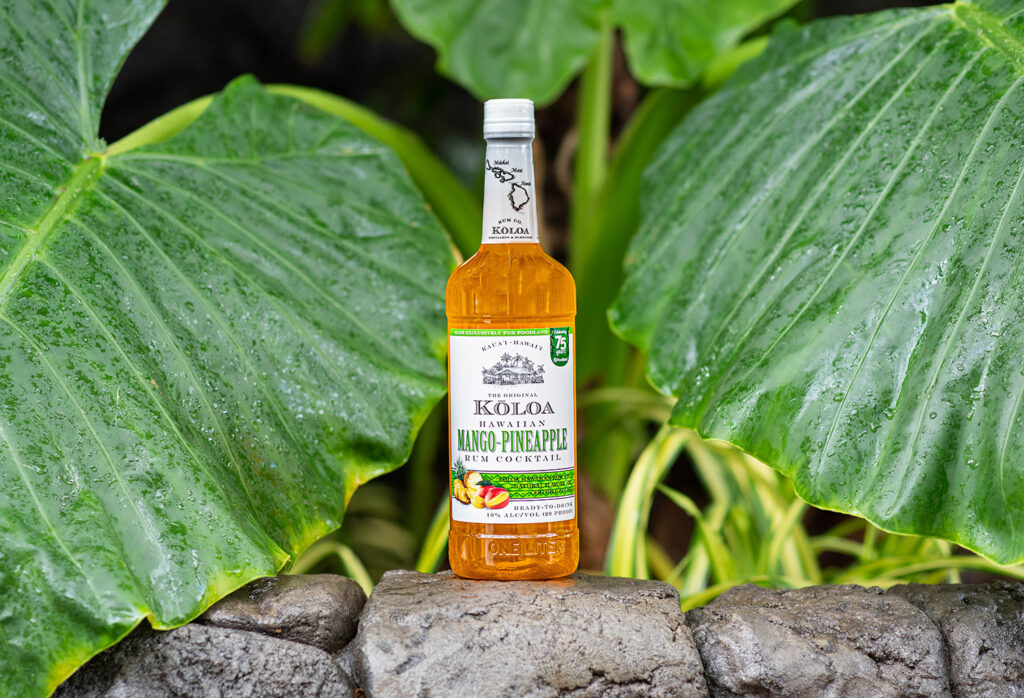 Koloa Rum Co. of Kalaheo, Kauai, Hawiai, announced it has partnered with Foodland to celebrate the iconic chain supermarket's 75th anniversary with the launch of an exclusive rum bottle. The Koloa Hawaiian Mango-Pineapple Rum Cocktail debuted in stores on Sept. 29.
The Koloa Hawaiian Mango-Pineapple Rum Cocktail is a delightfully refreshing beverage featuring Kōloa Kauai White Rum, delicately blended with tropical mango and pineapple, and visually portrays a sunset-like appearance. This ready-to-drink cocktail features 10% Alc/Vol (20 Proof). This item is exclusive to Foodland locations throughout Hawaii. 
"Koloa Rum is well-respected in the rum industry and a proud local brand representing Hawaii, and we couldn't be more grateful for this delicious gift for Foodland's 75th anniversary," said Stacy Waiau-Omori, senior vice president of sales and operations of Foodland. "It's the perfect gift for our customers who want a delightful experience imbibing with friends and family, especially during the upcoming celebration-filled holiday season."
"As The Spirit of Aloha, we are honored with this opportunity to create something special for Hawaii's largest locally owned and operated grocery retailer," said Bob Gunter, president and CEO of Koloa Rum Co. "The tropical flavors imbued with Hawaiian-inspired rum goodness will transport you to island tranquility with its sour and sweet notes."
Koloa Rum features a delicious range of premium rum products that's distilled, blended and bottled in Kalaheo, Kaua'i. It's made with pure cane sugar and pristine rainwater from Mount Waiʻaleʻale, which produces single-batch rums with smooth and remarkably rich flavors.
To find the Koloa Hawaiian Mango-Pineapple Rum Cocktail near you, use the finder tool here. For more information, visit KoloaRum.com.