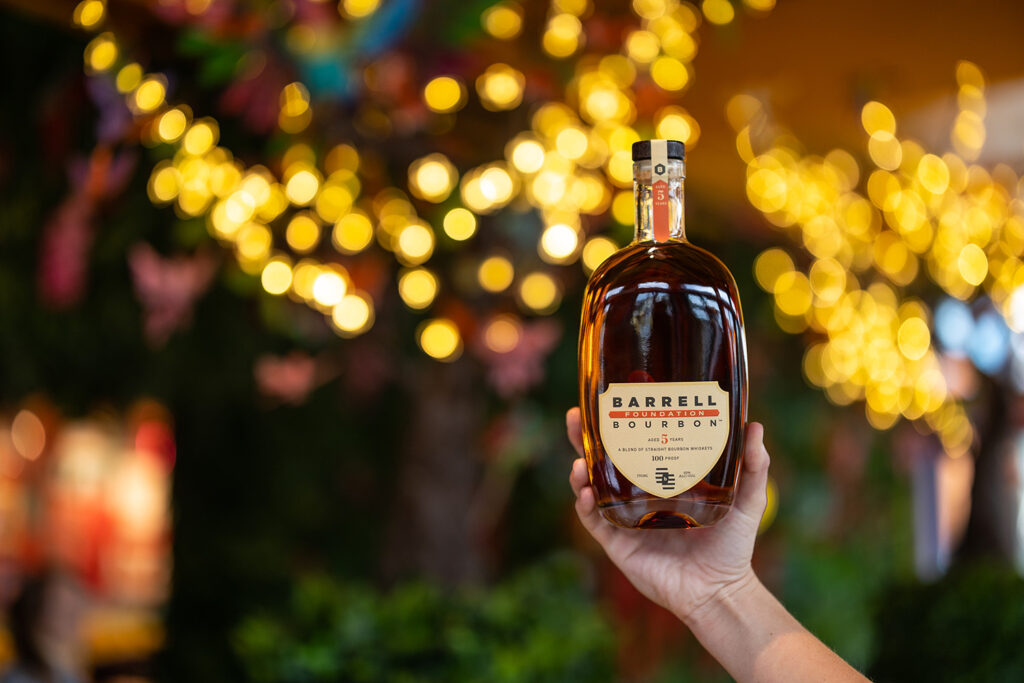 For the past 10 years, Barrell Craft Spirits of Louisville, Kentucky, has become synonymous with some of the most exciting cask strength releases being made in America, showcasing its ability to blend complex flavors in bourbon, rye and American whiskey from a variety of different distillery partners across the world. Today, the original independent blender of unique aged, cask strength whiskey since 2013 announced the launch of Barrell Foundation Bourbon, its first non-cask strength bourbon, in select U.S. markets. The new ongoing release is a blend of Kentucky (eight-year), Indiana (five-, six- and nine-year), Tennessee (eight-year), and Maryland (five- and six-year) bourbon whiskeys bottled at 100-proof. Featuring a derived mash bill of 73% corn, 23% rye, and 4% malted barley, the expression presented a unique challenge for the award-winning blender to show it can produce a great, consistent whiskey at a lower ABV and for all occasions.
"Barrell Foundation is a delicious and easy drinking bourbon whiskey with all the flavor of a cask strength bourbon whiskey at 100-proof," said BCS founder Joe Beatrice. "We believe that a true art form in bourbon-making is the ability to produce bourbon whiskey that can be enjoyed by everyone, and we welcomed the challenge to show that we can produce great bourbon whiskey at a more approachable strength and price for all occasions. For 10 years we've led the blending movement in the U.S. and now welcome this exciting opportunity to be a trailblazer of an entirely different style of bourbon whiskey."
Having recently opened its new 31,000 square foot blending facility in Jeffersontown, Kentucky, BCS can now support the growth of its current brands as well as new product launches. Featuring eight blending tanks with 64,000 gallons of capacity, the new facility enables the team to blend larger stocks of its bourbon into a profile that tastes great neat and works well in cocktails.
Founded in 2013 in Louisville, Kentucky, BCS selects and blends products that explore different distillation methods, barrels, and aging environments. BCS's extensive stocks of high-quality casks mean it can craft extraordinary blends that maximize the nuances of each ingredient. Creative finishes and a liberated approach to blending guides every product release.
Barrell Foundation is now available for purchase online via the Barrell Craft Spirits website and in select markets (AZ, CA, DC, DE, IL, MD, MI, MO, NJ, NV, NY, TX, and WA beginning this month for the suggested retail price of $59.99 per 750ml bottle. The new offering will rollout nationally in January of 2024.