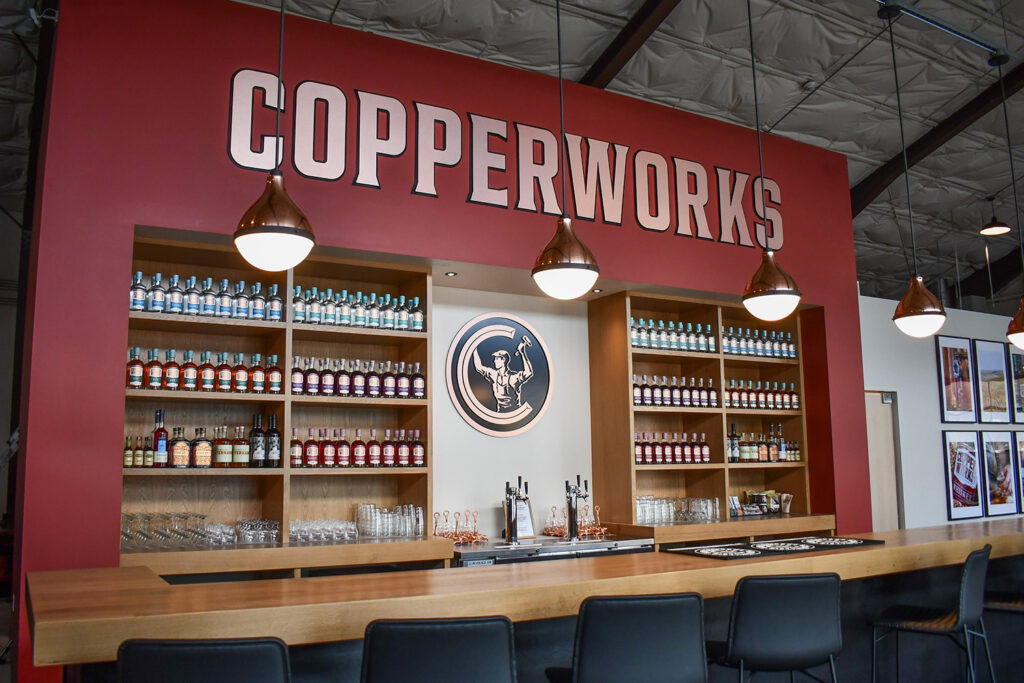 Opening to the public on Oct. 19 in Kenmore, Washington, Copperworks Distilling—Kenmore is a new tasting room and cocktail bar from the award-winning Seattle-based Copperworks Distilling Co. 
The 5,000-square-foot space will feature over a dozen classic, craft and carbonated cocktails. 
Classics: Spirit-forward, classic recipes that highlight not just Copperworks but other Washington craft producers.
Draft: Unique recipes based from various teas and fruit profiles—a nod to the five-ingredient concept of classic punches. Each one very different from the last. 
Carbonated: Light, refreshing and easily enjoyable tipples.
Please note: Copperworks will not serve beer and wine at this time as its tasting room license does not allow it. A restaurant license is needed to serve beer and wine.
Here is what visitors can expect when visiting Copperworks—Kenmore:
The minimalist-designed tasting room features an oak wood bar lined with Copperworks' spirits.
Rustic and industrial details are found throughout the space, with garage doors opening to fenced-in patio seating.
Indoor seating with several four-seater wooden tables, and for larger parties, large farm-style tables.
Outdoor seating with string lights overhead. Guests can choose to sip at tables under a pergola or the big sky.
Pets are welcome outdoors only.
Rotating food trucks.
Bottle sales will be available for guests to take home their favorite Copperworks spirits.
Local Community
Copperworks Distilling—Kenmore sits between 192 Brewing and Cairn Brewing and just down the road from Stoup Brewing.
"We're thrilled to be part of Kenmore's growing 'Brew Row' and add to the selection of locally produced craft beverages and a new stop on the trail," said Copperworks Distilling Co. co-owner and vice president Jeff Kanof. "We look forward to integrating into the area and meeting our neighbors. Our vision is for Copperworks—Kenmore to become a family-friendly hub for social gatherings and community-focused events in the Kenmore area."  
Copperworks Distilling—Kenmore Partners
Architecture Firm | Cardinal Architecture
General Contractor and Interior Design Firm | BMDC (Belotti McHugh Design and Construction Services)
Location
7324 NE 175th St
Kenmore, WA 98028
Hours
Beginning October 19:
Thursday – Saturday: 2 p.m.-9 p.m.
Sunday: 2 p.m.-8 p.m.