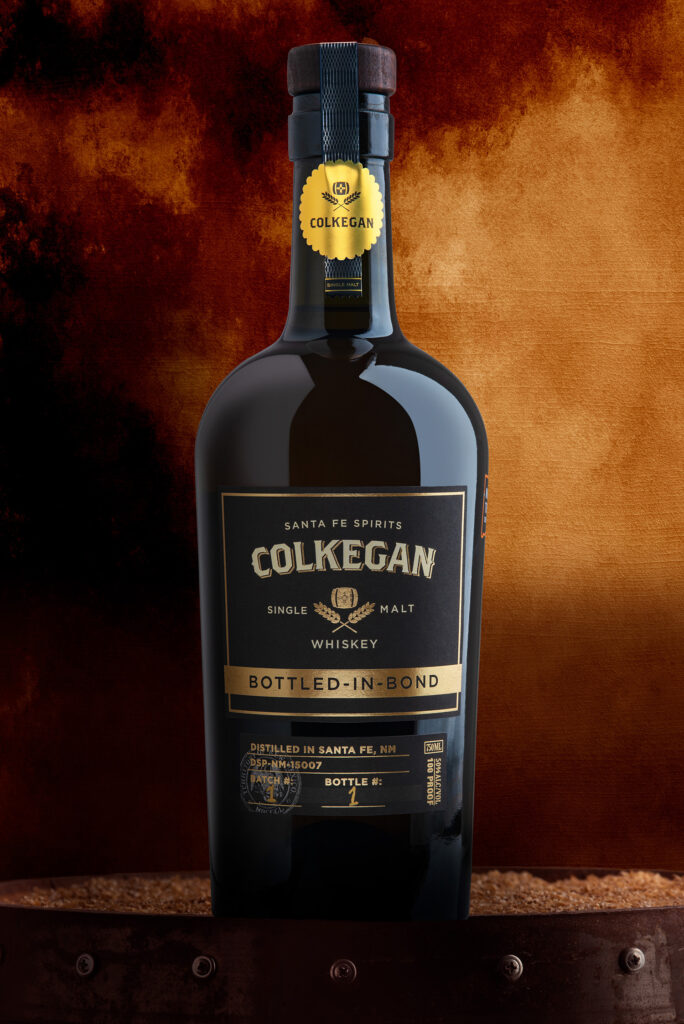 Santa Fe Spirits is releasing its Colkegan Bottled in Bond Single Malt Whiskey at its tasting rooms in Santa Fe, New Mexico, and nationwide with online orders from its website. Santa Fe Spirits is well known for its Colkegan Mesquite Smoked Single Malt, this is the distillery's first Bottled-in-Bond release. It is also the first Bottled-in-Bond release from the state of New Mexico.
The initial launch will be  4 to 8 p.m. on Nov. 3 at the Santa Fe Spirits Distillery. Sales at the Downtown Tasting Room (308 Read Street) and online will begin on Nov. 4.
The Bottled-in-Bond Act of 1897 stipulates that whiskeys designed Bottled-in-Bond must be produced at the same distillery by the same distiller within the same distilling season. It must then be aged for at least four years in a federally bonded warehouse under federal government supervision, then cut and bottled at exactly 100 proof.
Only pure water is allowed to be added to the whiskey, ensuring that what is in the bottle is the purest form of whiskey a distillery can make. Making an exceptional bottled-in-bond whiskey is a challenge as the distiller can only choose from a limited number of barrels to meet the government stipulations; there is no way to hide an over-oaked barrel or a flaccid-flavored barrel, so what the consumer tastes really shows off the craft of the distiller.
Spurred by ever-increasing consumer interest and the efforts of the American Single Malt Whiskey Commission, single malt whiskey made in the U.S. has gained considerable attention in recent years. As a founding member of ASMWC, Santa Fe Spirits has helped champion the creation and promotion of American single malt whiskey as an officially recognized category of whiskey. On July 29 the Alcohol and Tobacco Tax and Trade Bureau (TTB) issued the Notice of Proposed Rulemaking in the Federal Register which will formally define American single malt whisky. In the coming months, the TTB is expected to release an official definition of American single malt. This is great news for the entire industry and for consumers who are eager to purchase whiskey like Colkegan Unsmoked.
About Colkegan Bottled-in-Bond
Distiller Stephen Julander says "As I was going for a light whiskey with the Colkegan Unsmoked, I am pushing for a richer, deeper flavor for this whiskey. More of an American style to celebrate Single Malt as an American Spirit.  More new charred oak and full-bodied flavors throughout." 
Look for:
Color: A deep tawny color, like that of a rich fall cider.
Nose: The nose of this whiskey builds into deep notes of caramelized pecans, with very mellow mesquite smoke; ripe peaches and clove follow. Toffee and toasted oak cannot hide in this exciting Bottled-in-Bond whiskey. 
Palate: A velvety texture, with the palate matching the comparatively (to other whiskey's made by SFS) darker color of the whiskey. Lovely fruit and floral notes such as yellow raisin and lilac, with notes of slow roasted acorn squash.  Hardy caramel tones and mesquite smoke follow. A stout warmth lasts long after the initial taste.   
Finish: The lasting warmth of the palate feeds into buttered toast, with nut brittle notes teasing one into another sip.
Pricing and Availability
Colkegan Bottled-in-Bond is a limited run of approximately 1,000 bottles and will be available at the Santa Fe Spirits Distillery and the Santa Fe Spirits Downtown Tasting Room for $99. It will be available for purchase online from the Santa Fe Spirits website to ship directly to consumers' doors in 42 states in the U.S.