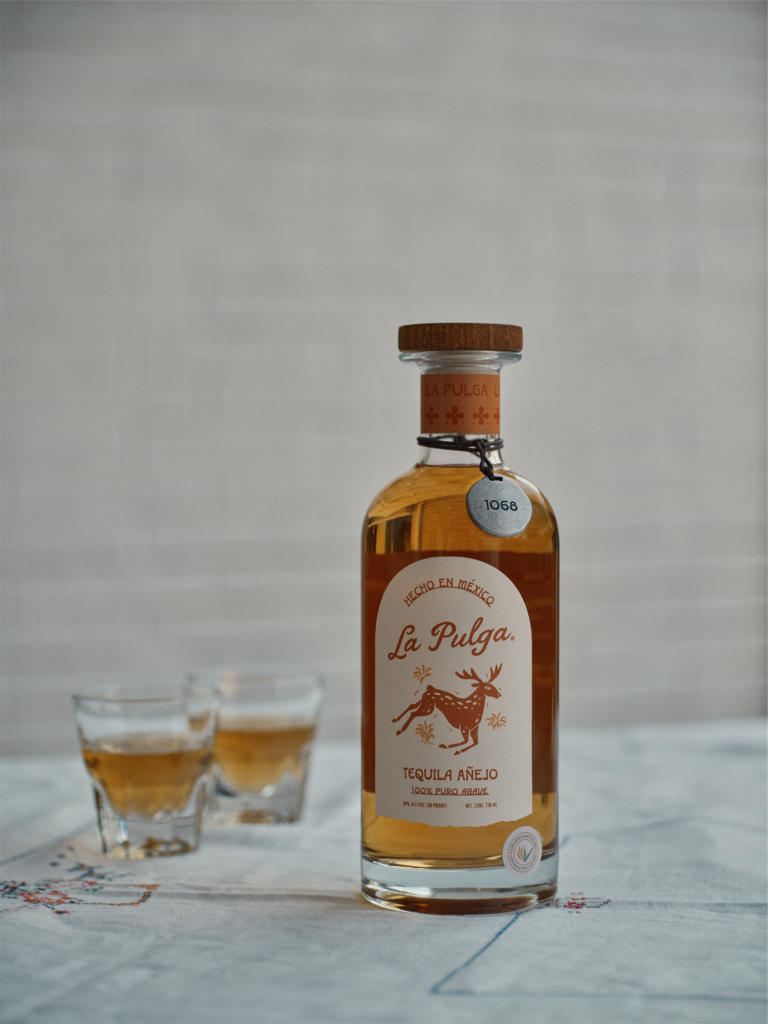 Fort Worth, Texas-based La Pulga Spirits has unveiled its highly anticipated Añejo Tequila, an additive-free tequila made with 100% pure agave and crafted by hand. Aged for 18 months in ex-bourbon barrels, La Pulga's Añejo is distilled and bottled in the Highlands of Jalisco.
At 40% alcohol-by-volume, the 80-proof Añejo is rich, distinctive, and complex – amber in color, a high fruit nose with a flavor of roasted agave, vanilla, caramelized sugar, and oak, yet is surprisingly expressive and warm in its long finish.
Packaged in a 750 ml easy-to-hold bottle, La Pulga's Añejo is distributed through Republic National Distributing Co. and has an SRP of $74.99. It is on shelves now at high-end bars, restaurants, and liquor stores, and can also be purchased online at www.LaPulga.com. National expansion is planned for 2024.
La Pulga Spirits takes its name from the endearing term for "flea market." The company recently acquired the 12-acre historic Pequeño Mexico flea market on the Northside of Fort Worth, one of the oldest open-air flea markets in the U.S. They will soon break ground on a state-of-the-art Sotol distillery and plan to remain loyal to its original roots by continuing to operate La Pulga's weekly market full of authentic local Hispanic foods and goods.
La Pulga's Añejo joins the company's distinctive tequila lineup, including its Tequila Blanco ($44.99 SRP), an unaged 80-proof silver tequila characterized by its floral aroma and taste notes of cooked agave, grapefruit, minerality, and honey; and its 80-proof Tequila Reposado ($54.99 SRP), aged for seven months in used barrels to impart flavors of agave, caramelized sugar, licorice, honey, and black pepper. All La Pulga spirits are artisanal and made with traditional methods; are crafted by hand; certified additive-free; packaged in eye-catching and easy-to-pour bottles; and adorned with an "alebrije," a brightly colored piece of Mexican folk art.
The size of the bottles makes them easy to hold, and each label incorporates an alebrije that reflects the cowboy and Western cultures present in Mexico and in Texas. The alebrije for La Pulga's Añejo is the stag, a familiar find in high deserts in both Texas and Jalisco and a symbol of power, grace, and strength. La Pulga's Blanco features a bucking bronco, the symbol of a soul that cannot be tamed; while its Reposado features a bull, the perfect tie between Mexico and Fort Worth's historic Stockyards.
"Our new Añejo Tequila is our finest offering to-date – it's created in the soulful land of Jalisco by our incredibly talented jimadors, but you can absolutely taste the Fort Worth grit and determination that is sealed in every bottle," said Sarah Castillo, co-founder of La Pulga Spirits. "We pride ourselves on making vibrant tequilas with the taste of Mexican culture, passion, and flavor, and our Añejo is no exception. If you're looking to support local, drink clean, and add a beautifully crafted tequila to your bar top, you'll want to get your hands on La Pulga Añejo."
La Pulga Añejo tasting notes:
Color: Honey amber
Nose: Aromas of high fruit, vanilla, black pepper, caramelized sugar, and slight notes of roast and chocolate
Taste: Flavors of roasted agave, vanilla, oak, and anise
Mouthfeel: Medium-to-full-bodied, and warm with a slight drying sensation
Finish: Long warm expressive finish
For more information on La Pulga's new Añejo, visit www.LaPulga.com.