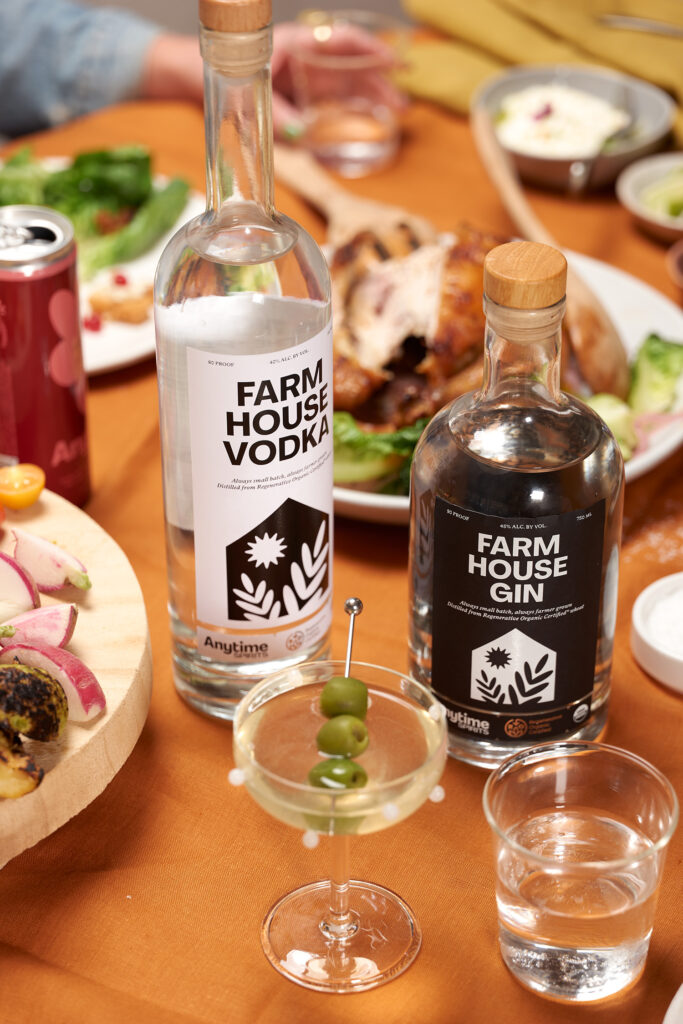 Anytime, a female-founded, regenerative and transparent cocktail and spirits company, proudly announces the release of its Farmhouse Vodka and Farmhouse Gin, the first Regenerative Organic Certified (ROC) spirits to ever hit shelves. The launch signifies a momentous call-to-action within the spirits category as Anytime builds direct supply chains with farmers, benefiting people and the planet, while also reshaping the drinking culture to be joyful and inclusive.
Anytime was founded by Maddy Rotman and Taylor Lanzet, sustainable food activists who dedicated their lives to celebrating food and drink while improving climate. They both have a decade of experience leading supply chain and sustainability teams at prominent establishments such as DIG Restaurants, Daily Harvest, and Imperfect Foods. 
"Built for good, designed with everyone in mind, including farmers and food workers, we're making drinking an agricultural act," said co-founder Taylor Lanzet. "We distill from 100% Regenerative Organic Certified wheat, a vital component of regenerative crop rotations, which allows the soil to recover between harvests, sequestering carbon, enhancing biodiversity, and contributing to a more sustainable future. Regenerative organic agriculture is a necessary practice to fix our climate crisis, and we're thrilled to guide the spirits category in that direction."
Anytime's Farmhouse Gin & Vodka, working in partnership with Regenerative Organic Alliance (ROA), Breathe Deep Farm, and McClintock Distillery, has become Regenerative Organic Certified through its commitment to agriculture and all the players in the farm system. With forecasts predicting that global topsoils will deplete in less than 60 years at our current rate, regenerative organic agriculture is more important than ever to address the climate crisis, rehabilitate soil, respect animal welfare, and improve the lives of farmers.
"By championing a new wave in the marketplace with Regenerative Organic Certified®️ spirits", said ROA's Executive Director Elizabeth Whitlow, "To date, the ROA has certified more than one million acres of land globally, which is a tremendous achievement! But considering that just 1% of US grain production is even Organic, we know this is only the beginning. Regenerative Organic not only provides a foundation for agriculture as a solution to the climate crisis, it offers a road map for restoring rural communities and economies by improving the lives of the farmers and farm workers, so we take pride in helping brands like Anytime craft the most responsible products while holding themselves accountable along every step of the supply chain."
Working with Breathe Deep Farm, in Hudson, New York, Anytime is growing wheat in a way that focuses on improving the entire farm ecosystem, ultimately helping to reverse the effects of climate change, while creating a smooth and soft flavor in the spirits.
"We're not just waking up cocktails; we're waking up an entire industry. Anytime is about celebrating life's joys – backyard brunch to dinner parties with the ones we love on the planet we love," said co-founder Maddy Rotman. "With our Farmhouse Gin and Vodka, we're taking that celebration to a new level and redefining the spirits category with people and the planet at the forefront."
Founded in early 2023, Anytime debuted with farm-to-can spritzes that are crafted with a focus on flavor and cater to conscious consumers. The expansion into the spirits category was a natural transition as Anytime sought out ways to use 100% transparent, farmer-driven, and locally sourced ingredients to make more sustainable and delicious cocktails.
Anytime Farmhouse Vodka, Farmhouse Gin, and canned Spritzes are available in New York and California in better retailers, restaurants and bars in both states. Additionally, they are available to purchase online at www.anytimefarmhouse.com.
For more information about Anytime Spritz and their commitment to sustainability and flavor, please visit www.anytimefarmhouse.com.