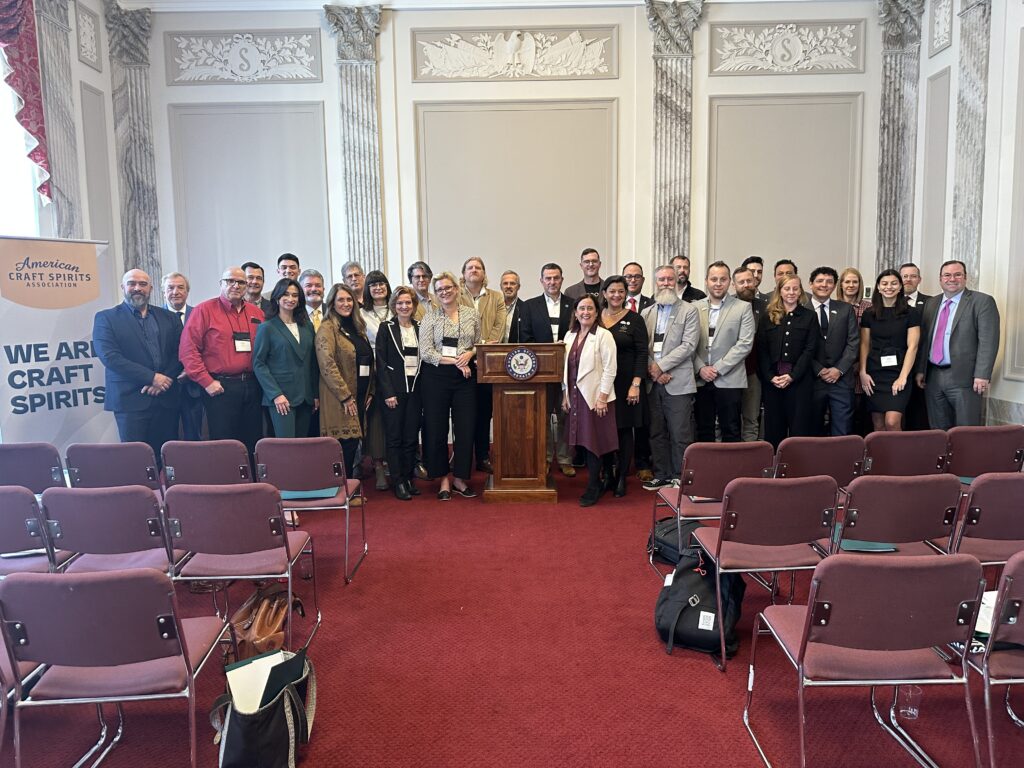 WASHINGTON, D.C.—With an eye toward equitable shipping practices, agritourism, an efficient regulatory structure and sustainable forestry and oak-sourcing practices, 40 of the country's craft spirits producers and industry partners ascended Capitol Hill Wednesday to engage legislators on key federal priorities during the American Craft Spirits Association's (ACSA) Legislative Fly-In.
It's the first time since 2019 that ACSA was able to host an in-person Legislative Fly-In, as the most recent editions had been conducted virtually.
"As distillers, I think I can look at everyone in this room and say we're storytellers," said Gina Holman, founding partner of J. Carver Distillery (Waconia, Minnesota) and President of the ACSA Board of Directors. "And here's the deal: if we're not telling our stories, we're closed."
This year, advocacy efforts focused on four major initiatives: the USPS Shipping Equity Act, adequate funding for the U.S. Alcohol and Tobacco Tax and Trade Bureau (TTB), the Agritourism Act and the White Oak Resilience Act. ACSA Public Policy Counsel Jim Hyland and State Policy Advisor Michael Walker coached attendees on how to engage their members of Congress on these issues.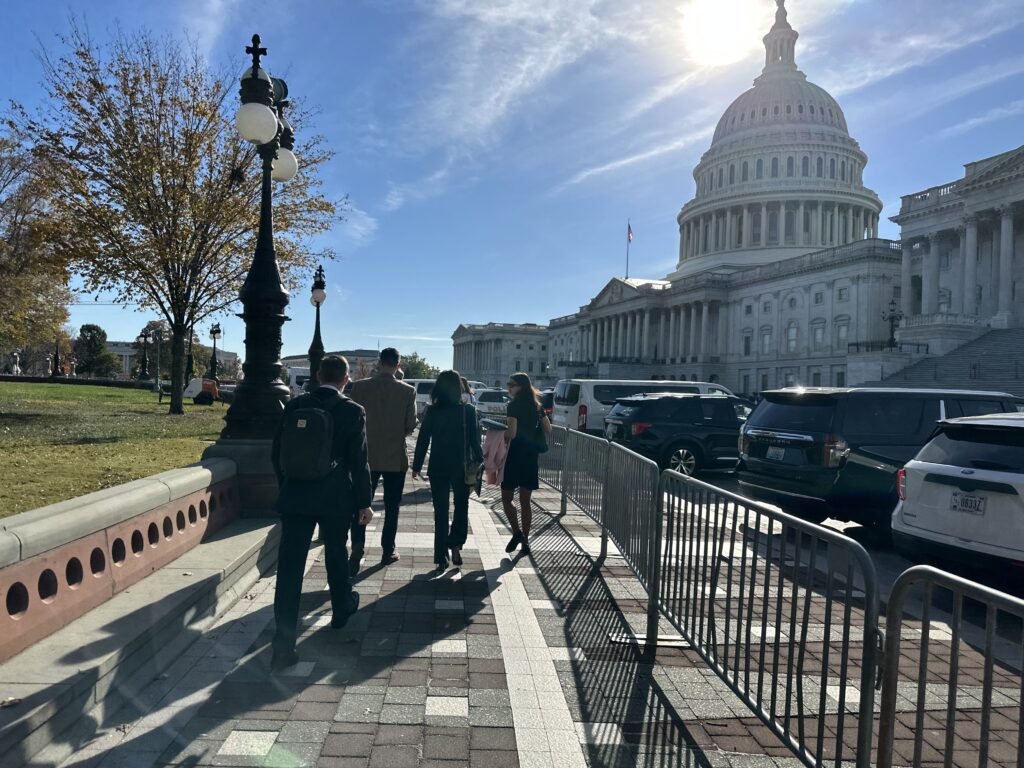 "This work matters because this is how we make change, by showing up, year after year and telling our stories to folks and not letting them forget us, because it's easy to be forgotten among the press of all the other things that people are asking for on the Hill," said Catoctin Creek Distilling Co. (Purcellville, Virginia) president and head distiller Becky Harris, chair of the ACSA Government Affairs Committee and Immediate Past President of the ACSA Board of Directors. "And showing up, putting our faces in front of people, matters. And that way we're saying 'We care and we're not going away.'"
ACSA CEO Margie A.S. Lehrman noted that ACSA members have been able to influence significant changes in government policy because they refuse to be told "never." Lehrman noted,
"I recently had a conversation where I said, "We're at a crossroads right now. We can either stay inside the guardrails or we can start knocking them down, piece by piece of the highway,'" Lehrman said. "So you're all here to make that happen."
U.S. Sen. Tim Kaine (D-VA) visited the group at the start of the day to welcome them to D.C.
HR 3721 USPS Shipping Equity Act
Among ACSA's top priorities on Capitol Hill this week was HR 3721, the USPS Shipping Equity Act, a bipartisan bill that would authorize the United States Postal Service to ship alcoholic beverages. The bill, sponsored by Rep. Dan Newhouse (R-WA) contains provisions that will ensure the safe and effective delivery of alcohol including:
Requiring beverage alcohol suppliers to register with the USPS
Directing the USPS to establish rules so that people 21 and over and authorized agents can receive shipments
Prohibiting the resale of alcoholic beverages delivered via USPS
Requiring entities utilizing the the USPS to certify that they are not violating applicable laws.
Further, HR 3721 does not preempt state shipping laws and does not allow shipping into jurisdictions that do not already legally allow it. It also ensures that the U.S. District Courts have jurisdiction over any claims made by state, local or Tribal governments over violations regarding sale, mailing and transportation of beverages.
Currently, in states that allow spirits to be shipped, producers are only able to do so through common carriers like UPS and FedEx—which aren't as readily accessible as USPS, especially to distillers in rural areas.
"The interesting thing is that we are still stuck in the 1930s as it relates to some of the liquor laws in this country, Prohibition-era liquor laws, the prohibition of the post office to be able to carry liquor to homes and businesses," Rep. Newhouse said. "We're trying to change all that. … Not everybody has UPS delivery every single day or FedEx delivery every single day, but they do have the mail coming every day."
And the issue reaches beyond consumers, as it affects craft spirits producers' ability to ship professional samples to the media and other business entities.
"I do hope we can get this equity act passed," Newhouse added. "It facilitates your business model and [enables you to] be connected to people around the country.
He also noted that it ties in with one of the other main initiatives, the Agritourism Act.
"It connects you to rural America," Newhouse said. "You may not be in rural America, but you depend on ingredients from rural America."

["The bill's opponents] are not thinking about the different ways that we have to interact with the press and send samples," said [If] you start having a problem with your common carrier, then how do you get your samples out?"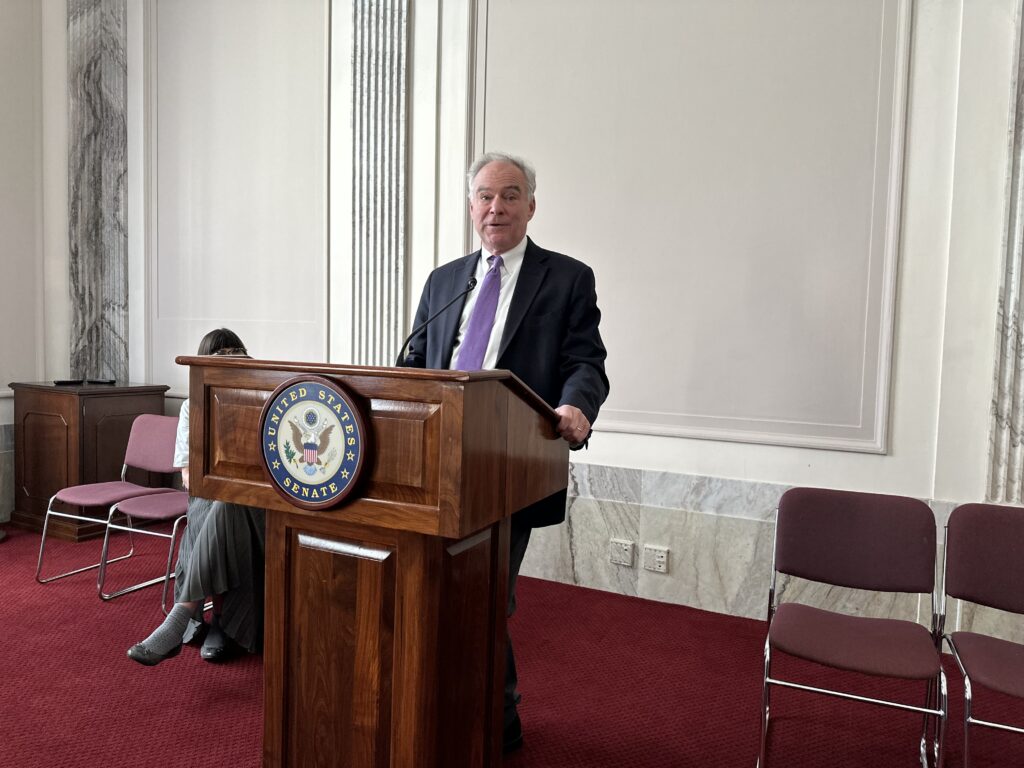 Funding the TTB
Another of ACSA's objectives this week was to urge lawmakers to ensure that TTB has adequate funding to provide vital services to craft spirits producers. The threat of government shutdowns and proposed budget cuts to TTB would hurt the craft spirits industry by reducing its ability to efficiently get products to market and by likely benefitting from rulemakings that are intended to make American small business more competitive.
Keeping the federal government open is only part of the challenge. Ensuring that the budget negotiations result in sufficient funding for TTB is another hurdle. ACSA members are advocating for TTB funding of no less than $148.8 million to support critical services including approving operating permits, labels and product formulas. Without such approvals, a distillery may not be able to operate. The association also is working to ensure that funding received by TTB is used to develop regulations recognizing the challenges facing craft distillers and other small business in gaining access to market and competing in an increasingly global marketplace.
Senior officials for TTB were on hand Wednesday morning to answer distiller questions and address major regulatory issues in a panel moderated by Jordan Cotton of Washington, D.C.-based distillery Cotton & Reed and chair of the ACSA's Political Action Committee.
"Big-picture-wise, we want to facilitate and support your success as distillers," TTB deputy administrator David Wulf told the audience of craft spirits producers. "We want to get you permitted and into business … we recognize that the vast majority, the tens of thousands of businesses we regulate, are small entities. And we want those entities to thrive."

HR 5203, The Agritourism Act
Additionally, craft spirits producers have voiced their support for the creation of an office of Agritourism within the U.S. Department of Agriculture (USDA), through the bipartisan HR 5203, The Agritourism Act, sponsored by Rep. Jennifer Wexton (D-VA). According to the most recent USDA Census of Agriculture, agritourism-related income increased from $202 million in 2002 to $949 million in 2017, a nearly four-fold increase. Craft distilling is a prime example of value-based agriculture and many distilleries are located in rural agricultural areas and are becoming destinations for tourists. Agritourism communities support local, regional and state economies and a number of states have recognized that by including spirits production in their promotional boards, while several others have introduced bills to create spirits promotion boards.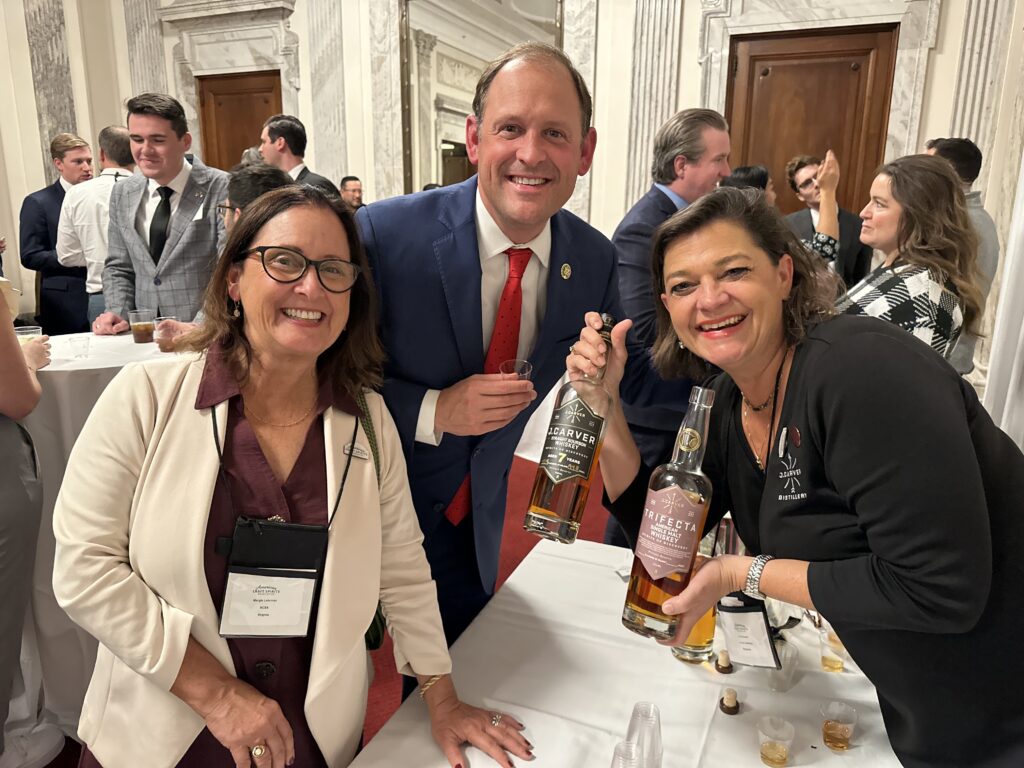 If passed, HR 5203 would require the Secretary of Agriculture to appoint a Director of the Office of Agritourism and promote agritourism in states. It would also facilitate interagency efforts and agritourism activities with other agencies within USDA, as well as other departments, and review and improve farm enterprise development programs that help support entities involved in agritourism. The bill doesn't, however, authorize any new federal spending.

HR 5582, The White Oak Resilience Act
Also on the craft spirits industry's legislative agenda this week was support for a bipartisan bill that would implement sustainable practices that would both preserve American forests and biodiversity and ensure a productive future for craft distillers. HR 5582, the White Oak Resilience Act (WORA) introduced by the White Oak Caucus and sponsored by Rep. Andy Barr (R-KY), would help achieve those goals.
White oak trees, vital for wildlife and biodiversity, today occupy 104 million acres in the U.S. Under current TTB regulations, most whiskey made in the U.S., including bourbon, rye and straight whiskey, are required to be aged in charred new oak barrels. And white oak is the preferred wood among craft distillers, as its exceptional quality, strength and density make it ideal for aging spirits.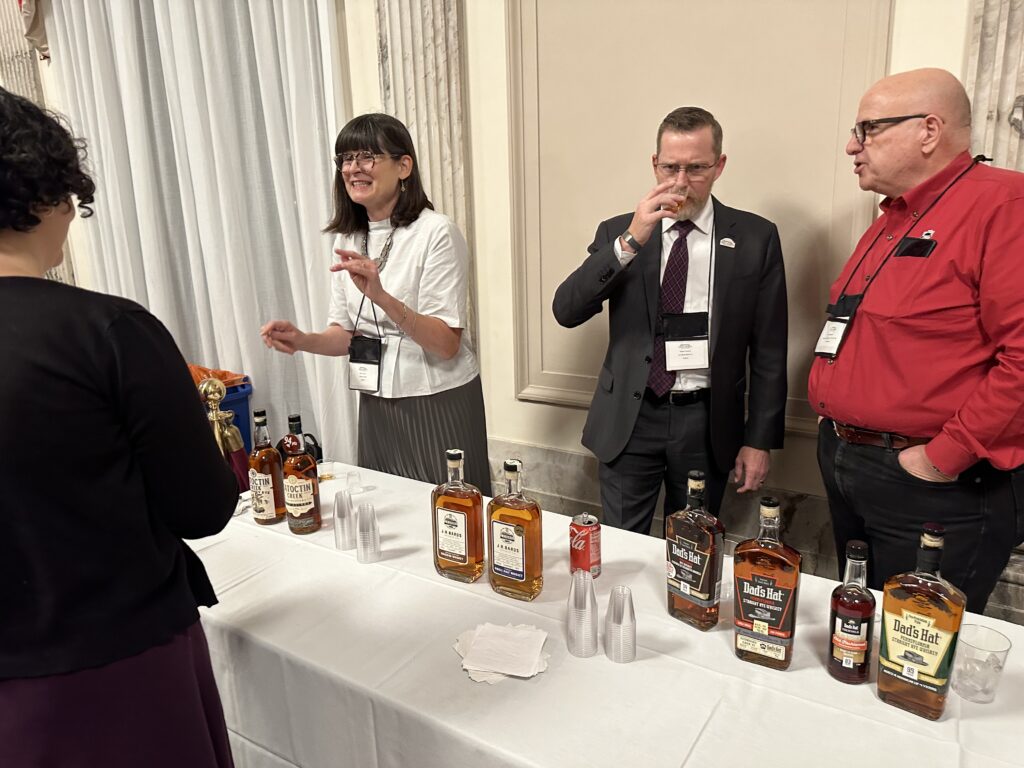 But, according to research, white stands of white oak do not exist in the amount needed to support wildlife and sustainable forestry. That's where HR 5582 comes in, as it would codify a public-private partnership—the White Oak Restoration Initiative Coalition—to work to conserve and regenerate white oak. In addition, the White Oak Resilience Act would:
Create pilot projects for the U.S. Forest Service and Department of the Interior to reforest white oak where appropriate
Establish a white oak restoration fund so private funding can be used for regeneration efforts in national forests through the National Forest Foundation
Authorize the Forest Service to enter Memoranda of Understanding with land grant universities to conduct research
Direct USDA's Natural Resources Conservation Service (NRCS) to create a formal initiative on white oak like the Longleaf Pine and Sage Grouse Initiatives at USDA
Improve coordination and collaboration amongst existing programs.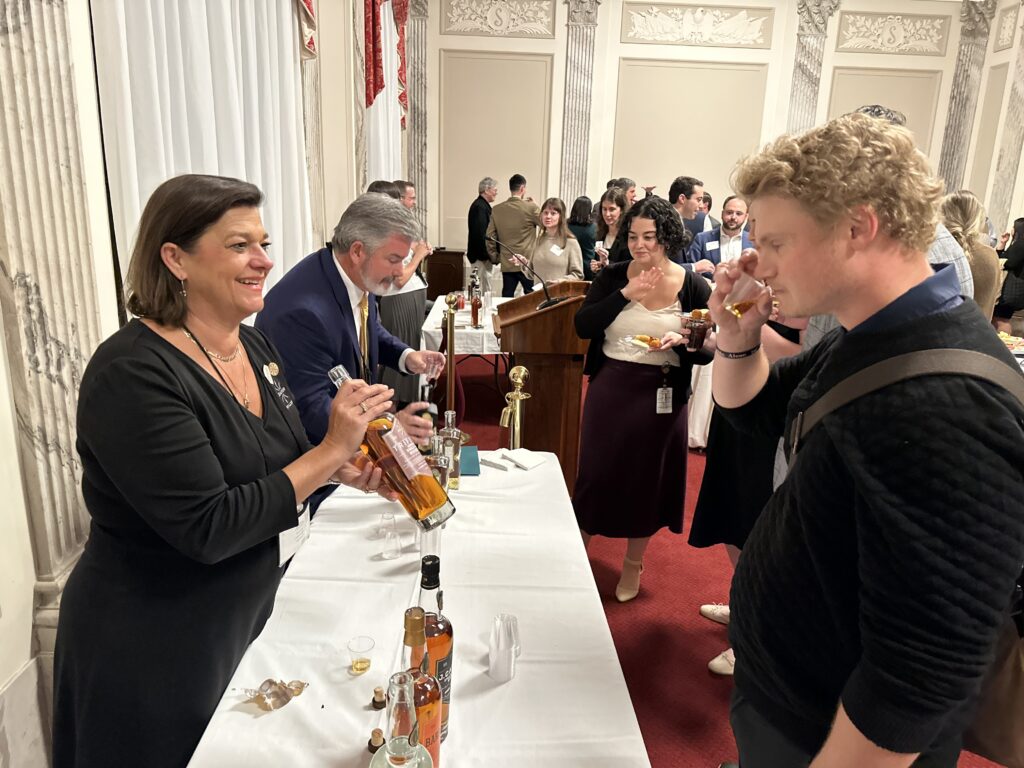 What's more, HR 5582 does not authorize any new funding.
"If we do nothing, the price of white oak will skyrocket," said Erica Tergeson, principal at Crosswinds Solutions, the political strategist lobbying for the WORA.
And that means the cost of aging whiskey and other spirits will skyrocket along with it.
White oak shortages will start to become most apparent within the next 10 to 20 years as most trees are now mature and are expected to start to decay by then.
"[The crisis] is already happening, we're in the middle of this," Tergeson said. "We should have started on this 40 years ago, but here we are. … We can save white oak but we have to act immediately."
Rep. Morgan McGarvey (D-KY), one of HR 5582's co-sponsors, called the bill "a great example of bipartisanship."
"This is something that's great for bourbon, it's great for business and it's great for our planet, McGarvey said. "It brings people together in a manner in which you don't always see in Washington."
The ACSA Legislative Fly-In kicked off Tuesday night with a welcome reception at Republic Restoratives Distillery & Craft Cocktail Bar and concluded with a reception showcasing spirits from a wide range of American craft producers in the Senate office building.
ACSA would like to thank all who attended, donated spirits for the reception and donated to the ASCA PAC. ACSA also thanks Prestige-Ledroit for donating cocktail mixers.