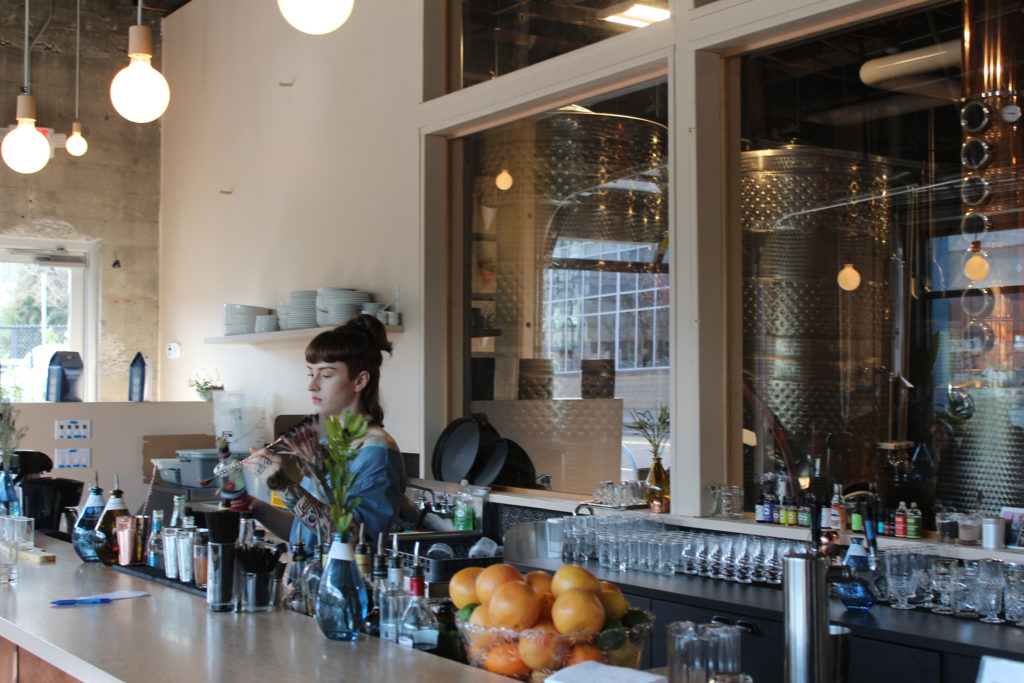 On the craft beverage front, Portland's claim to fame was as the pre-eminent beer city in the U.S.—many might even say the world. And that helped set the stage for craft spirits producers within the Rose City limits, now numbering in the double-digits.
"I think it's a natural progression," observes Molly Troupe, partner and master distiller at Freeland Spirits, which launched its namesake gin in late 2017 and opened its distillery and tasting room in northwest Portland about a year ago. "When you've seen the craft beer movement, people have really responded not just to the fact that they were making good beer, but that they had something to say. And I think that's where a lot of craft spirits have gone as well."
Given the city's pioneering pedigree, one might (naively) assume that launching a distillery and developing a full-fledged craft spirits scene is a walk in the park. But Portland is a far more complicated environment than the average "Portlandia" viewer might think—especially a decade after the heyday of its Distillery Row.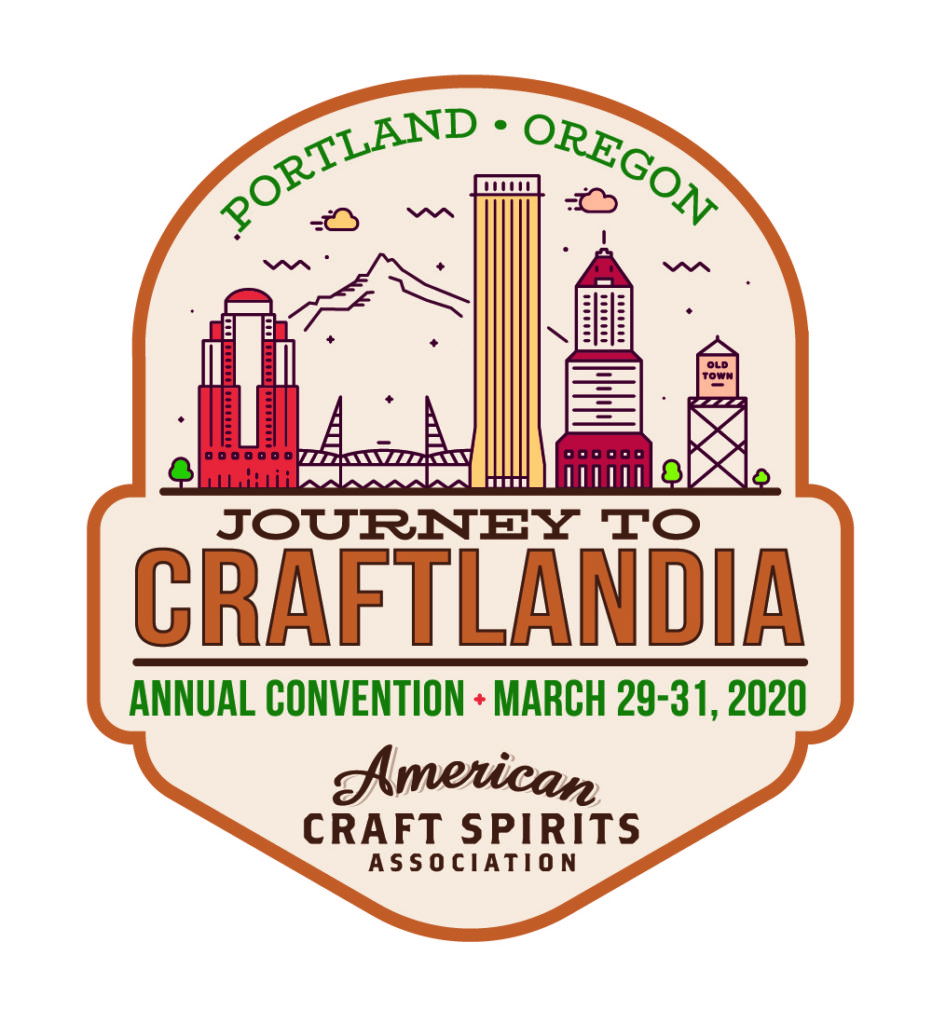 "Portland's been an interesting place," says Christian Krogstad, co-founder of House Spirits Distillery, which opened there 15 years ago. "I think it is a good bellwether for the national distilling scene just as it was for the national brewing scene."
Krogstad moved to Oregon's largest city nearly three decades ago to work in the then-burgeoning brewing scene.
"When I moved to Portland in '91 there were like 14 breweries—there were more breweries there than anywhere else in the country," he recalls. "That's why I moved there. Now there are 90 breweries."
When House opened 13 years later, there were only about 35 distilleries in the entire country.
"Seven or eight of them were in Oregon," he remembers. "Now we have 15 or so in Portland."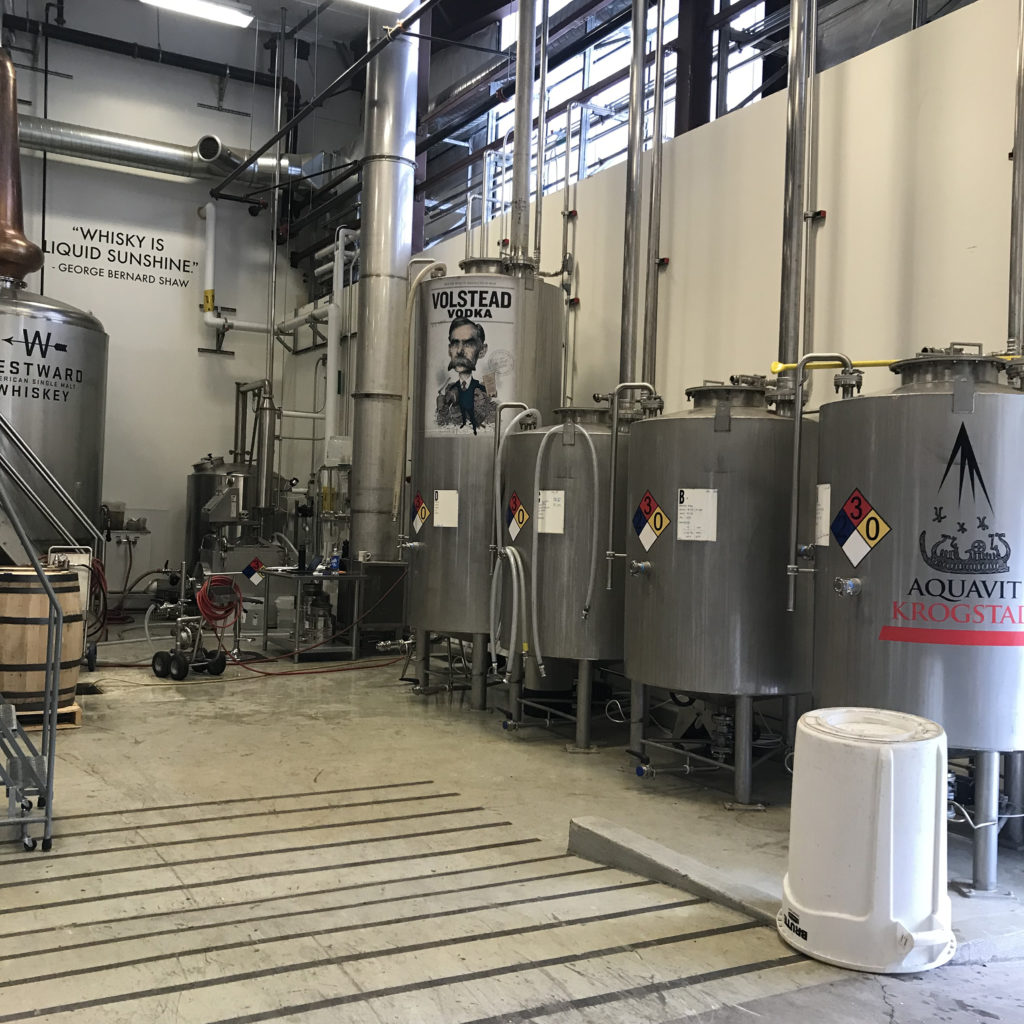 House Spirits had the advantage of being one of the early movers in the city. For the most part, the local government's only frame of reference was the craft beer movement, of which Portland was the undisputed epicenter.
"In the early days in Portland, we were treated very much like a brewery," Krogstad explains. "Starting a distillery in Portland at first was probably easier than it should have been and probably had less regulatory oversight than it should have. Fast-forward 15 years and it has more regulatory oversight than it should and the city is more cautious than any other city that I have experienced."
Those distilleries that have survived the often-protracted permitting process can't just offer the same spirits and experiences that their local peers provide—especially when Portland consumers are notorious for their "been there, done that" attitude. Of all of the producers currently operating in the city, no two are alike. And while being the "local" distillery may have cachet in other markets, Portlanders mostly greet that notion with a yawn.
"People probably aren't as drawn to 'local'—they're more drawn to quality or novelty," says Andy Garrison, head distiller at Stone Barn Brandyworks.
The hometown angle likely was more appealing back when Clear Creek Distilling—now owned by Hood River Distillers—set up shop in 1985, but has since worn off. "Portland has had a craft distillery for 35 years in Clear Creek, so they're not interested in local for spirits, they're interested in something that's good," says Garrison. "So [distillers] have got to take it to the next step."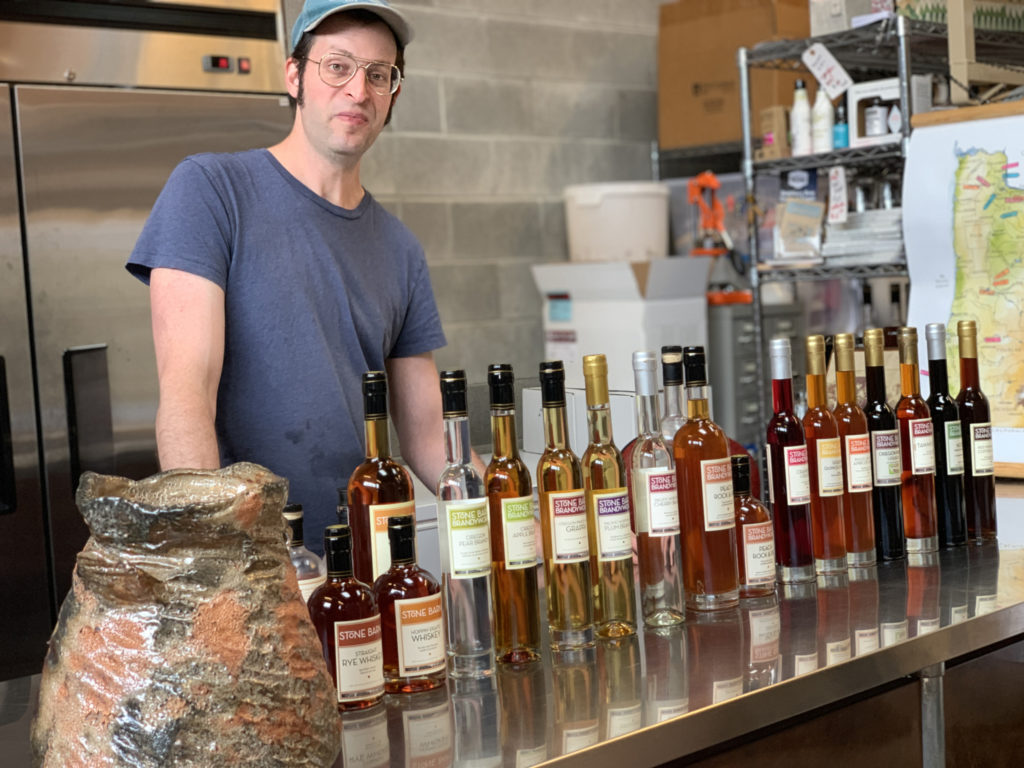 That "next step" involves establishing a persona—a brand, if you will—that none of your neighbors can claim. "It kind of pressures people to find their own identity in what they want to make," Garrison explains. "How many local well vodkas can the city support? Probably not that many."
It's hard to argue, though, that the traditional Scandinavian spirit, aquavit, has reached market saturation and there are two distilleries—House and Rolling River Spirits—that offer their own distinct riffs on the Nordic classic. Rolling River's portfolio includes an entire line of aquavits that demonstrate the breadth of flavor profiles within the category.
While whiskey is among the most pervasive spirits categories among craft producers, Portland distillers know that they have to distinguish themselves within grain-based spirits to keep the market interested. House is among a small group of distillers leading the effort to establish a definition for American single malts. House's Westward American Single Malt Whiskey attracted the attention of Diageo's Distill Ventures, which acquired a stake in the brand last fall. Before that, House helped reinvigorate the American gin category when it launched Aviation, which it has since sold (but still produces). Davos Brands acquired Aviation in 2016, about two years before movie star Ryan Reynolds bought a significant stake in the brand.
Freeland's flagship gin has quickly gained national attention, thanks to the inclusion of many fresh Pacific Northwest ingredients, which give it bright, herb garden and citrus notes. And even though it's getting more and more difficult for a distillery to release a distinctive bourbon in such a cluttered marketplace, Freeland has done just that, particularly by finishing them in Oregon pinot noir barrels. The distillery also recently unveiled Geneva, its interpretation of a Dutch-style genever. The spirit combines a base of Oregon-grown rye with seven botanicals, including locally sourced Willamette Valley hazelnuts.
The distillery itself stands out among its peers, as its tasting room—bathed in natural light during the daytime hours—marries a craft cocktail bar with a sort of brewpub concept, serving a variety of snacks, salads and sandwiches.
"A lot of places you go today are just kind of shrouded in darkness," Troupe says. "[Ours] has a very different feeling with lots of light. When this space was finished, we all sat around here and did our work. We felt at home and at peace and people really do respond to that. It's one of those places where people really like to hang out."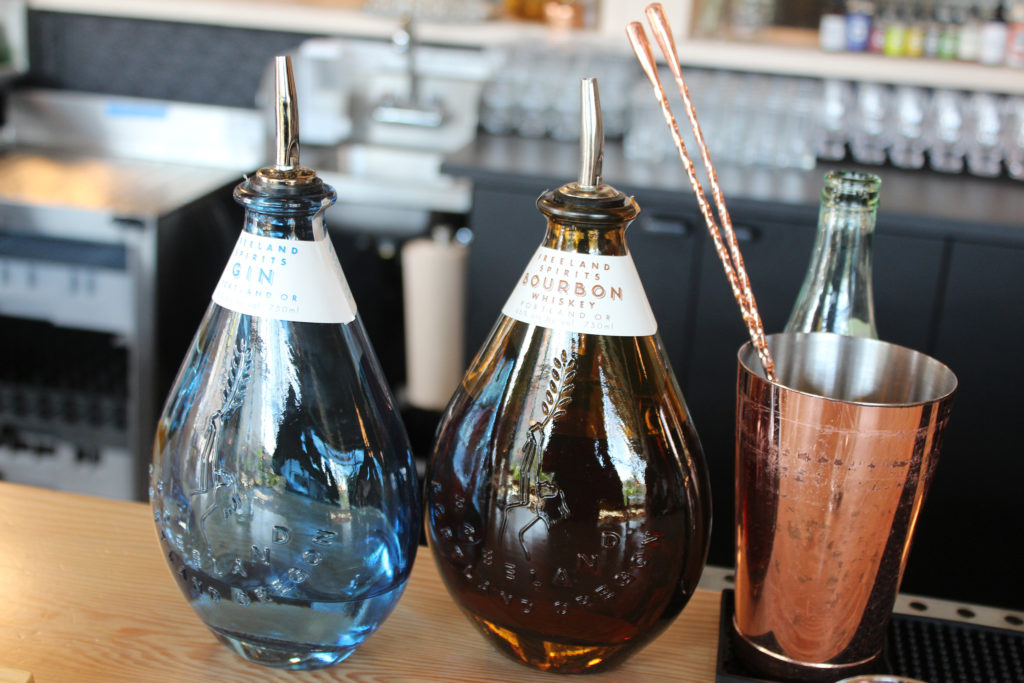 And then there's the Freeland bottle, which blurs the lines between packaging and modern art. If you happen to encounter the tinted, 750-mL raindrop-shaped glass container on retail shelves or behind the bar, you're not likely to confuse it with another distillery's package. The bottle, says Freeland sales director Jesse Brantley, offers a subtle sense of place. "Of course it rains a lot here in the Pacific Northwest and that, to me, means fertility," Brantley says. "We have this amazing valley where we have enough rain and protection from the coastal winds where we can grow all of these beautiful products. I think the bottle encompasses a lot."
Stone Barn Brandyworks takes nature's bounty in a different direction, experimenting with fruits both familiar and further afield. Co-founder Sebastian Degens—who launched the distillery with his wife, Erika—spent much of his youth in Germany, whose schnaps tradition greatly influenced his own work. Oregon and Pacific Northwest-grown Bartlett pears, apples, cherries, plums and grapes are some of the bases for Stone Barn's eaux de vie, while quince, prunes, cranberries, apricots and rhubarb are some of the fruits that flavor its line of liqueurs. Stone Barn also produces a Nocino from unripe walnuts and a rye whiskey base. Despite the distillery's name, it does have a robust grain-based program, which includes, at different times, releases such as Dark Roast Straight Rye Whiskey and Straight Wheat Whiskey. The producer also has done quite a bit of barrel experimentation, aging ryes in everything from Limousin oak to cooperage that previously contained maple-syrup aged apple brandy.
American-made brandy may still be a relatively small, niche category, the same really can't be said for U.S.-produced baijiu—it's nearly non-existent. And the credit for that being "nearly" and not "totally" goes to Vinn Distillery, the 10-year-old family-owned producer that crafts a rice-based, Stateside interpretation of the Chinese spirit. The first time that many Oregonian consumers ever had the chance to try baijiu was at Vinn's tasting room, part of southeast Portland's Distillery Row (Vinn's main production facility is in Wilsonville, just south of the city).
"Ten years ago, no one knew what [baijiu] was," says Vinn president Michele Ly, who runs the distillery with her four siblings. "One out of hundreds of people would even be familiar with the word and even fewer had tried it."
That's changed, thanks to the growth of craft spirits, as well as the craft cocktail industry—in which Portland bartenders continue to be trendsetters.
"The landscape has changed," Ly says. "With the craft spirits movement, I feel that consumers have become a lot more sophisticated and educated and more willing to try something new."
The distillery's fruit liqueurs and rice-based vodka and whiskey help pay the bills, but increasing consumer savvy has enabled Vinn to expand its baijiu line to include some flavored versions (honey and mocha), as well as a 106-proof Family Reserve, whose strength is much closer to that of its Chinese counterparts (Vinn's flagship baijiu is 80 proof).
"The scene in Portland and [throughout] Oregon has developed a great deal in the past few years," Ly observes. "There are so many more distilleries here than when we got started and they're all making so many different kinds of spirits. We're just so excited to be a part of that."
Discover the excitement of Portland's craft distilling scene at ACSA's 7thAnnual Distillers' Convention and Vendor Trade Show, March 29-31, 2020. Register here.