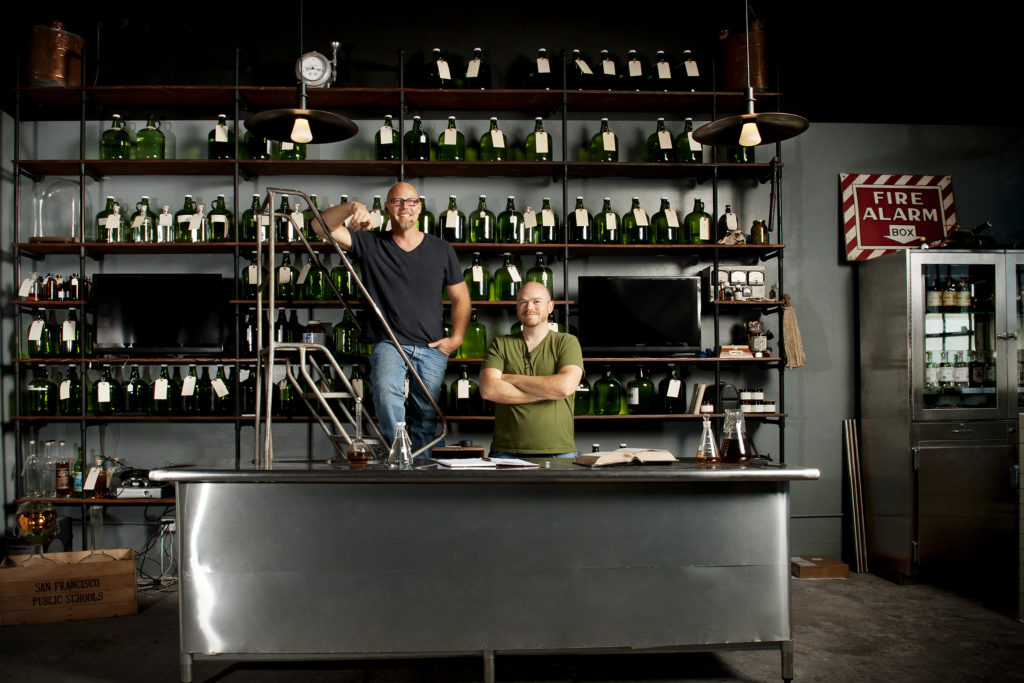 Two decades into his career, Lance Winters is getting back to his roots.
In the mid-1990s, Winters presented a bottle of homemade whiskey as his résumé to Jörg Rupf, the founder of St. George Spirits in Alameda, California. That bottle helped earn Winters his first distilling job, but in the following years many people would associate St. George with bottles of its flagship eau de vie, Hangar One series of vodka and the nation's first legal absinthe in nearly a century.
Now, as the master distiller and president of the nation's oldest craft distillery, Winters hesitates to call that wandering a distraction from whiskey. "It was falling in love with all things distilled," Winters says. "You go into something with this idea that you're hellbent on, and then you start discovering all these other amazing things. I've really enjoyed all that, but right now getting back to whiskey … is something that I'm really excited about here."
The fact that the 37-year-old distillery produces several acclaimed whiskey offerings is a testament to St. George's drive to never stop innovating and experiment. Its latest chapter started with the 2010 sale of Hangar One to Proximo Spirits, which allowed Rupf to retire and Winters to assume majority ownership of St. George. It was a pivotal point for the distillery, which Rupf—a father figure to Winters—started in 1982. Prior to the sale, Hangar One comprised 95 percent of St. George's revenue, and Winters recalls an initial sense of excitement followed by anxiety. He took over the lease on an expansive piece of property in a place not known for affordable real estate, and he had 20 employees and no cash cow brand. "I got the keys to the kingdom, but once you have them you realize what an awesome responsibility you have," Winters says. 
Head distiller Dave Smith gives credit to Winters for reinventing St. George in the ensuing years. "Lance and his wife, Ellie, made a decision that they wanted to carry St. George forward, and they wanted to redevelop this and frankly they didn't want to break up the family," says Smith. "They basically chose to hold the business and put it on their back and took risks to do that."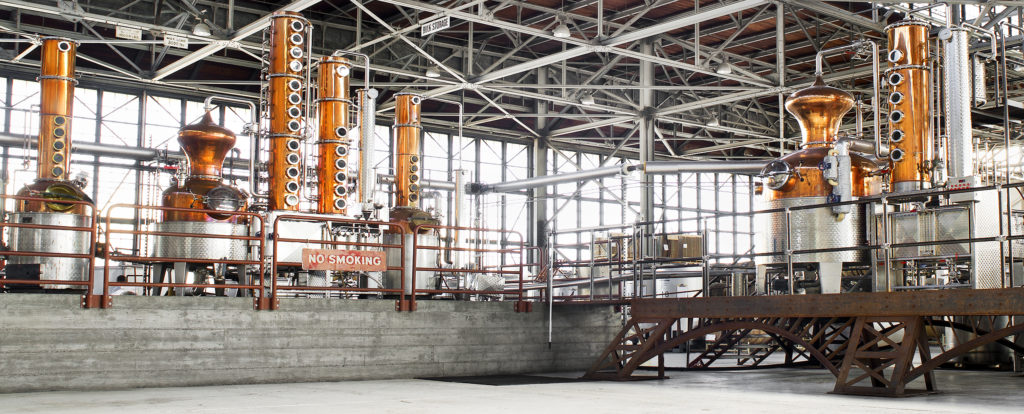 In this new era, the distillery's first major success wasn't a whiskey, vodka, or brandy—it was an aromatic gin. First released in 2011 along with Botanivore and Dry Rye Gin, Terroir Gin was crafted to evoke a sense of California. Before the release, Smith recalls doubt from early tasters, who warned that the gin smelled and tasted like trees. "That's what people don't like in their gin," Smith remembers hearing. "That's sort of a gleeful place for Lance to start out with something. If he gets feedback that that's what people don't want, and he feels like it's what he wants in it, he'll happily go show you what you might really enjoy or want."
Winters compares making Terroir to creating representational art. By setting out to craft a spirit that smelled like the parks and open spaces in the San Francisco Bay Area, he knew the brush strokes would require perfection. That's why every batch of Terroir is made with locally harvested Douglas fir, coastal sage and California bay laurel.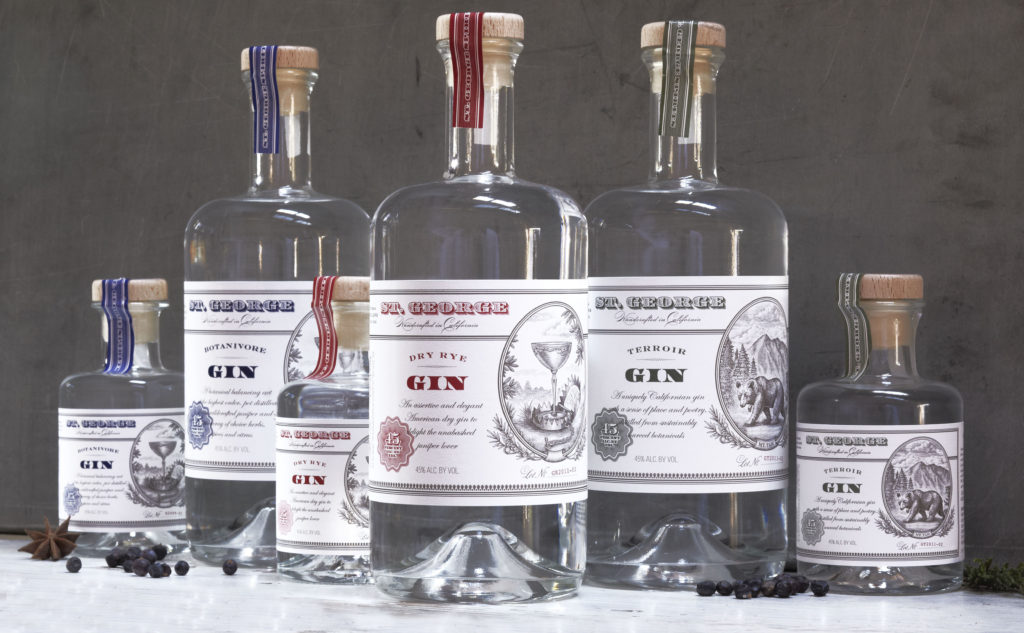 "There are plenty of people that even if they're not familiar with those specific parks, they've had enough outdoor experiences going out into the woods that if [Terroir] missed the mark then it's a failure," Winters says. "So that was a really important thing to nail. From the perspective of pride in pure construction, that's certainly the thing that I'm most proud of."
St. George's whiskey program is more of an abstract art. There are three regular offerings, starting with Single Malt Whiskey, the first lot of which was released in 2000. Winters says the mission was "to create a whiskey that before it even hit the barrel had layers of flavor and complexity." St. George used various levels of roasted barley to achieve that goal, and a variety of cooperage types contribute more depth to the whiskey.
Baller Single Malt Whiskey was created as an ode to Japanese-style whiskey highballs. After distillation in eau de vie pot stills, the whiskey is aged in bourbon and French oak wine casks, and filtered through maple charcoal. It is finished in casks that previously held a Japanese-style plum liqueur.
In 2011, St. George started a Breaking & Entering label, so named because it is a blend of whiskey from other distilleries. For the latest iteration, Smith combined bourbon, rye, and some of St. George's own whiskey to create an elegant blend that justifies thievery.
Winters credits Smith, who joined St. George in 2005 and now oversees the whiskey program, for blending the whiskey he is most proud of—St. George's 35th Anniversary Single Malt Whiskey. Only 771 bottles were released of the whiskey that comprised eight of the distillery's favorite barrels, ranging from 6-18 years old. Six Sauternes-style wine barrelswere also used in the process.
"There's a part of my influence that I can taste in there from some of the early whiskies as well as my desire to utilize those [Sauternes-style barrels], but the construction on it is every bit Dave," Winters says. "I told him when I tasted [it] the first time, 'This is the best work that you've ever done.' It's really spectacular."
For his part, Smith feels like a sous chef working in a master chef's kitchen. "I learned it all from Lance and Jörg," Smith says. "Anything that comes out of the shop is our shared effort."
The creativity and innovation behind all of St. George's products seem to be expected of America's original craft distillery. Winters thrives under that pressure.
"I think it keeps us true to our core philosophy," he says. "I would hope that we'd remain that way regardless, but when people are watching you and you know that there are some of them who are waiting for you to screw up, it makes you work harder … it makes us better."