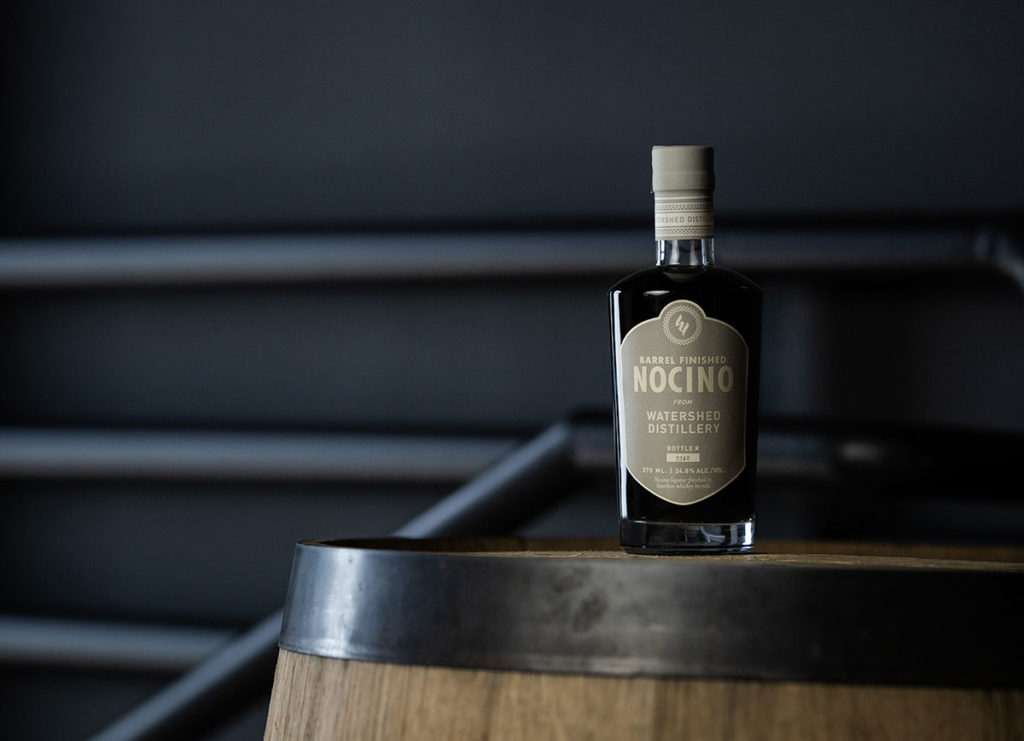 Watershed Distillery, of Columbus, Ohio, announced that a barrel-finished version will now replace its original Nocino offering, and distribution will be expanded beyond the distillery's local distribution channels. This announcement comes on the heels of this spirit winning a Gold medal at the 2019 New York World Wine and Spirits Competition.
Watershed Distillery began rolling out the variation this summer. The barrel-finished version is currently available in its Columbus, Ohio, bottle shop and is starting to appear at liquor agencies in select markets with full roll expected by October. This version is reminiscent of the original. The only difference? The spirit spends seven months in one of the distillery's spent bourbon barrels.
Watershed is one of just a handful of U.S. producers making Nocino. Unlike other spirit categories, an entire year's worth of Nocino has a very finite period of time in which to be produced, making it an offering that many distilleries and large conglomerates can't invest in.
Watershed's Nocino is made from Ohio black walnuts harvested in a two-week period in late summer, cut when fresh and left to soak for a few months in house distilled vodka. Then the signature blend of sugar and spice is added to transform the spirit into Nocino. Finally, the Nocino is transferred to spent bourbon barrels to gain depth and character before being bottled. "We didn't believe Nocino could get better, but after experimenting with the barrels, we realized not only do we end up with a better finished product, but we've created another measure of sustainability for the business by repurposing our barrels," stated Greg Lehman, founder and CEO of Watershed Distillery.
"This year's batch is particularly cool because it was an example of how our community pulls together," stated Lehman. Due to the long rainy season central Ohio experienced, the black walnut farms experienced a shortage, and Watershed had to extend a call to the community to contribute to the harvest. The response was overwhelming with over 100 offers of walnuts. Watershed sourced enough to complete the production run after carefully vetting trees and harvesting walnuts from the Cullman Family Tree Farm, Horse N' Nut Farm and Rockmill Brewery, as well as local community members' properties.
Barrel Finished Nocino is available at Watershed Distillery in Columbus, Ohio (1145 Chesapeake Ave., Columbus, Ohio, 43212) and at liquor stores and retailers in Ohio, Kentucky, Illinois, Georgia, Connecticut and New York. It is also retailed online via Wood's Wholesale Wine.