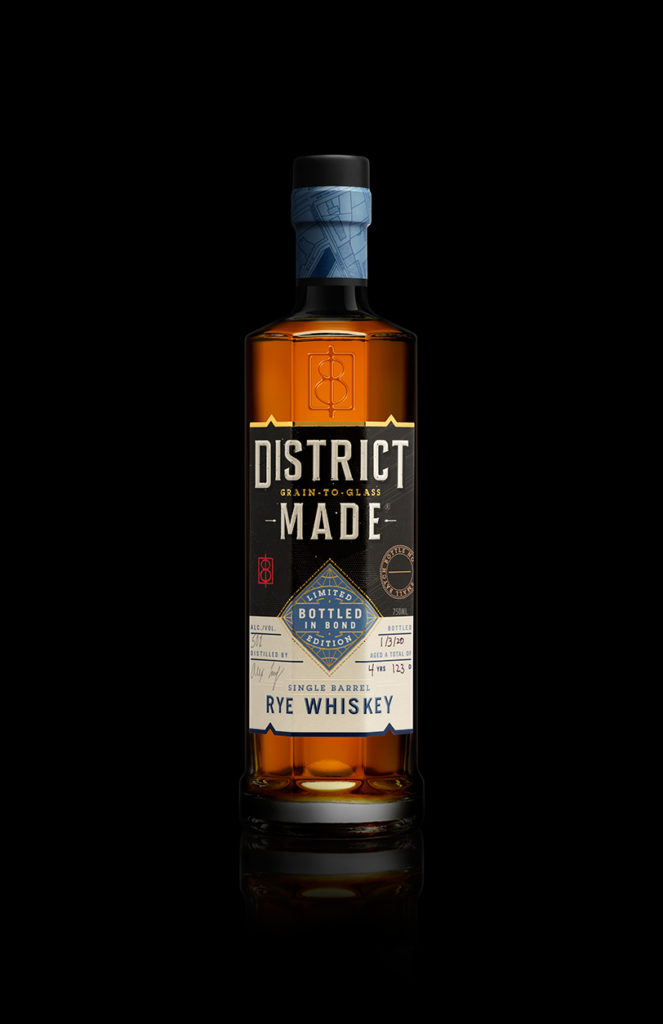 One Eight Distilling will celebrate 5 years of distilling in the district Saturday with the unveiling of Washington D.C.'s first bottled in bond whiskey. District Made Bottled in Bond Rye Whiskey—a 4-year-old rye whiskey distilled grain-to-glass from Virginia rye, Maryland corn and North Carolina malted rye—is the oldest whiskey to be distilled, aged and bottled in D.C.
The Bottled in Bond Act of 1897 was created to protect consumers with a series of requirements that guarantees the authenticity of a whiskey. To be considered bottled-in-bond, the whiskey must be from one distillery within one distillation season, aged at least 4 years in a bonded warehouse, and bottled at 100 proof. "We're thrilled that, as a bottled in bond release, this is building on our award-winning rye whiskey with added layers of oak, maple, and rye spices. It really is an exceptional rye and we are proud to be able to release it for the first time here in D.C.," says Alex Laufer, co-founder and head distiller. 
Crafted from 57% Virginia rye, 28% malted rye, 15% Maryland corn, distilled grain-to-glass, and aged for 4 years in a charred new American oak barrel, District Made Bottled in Bond Rye Whiskey is the oldest whiskey in One Eight Distilling's grain-to-glass District Made portfolio. The first flavors of this whiskey are full of sweet maple candy and lightly toasted pumpernickel bread. Those tastes recede in the mid-palate to flavors of black licorice and baking spices. The finish is long, full of rye spice with a light floral note predominately of elderflower. With less than 200 bottles available, this whiskey will be sold exclusively at the distillery.
Retail Price: $70