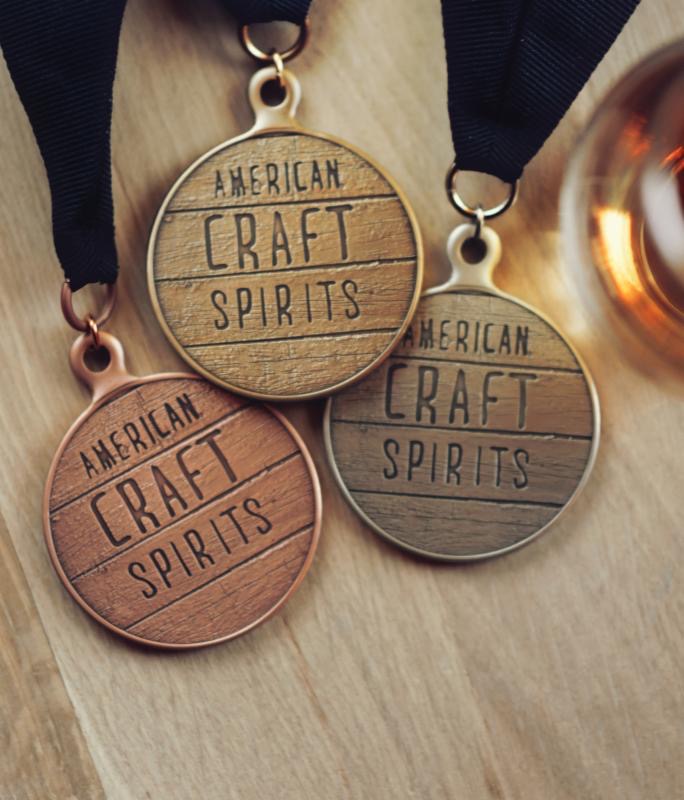 On Monday, March 30, the American Craft Spirits Association (ACSA), the nation's only national registered non-profit trade association representing the U.S. craft spirits industry, announced the medalists of its Seventh Annual Judging of Craft Spirits, who were honored during a livestream awards ceremony. Medalists were hand-selected among a pool of nearly 500 entrants.
Though it was originally scheduled to take place during ACSA's annual Distillers Convention and Vendor Trade Show, which was postponed due to COVID-19 and is being rescheduled for late summer in Portland, Ore., ACSA's Board of Directors unequivocally agreed that the ceremony should go on as scheduled, with a pivot to stream the show online.
During the event, ACSA proudly bestowed the evening's ultimate honor, the Best of Show Award, to ChainBridge Distillery of Oakland Park, FL, for its Williams Pear Brandy. Dan Garrison, an ACSA Member from Garrison Brothers Distillery in Hye, TX, served as the evening's emcee, providing remarks to the online audience. The stream also featured welcome remarks from Margie A.S. Lehrman, ACSA's CEO, who provided a brief behind-the-scenes update on the organization's COVID-19 relief efforts and advocacy work on behalf of the country's 2,000 craft spirits producers, and an optimistic toast to the future of the industry.
This year, entries were submitted from 42 states across the country in seven main categories: Whiskey, Gin, Rum, Vodka & Grain Spirits, Brandy, Specialty Spirits, and Ready to Drink (RTD), a new category added this year. Back again for a second year, ACSA also awarded a series of Innovation Awards, which aim to recognize remarkable spirits whose flavor profiles may stray from their category's signature notes. In addition to a Best of Show and the Best of Class Distinctions, the judging panel awarded 23 Gold, 81 Silver, and 173 Bronze medals.
The 2020 Best in Class distinctions, the highest honor in each of the seven judging categories, were awarded to a mix of both established, award-winning distilleries and younger newcomers. These honorees will be presented with hand-carved barrelheads courtesy of Thousand Oaks Barrel Co, and all medal recipients will receive custom medals generously provided by Apholos.
ACSA would like to thank its competition sponsors, which include Five x 5 Solutions, Glencairn, and Top Shelf Logistics.
Best In Class Honorees in each category included:
Whiskey: Triple Eight Distillery, The Notch Nantucket Island Single Malt Whisky 12 Years (Nantucket, MA)
Gin: Three Floyds Distilling Co., Wight VVitch Midwestern Gin (Munster, IN)
Rum: Proof and Wood Ventures, The Funk (New Canaan, CT)
Vodka & Grain Spirits: Boot Hill Distillery, Boot Hill Distillery Vodka (Dodge City, KS)
Brandy: ChainBridge Distillery, Williams Pear Brandy (Oakland Park, FL)
Distilled Specialty Spirits: Pittsburgh Distilling Company, Wigle Saffron Amaro (Pittsburgh, PA)
RTD: Salt Flats Spirits, Salt Flats Kentucky Mule (Salt Lake City, UT)
Innovation Awards included:
Whiskey: Kings County Distillery, Peated Rye (Brooklyn, NY)
Gin: Highside Distilling, Highside Distilling Gin (Bainbridge Island, WA)
Vodka: Caledonia Spirits, Barr Hill Vodka (Montpelier, VT)
Distilled Spirits Specialty: Tattersall Distilling, Bitter Orange Liqueur (Minneapolis, MN)
RTD: 1220 Artisan Spirits, Cucumber Hibiscus (St. Louis, MO)
The complete list of award recipients is available on the ACSA website here.
Craft Spirits magazine, ACSA's bi-monthly digital publication, will showcase the top medalists in an upcoming issue.
About the Judging
The 7th Annual American Craft Spirits Competition was judged on October 29 and 30, 2019, at Cardinal Spirits in Bloomington, IN, with further support courtesy of Privateer Rum and Corsair Artisan Distilling and with the assistance of Artisan Spirit Magazine. Maggie Campbell of Privateer Rum (MA) again served as Spirits Judging Chair. Spirits were judged by a panel of 35 judges, including Amy Zavatto, Andie Ferman, Ashley Barnes, Ben Samuelson, Brett Pontoni, Caley Shoemaker, Clyde Davis Jr., Duane Sylvestre, Gary Spedding, Jackie Summers, Jason Zeno, John Jeffery, Johnny Caldwell, Juan D. Calderon, Kara Newman, Lauren Friel, Lisa Wicker, Liza Weisstuch, Martin Cate, Matthew Rowley, Michael Gray, Monica Wolf, Nicole Austin, Paul Clarke, Paul Hughes, Peter Newsom, Rachel Terrazas, Rebecca Cate, Reid Mitenbuler, Richard Wolf, Rob McCaughey, Ryan Lotz, Steve Beal, Taneka Reaves, and Wayne Curtis. The judges represented a diverse range of spirits experts within the industry, including retailers, bar industry leaders, educators, and journalists. ACSA takes great pride in conducting its professional judging program in accordance with a series of detailed protocols.

ACSA works rigorously to develop and fine-tune its methodology in order to ensure it continues to be one of the most valuable judging competitions in the industry. ACSA works to create a scoring card that generates meaningful, detailed feedback for entrants. Spirits were scored on appearance, aroma intensity, aroma complexity, palate concentration, palate complexity, body, character and nature of alcohol, texture, and finish. Finally, each judge was asked if they would pour the spirit for a peer. Prior to the tasting panels, judges participated in a palate calibration seminar led by Campbell, to bring a more narrowed focus to the tasting approach. This calibration seminar helped to ensure that scores across all judges and panels fell close to one another.
Scoring and Medal Criteria
The scoring of spirits was based on a 100-point system, with spirits judged on the overall, cohesive impression of the spirit. Spirits were then assigned a medal based on the average score determined by the following benchmarks: 70-79 = Bronze; 80-89 = Silver; 90-100 = Gold.
Best in Class / Best of Show
The top awarded spirits were then judged a final time in consideration of a Best in Class / Best in Show distinction. The judging chairs collected votes from each panel member for their favorite spirits. If the results were conclusive on the first vote, the results were then recorded. If the results were inconclusive, the judges used a ranked scoring, allowing three points for first place, two points for second place and one point for third place. The spirit that received the highest score in each category was then named Best in Class.