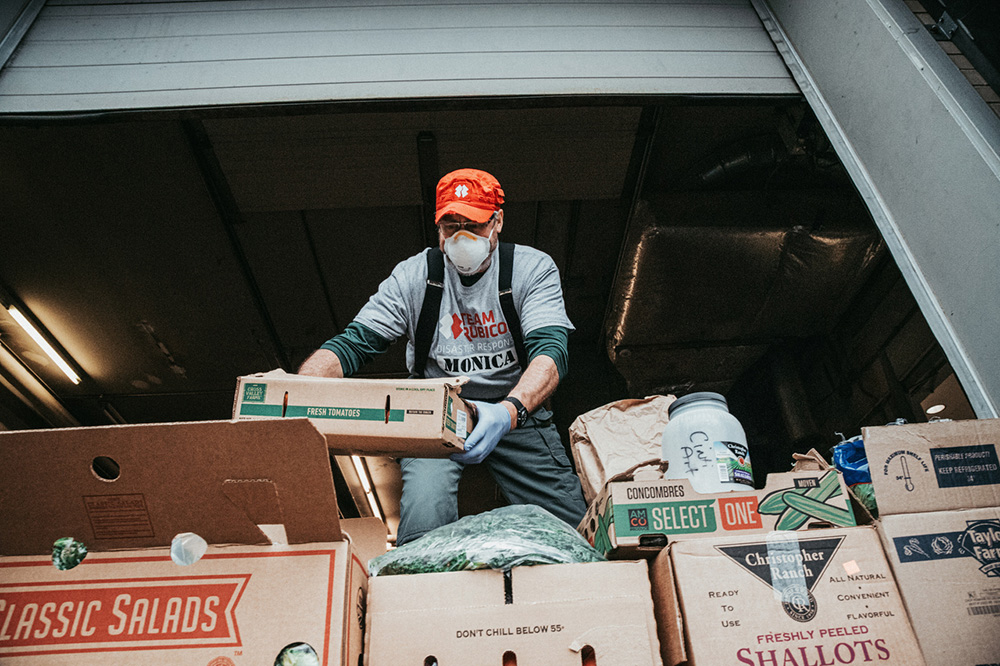 Garrison Brothers Distillery of Hye, Texas, has launched Operation Crush COVID-19, a fundraising campaign to help American communities recover and rebuild. The campaign, launched in partnership with Good Bourbon for a Good Cause, the distillery's 501(c)3 public charity, aims to raise more than $2 million dollars for veteran-led disaster response organization Team Rubicon, which is currently serving in communities across the country, leading efforts to combat the coronavirus pandemic. Good Bourbon for a Good Cause will also be naming a secondary beneficiary that is helping with the immediate needs of hospitality industry professionals and their families.
"Good bourbon can change the world. We hope to inspire those who can to join us in our fundraising efforts to help communities and families rebuild and cope during this devastating pandemic," said Dan Garrison, founder and proprietor of Garrison Brothers Distillery. "Our team is proud to be partnering again with Team Rubicon to help with relief efforts in all 50 states as well as fundraise to immediately help the hospitality industry."
Until recently, Garrison Brothers had planned to release Laguna Madre, a special project over 10 years in the making, later this summer through traditional liquor retail channels. But the retailers Garrison interviewed liked this idea better. Laguna Madre is the oldest bourbon Garrison Brothers has made to date—an 8-year-old, top-shelf release named after the beautiful blue waters along Texas' Gulf Coast. The ultra-premium bourbon was aged in new white American oak barrels for four years and aged secondarily for four more years in Limousin oak from France, which is prized for its vanilla content. Limousin oak wood imparts spirits with distinct flavors of vanilla, sweet candy, cacao, and thick, white chocolate that an experienced bourbon drinker won't ever forget.
The original plan was to release just over 2,000 bottles to the distillery's original supporters, then to close friends, then to bars and restaurants who have always championed the brand. But in light of COVID-19, Garrison and his team have pivoted. Laguna Madre will now be available only to donors who contribute $1,000 or more to Good Bourbon for a Good Cause in partnership with Team Rubicon, a global disaster response organization (composed primarily of military veteransand first responders) who are deploying teams to areas heavily affected by the COVID-19 crisis. For more information about Team Rubicon's ongoing pandemic relief efforts, visit http://teamrubiconusa.org/neighbors/.
"At Team Rubicon, we know we're only as strong as our volunteers, partners and donors, as we fight this invisible war on COVID-19, we must all work together," stated Jake Wood, co-founder and CEO of Team Rubicon. "During this unprecedented time, we are entirely grateful to have Garrison Brothers Distillery and its customers by our side, supporting our efforts in response to this deadly virus. This generous donation will help us continue to prepare, respond and aid community recovery efforts across the country."
The first 2,004 people to contribute $1,000 or more will receive a bottle of Laguna Madre. Everyone is invited and encouraged to donate whatever they can. "If you donate $100, you will forever have our respect and you can choose to take home any clothing item from our gift shop for free," adds Rob Cordes, marketing director at Garrison Brothers Distillery. "If you donate $500, we'll reserve one bottle of Boot Flask (375ml) and one bottle of Honey Dew (750ml) for you."
"When these bottles are gone, they're gone forever. We'll make more, but it may take years," says Garrison.
There will be 4,008 bottles of Boot Flask, 4,008 bottles of Honey Dew, and 2,004 bottles of Laguna Madre available.
For more information and to make a donation, go to http://operationcrushcovid19.org