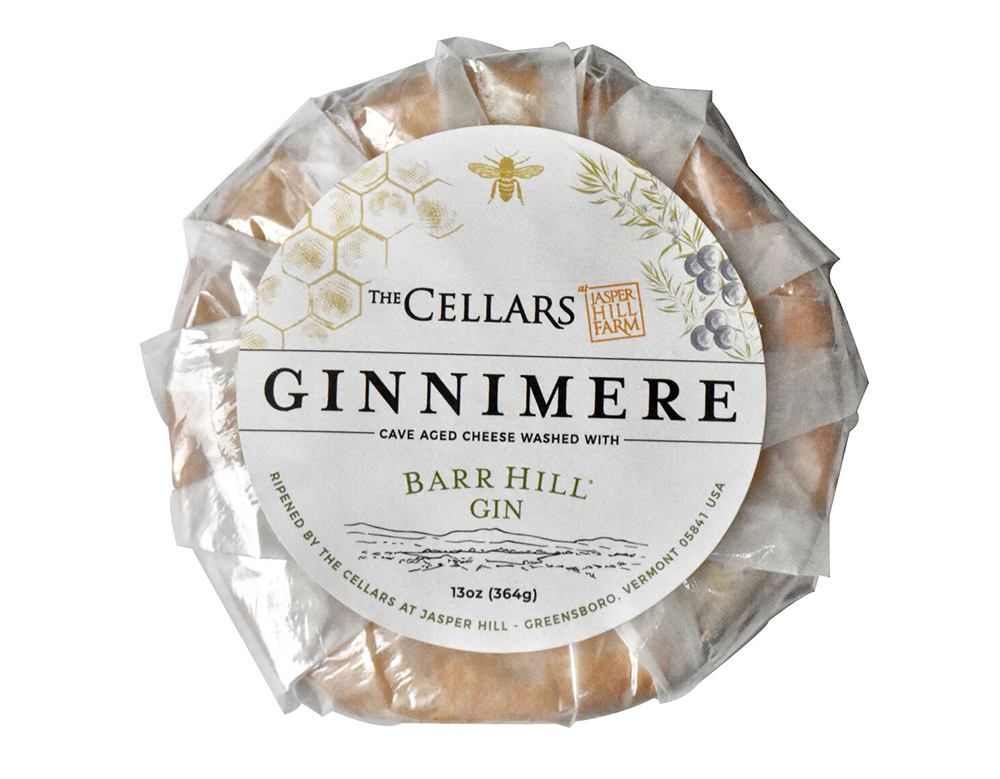 Two Vermont-based artisan producers, Caledonia Spirits and Jasper Hill Farm, have come together once again to release a second batch of their special-edition Ginnimere cheese.
Ginnimere is a creative twist on Jasper Hill's popular Winnimere, a yolky, silken cow's milk cheese made from the raw winter milk of the farm's beautiful Ayrshire cattle. The creamy cheese is wrapped in strips of spruce cambium, the tree's inner bark layer, that are harvested from Jasper Hill's woodlands. During its usual aging process, Winnimere is washed in a cultured salt brine that aids in evening the rind development, but with Ginnimere, the rind is instead washed in Caledonia Spirits' flagship spirit, Barr Hill Gin.
Made with raw northern honey, Barr Hill Gin's bright, floral notes perfectly complement the botanical qualities it retains from the juniper, giving it a balanced flavor profile that works incredibly well with cheese. With Ginnimere, the Barr Hill Gin wash adds a bright, botanical complexity that plays so well with the earthy, umami flavors of the cheese.
Ginnimere pairs incredibly well with spirits, so as part of the collaboration, Caledonia Spirits has crafted a collection of cocktails to enjoy with the cheese. In fact, each wheel of Ginnimere comes with one of the cocktail recipes on the back label.
As a limited-release offering, Ginnimere is available by wheel only (approximately 13 oz.) for $32. Caledonia Spirits will be making the cheese available for curbside pickup as part of its Gin Lane Drive-Thru service in Montpelier. Customers can also purchase Ginnimere at jasperhillfarm.com.
To celebrate the second batch of Ginnimere, Caledonia Spirits President & Head Distiller Ryan Christiansen and Jasper Hill Farm Owner Mateo Kehler will be hosting a virtual happy hour on May 15 from 4-5 p.m. via Instagram live. For more information on Caledonia Spirits, its Montpelier distillery, or its Barr Hill line of spirits, please visit caledoniaspirits.com.