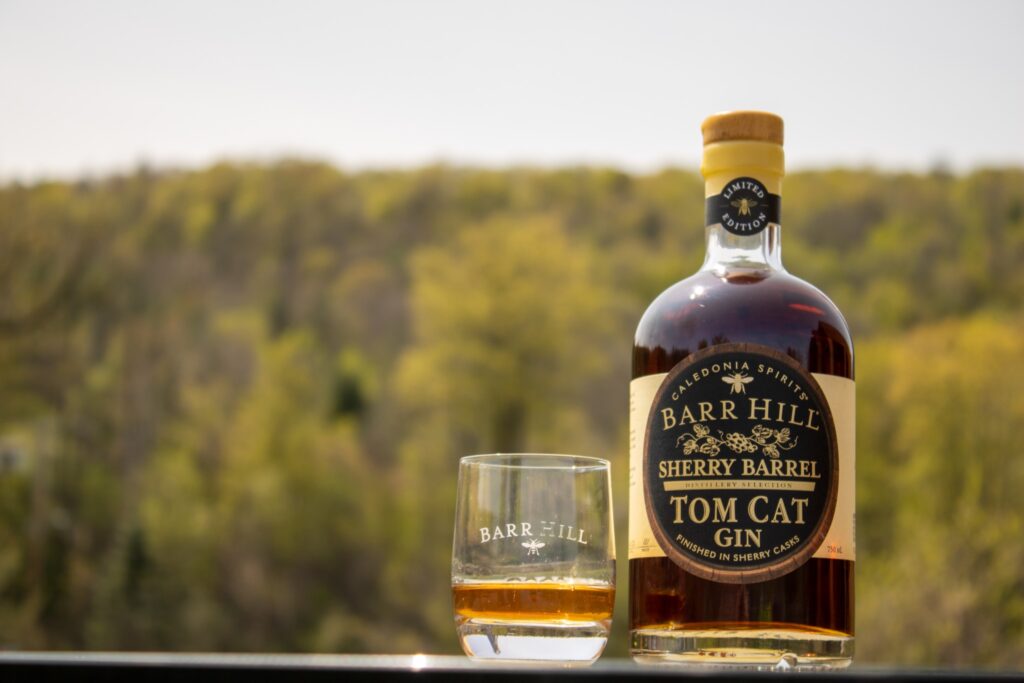 Montpelier, Vermont-based Barr Hill, the esteemed brand known for producing award-winning gin crafted by Vermont-based Caledonia Spirits, continues to lead innovation in the world of distilling with the launch of its latest expression, Barr Hill Sherry Barrel Tom Cat Gin. This limited-edition offering, available exclusively at the brand's distillery on Gin Lane, is part of the Barr Hill's Distillery Selection series. An opportunity for the brand's highly-experienced team to celebrate unique barrels, these Landcrafted small-batched blends showcase exceptional quality created for all barrel-aged spirit enthusiasts to enjoy.
This limited release began its aging process in new American oak barrels for one year, the same methodology used to create Barr Hill's classic Tom Cat expression. Once the spirit has gained an ample level of depth and character, the liquid is then patiently finished in Oloroso Sherry casks for a little over a year, layering savory complexity. This final step imparts delightful notes of baking spices and toasted walnuts, complemented by the harmonious fusion of caramel and dried fruit, with a pleasantly dry finish.
"This Sherry Barrel Tom Cat Gin is the epitome of our commitment to pushing the boundaries of craft distillation, and we are fortunate to have preserved some truly remarkable finishing barrels of Tom Cat Gin over the years to do so," says Patrick Amice, hospitality manager of Barr Hill. "Exemplifying the remarkable breadth and complexity of our barrel-aged gin, these bottlings hold a special place in our hearts and are a delight to share with our guests on Gin Lane. It's a harmonious fusion of tradition and innovation, where the mastery of our distillers meets the artistry of the bees."
As the team tastes liquid from each of these finishing barrels, they bottle the liquid at special proofs with custom amounts of Barr Hill's not-so-secret ingredient: raw honey from the Northeast's busiest hives. Barr Hill is dedicated to honoring the pivotal role of bees in agriculture and the labor of the farmers. Annually, the brand hosts Bee's Knees Week, the spirits industry's biggest sustainability initiative that supports the creation of habitat for endangered pollinators. For every Bee's Knees cocktail photo shared on social media during this campaign, Barr Hill partners with non-profit organizations to plant 10 square feet of new pollinator habitat. Continuing to break records, Bee's Knees Week 2023 resulted in a committed 220,000 square feet of new pollinator habitat this year, totaling over 700,000 square feet, or 23 acres, in the last four years.
Barr Hill Sherry Barrel Tom Cat Gin is an exclusive offering, priced at $99.99 per bottle, and is available solely at the distillery's onsite shop, at Gin Lane in Montpelier VT. Barr Hill distributes its other three expressions – Barr Hill Gin, Barr Hill Tom Cat Gin, and Barr Hill Vodka – to 34 U.S. markets, including Vermont, Massachusetts, New Hampshire, New York, California, Connecticut, New Jersey, Maryland, Florida, Pennsylvania, Virginia, Georgia., Maine, Texas, Colorado, Rhode Island, Illinois, Delaware, Tennessee, South Carolina, Wisconsin, Minnesota, Nevada, Arkansas, Ohio, Mississippi, Missouri, Montana, Oregon, North Carolina, Iowa, Wyoming, Utah and Washington, D.C., along with Puerto Rico, Canada (Quebec), Denmark, Hong Kong and Japan. It is also available to ship nationwide through the Barr Hill website. For more information, visit barrhill.com and follow @barrhillgin on Instagram.