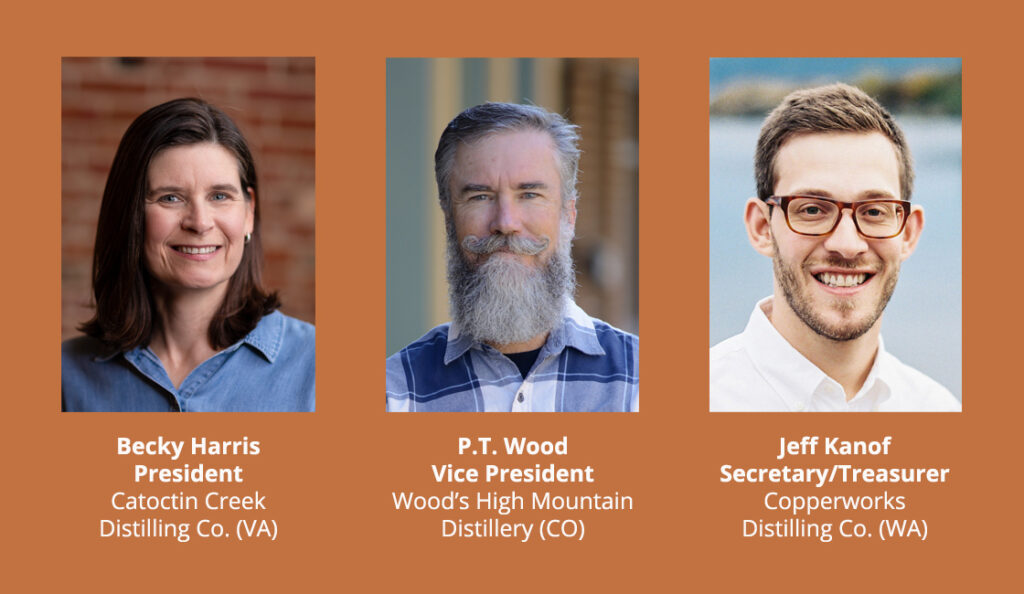 WASHINGTON, DC (May 26, 2020) – The American Craft Spirits Association (ACSA) today announces the election of Becky Harris of Catoctin Creek Distilling Co. (VA) as the President of the Board of Directors. She has served as a member of the organization's Board of Directors since 2019. P.T. Wood of Wood's High Mountain Distillery (CO) and Jeff Kanof of Copperworks Distilling Company (WA) have also been elected as the organization's Vice President and Secretary/Treasurer, respectively. Together, Harris, Wood, Kanof and the current Board of Directors will work with CEO Margie A.S. Lehrman to address the key issues facing the craft distilling industry, including COVID-19 industry recovery efforts and Federal Excise Tax reform.
"I am honored to be chosen by my fellow board members, a group of incredible leaders within our craft distilling community, as president, and I am excited to build on ACSA's technical and legislative leadership during such a challenging time," said Becky Harris. "I have already worked closely with the Board of Directors as head of our COVID-19 Task Force, where we have helped the organization build exhaustive resources on sanitizer best practices, PPP and SBA loan assistance, and direct shipping, and I look forward to continuing this work as our industry recovers. I know the road ahead may be long, but I am eager to help our community of more than 2,000 craft distilleries in any and every way possible."
"As Mayor of my hometown of Salida, CO, and a small business owner myself, I understand the hurdles we all face on the road to economic recovery, and I am looking forward to helping our fellow craft distillers," added P.T. Wood.
"As a lawyer and the owner and operator of a craft distillery, I'm excited to utilize my legal experience and my deep understanding of the challenges we all face in the current climate to move our industry forward," added Jeff Kanof.
ACSA will be holding its regular Board of Directors election in the coming months digitally, once the candidates have the opportunity to address the membership, which typically happens at the organizations' Annual Convention and Trade Show and was postponed due to COVID-19. Additionally, the Board of Directors will also be appointing leadership to its governing committees. Those committees include Membership, Ethics, Convention, Education, Elections, Safety, ACSA PAC, Mentorship, Judging, Government Affairs, State Guilds, Technology, Mentorship, DtC and Development.
The Board of Directors is comprised of the following individuals:
EAST
Maggie Campbell, Privateer Rum Distillery (MA)
Becky Harris, Catoctin Creek (VA)
James Montero, Dogfish Head Distilling Co. (DE)
Ryan Christiansen, Caledonia Spirits (VT)
CENTRAL & MOUNTAIN
Amber Pollock, Backwards Distilling Co. (WY)
Colin Keegan, Santa Fe Spirits (NM)
Colton Weinstein, Corsair Artisan Distillery (TN)
Courtney McKee, Headframe Spirits (MT)
Chris Montana, Du Nord Craft Spirits (MN)
Thomas Mote, Balcones Distillery (TX)
P.T. Wood, Wood's High Mountain Distillery (CO)
PACIFIC
Dan Farber, Osocalis Distillery (CA)
Jake Holshue, Old Trestle Distillery (CA)
Jeff Kanof, Copperworks Distilling Co. (WA)
Molly Troupe, Freeland Spirits (OR)
EX OFFICIO
Ex Officio – Thomas Jensen, New Liberty Distillery (PA)
About ACSA
The American Craft Spirits Association is the only national registered non-profit trade association representing the U.S. craft spirits industry. Its mission is to elevate and advocate for the community of craft spirits producers, and membership in ACSA is open to anyone.
ACSA is governed by a Board of Directors elected by the eligible voting members of the Association. Voting members must be independent licensed distillers (DSPs) annually removing fewer than 750,000 proof gallons from bond (the amount on which a Federal Excise Tax is paid.) For information about ACSA, call 202-669-3661.