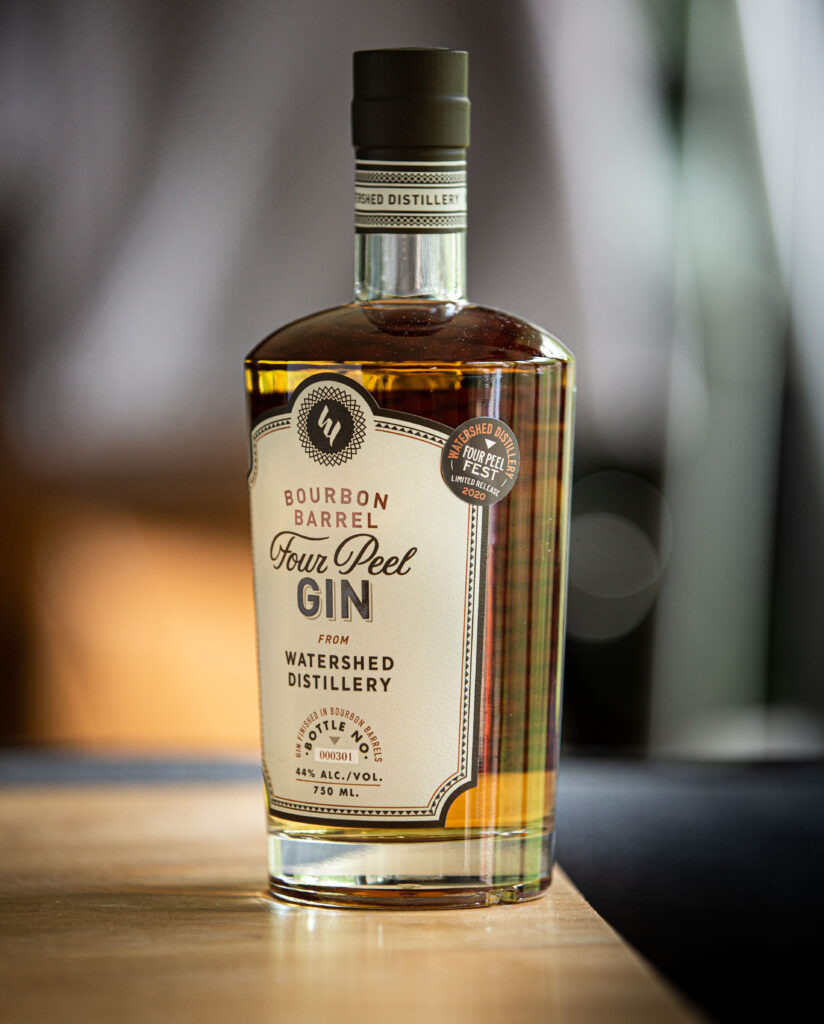 Gin lovers can expect Watershed Distillery's annual festival celebrating all things gin to look a little different this year, but nonetheless Four Peel Fest is taking place June 30-July 3 in Columbus, Ohio.
Instead of an on-site, day-long block party, Watershed is expanding the event into a week-long celebration of gin, mostly online or self-guided; culminating with Columbus' first-ever drive-thru festival and curbside bottle release of a limited release, Bourbon Barrel Four Peel Gin at Watershed's Chesapeake Avenue bottle shop on Friday, July 3.
Typically, Watershed's Bourbon Barrel Four Peel Gin is aged in used bourbon barrels, meaning the finished product is only moderately influenced by the barrel char. The limited batch, set to release on July 3, is aged in new, freshly charred barrels, allowing more intense flavor and color influence from the barrel. The result which has never before been tasted by the public, is a rich, deep, and complex version of the spirit, with notes of coriander, vanilla and toasted oak.
"This limited batch of Bourbon Barrel Aged Four Peel starts out as our flagship gin which is bright and expressive on its own. But the introduction of the fresh bourbon barrel brings rich caramel and spice notes that combine with Four Peel's citrus-forward nature to create harmony on the palette and a super special gin. We are so excited for the community to get to experience it," stated Greg Lehman, founder and CEO of Watershed Distillery.
In addition to gin focused digital content, gin cocktail kits, gin and tonic provisions, and summer gin merchandise, the bottle shop will be unveiling Watershed's refreshed gin labels for Four Peel Gin and Bourbon Barrel Four Peel Gin. Core product labels were refreshed in honor of the distillery's 10-year anniversary. Spirit offerings with refreshed labels will begin to appear at central Ohio liquor stores in the coming weeks.
Patrons are being asked to queue for the bottle release in the same way they queued for hand sanitizer sales (enter Chesapeake Ave. from Northwest Blvd and exit via Virginia/King Ave). Bottle sales will be limited to two bottles per car. First come first serve. Masks are recommended to ensure the safety of all team members and guests.
The bottle shop (1145 Chesapeake Ave., STE D, Columbus, Ohio 43212) will be open daily from June 30 through July 3, from 11:00 am to 5:00 pm for curbside service.
For additional information and a schedule of Four Peel Fest activities including the virtual .5k, gin tastings, the curbside bottle release, and more visit https://www.watersheddistillery.com/four-peel-fest.