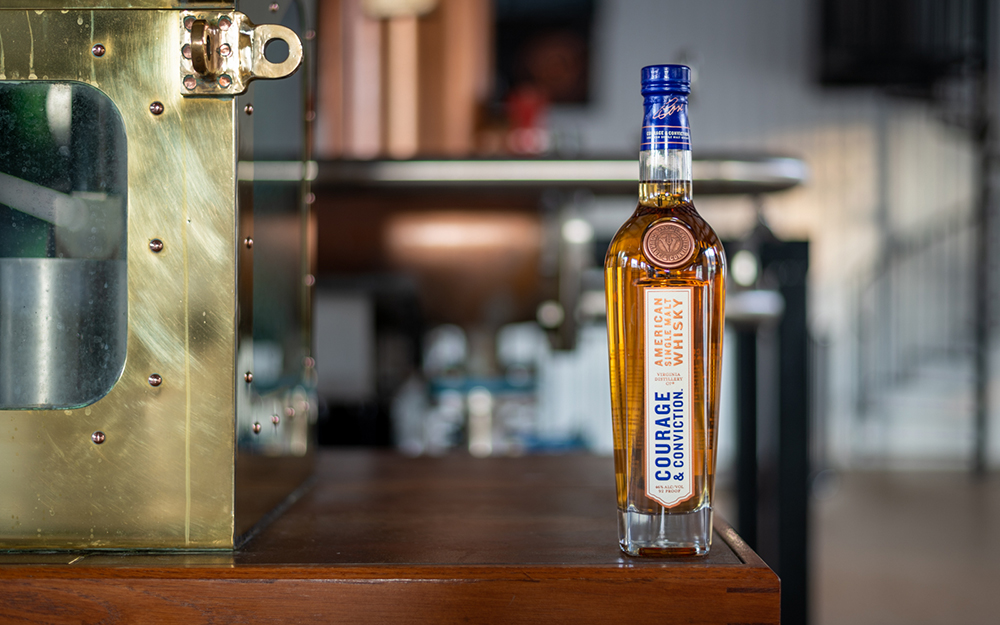 Virginia Distillery Co. of Lovingston, Virginia, recently released the second batch of its American Single Malt whisky in the Courage & Conviction product line. The second batch of Courage & Conviction is dedicated to Dr. Jim Swan, who passed away in 2017 following a 40-year career supporting the science of distilling as a chemist, professor, researcher and author.
Dr. Swan consulted for a number of distilleries around the world, including Virginia Distillery Co., and had a special interest in warm climate whiskies. Dr. Swan was the man behind Courage & Conviction: the distillate, the casks and the maturation strategy.
"It is our honor to dedicate the second batch of Courage & Conviction to Dr. Jim Swan," said Virginia Distillery Co. CEO Gareth H. Moore. "The mark he left behind on our distillery and our products is truly immeasurable. Courage & Conviction wouldn't be what it is without his consulting."
Coinciding with the launch of the Dr. Jim Swan batch, Virginia Distillery Co. is planning on distributing 120,000 (50-mL) bottles of the new batch to markets across the U.S. The mini bottles will be used for sampling at retailers in lieu of off-premise tastings of the new whisky. 3,233 planned tastings that were scheduled to take place across the country between March and December had to be cancelled due to the COVID-19 pandemic.
The 50-mL sampling program will vary in each market, with some markets offering a complimentary mini bottle of Courage & Conviction, where legal, and other retailers will attach a "hitchhiker" mini bottle to other Virginia Distillery Co. products in the Virginia-Highland Whisky series. The distillery will offer low retail pricing in markets where it is not legal to give a complimentary 50ml sample. Markets launching a 50ml size for Courage & Conviction sampling include Virginia, North Carolina, Alabama, Washington D.C., Maryland, Massachusetts, Rhode Island, Connecticut, Illinois, Michigan, Missouri, Kansas, Tennessee, New York, Florida, South Carolina, New Jersey and the military channels. eCommerce partners will also be shipping 50ml samples where legal.
"As the pandemic continues to impact our industry, distilleries, retailers and others are having to adapt and adjust," added Moore. "We're excited to be able to offer consumers a taste of our new batch of Courage & Conviction with the mini bottles across Virginia and beyond in a creative and different way. The goal is always to get liquid to lips, and we have conviction that consumers are going to love the samples as much as we do."
Aged a minimum of three years, Courage & Conviction is distilled on-site using 100% North American malted barley and mountain spring-fed water. The Dr. Jim Swan batch is matured in old world sherry casks, traditional bourbon barrels and re-coopered cuvée wine casks which adds intensity and complexity to the spirit. A 750-mL bottle of Courage & Conviction retails for $74.99.
A total of 115 casks (65 Bourbon, 32 Cuvée, 18 Sherry) were used for the Dr. Jim Swan batch, accounting for a total of 11,500 liters, or 3,038 gallons of whisky. The second batch of Courage & Conviction features notes of caramel and butterscotch and evolves on the palate with hints of bright red fruit, raspberry, cocoa, barrel spice and vanilla. Additional nuances of the Dr. Jim Swan batch include aromas of honeyed apricots, blood orange, milk chocolate, vanilla custard and red berries that mingle with butterscotch and toasted pecans. The finish builds into cinnamon and mouthwatering orange zest. For more information about the distillate and cask data for the second batch of Courage & Conviction, as well as bottling and process information for consumers, visit batch.info.
The first batch of Courage & Conviction, dedicated to Dr. George G. Moore, released earlier this year. Additional releases in the Courage & Conviction line will feature solo bottlings of each cask type, slated for Spring 2021.
Earlier this year, Virginia Distillery Co. also launched a complete guide to American Single Malt whisky.