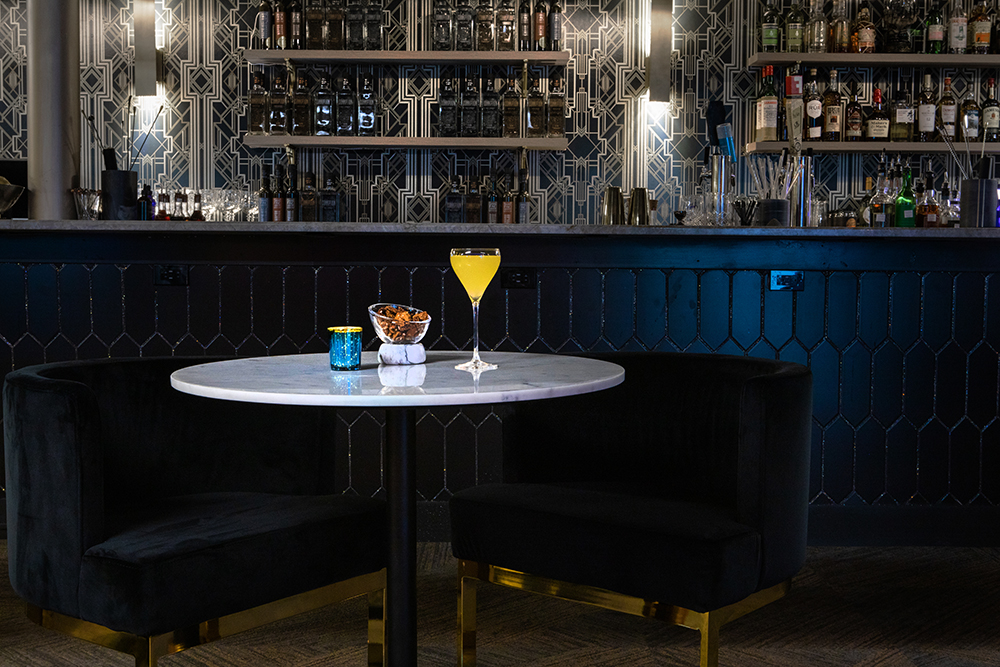 Durham Distillery co-founders Melissa and Lee Katrincic announce the opening of Corpse Reviver Cocktail Bar & Lounge—a natural extension of their award-winning Conniption Gin brand and a dynamic way to bring the brand—and an abundance of gin cocktails—to life in Durham, North Carolina. Located on the ground floor beneath the distillery, Corpse Reviver Bar & Lounge is modeled after the luxe, modern gin bars of London. Named for both the classic gin cocktail, Corpse Reviver #2—composed of gin, absinthe, Cointreau and lemon juice—and its setting in a former coffin shop, Corpse Reviver is designed to showcase Conniption Gins at their best, in a stylish and luxurious setting punctuated by a modern Art Deco style, polished finishes with attentive, passionate and safe service.
"We couldn't be more excited to finally open our modern gin bar," exclaimed co-founder and CEO Melissa Katrincic, who is recognized as one of the prominent female distillery owners in the U.S.  Melissa and Lee were the first distillers in the American South to be inducted into The Gin Guild, and in 2019 Melissa was chosen by Constellation Brands, Inc for their "Focus on Female Founders" strategic investment program.
Durham Distillery's mission to educate about the history, science and craft of gin permeates the bar. "Unlike many bars, we want our guests to fall in love with a gin cocktail at Corpse Reviver and feel a welcoming introduction—rather than intimidation," said Katrincic. "The menu is designed to foster not just whimsy and passion, but also knowledge."
Therefore, it may come as no surprise that Corpse Reviver's cocktail menu places a primary focus on gin, with a highlight on Conniption American Dry and Conniption Navy Strength Gin, and their new Conniption Barrel Aged Gin, as well as brands that offer the best expression of a particular style.
Specifically, Corpse Reviver specializes in martinis (House Dry, House Dirty, Vesper and Martinez), cocktails on draft, including a nitrogen-infused Corpse Reviver #2 cocktail, and a curated list of classic gin cocktails (Clover Club, French 75, The Last Word and Improved Gin Cocktail) alongside a corresponding selection of Modern Twists on those classics that follow the same building blocks and structure but take creative liberties with seasonal ingredients and non-gin spirits. The Conniption Grand Marnier Slushie, inspired by Lee's favorite stop at Epcot, combines Conniption American Dry Gin, Grand Marnier, orange sherbet, orange and lemon juice and offers a fun cocktail experience for both the connoisseur and the young at heart, while the Martinez celebrates their just-released Conniption Barrel Aged Gin. (See attached release with details on Conniption Barrel Aged Gin No. 1.)
Guests may complement their cocktail hour with a selection of cheese and charcuterie, and also have access to a full bar. Check out the menu at https://www.thecorpsereviver.com/menu.
The bar team—all of whom receive a living wage and are eligible for subsidized healthcare and paid time-off benefits—are skilled at sharing their art, gin, cocktail education and cocktail recipes.  Before departing, guests can purchase Durham Distillery products – from the Conniption Gins, to the Conniption canned cocktails and their beloved Damn Fine Liqueurs. (Products may be purchased every day except Sunday when NC's ABC stores are closed.)
Originally Corpse Reviver had planned to open in the Spring of 2020. However, the pandemic justifiably delayed plans and required adjustments to ensure safety protocols. "Just as we have had strict safety measures in place while operating our distillery, we are also taking every precaution for the safety of our guests and our team in our cocktail bar—beginning with the new hospital-grade air filtration systems we've installed," said Lee Katrincic, co-founder and head distiller, who was among the first in the US to produce hand sanitizer in response to the pandemic and along with Melissa, was a leader on the national distillery task force in instructing other craft distilleries across the U.S on the production of hand sanitizer.
Corpse Reviver Bar & Lounge operates by reservation only through TOCK, requires every guest to sign a waiver affirming their health and contact information for contact tracing, requires a temperature check upon arrival, and masks when not seated.  Seating was designed with social distancing in place – both indoors and on the patio. Featuring both indoor and outdoor patio seating.
Corpse Reviver Bar & Lounge is open Thursdays from 4pm-9pm, Fridays and Saturdays 4pm-10pm, and Sundays 12noon – 6pm, and seating is available by reservation only for 90-minute intervals via TOCK. Reservations can be made via www.theCorpseReviver.com; @CorpseReviverCoctkailBar.
Reserve a seat now at Corpse Reviver Bar & Lounge and "Revive Your Spirit."