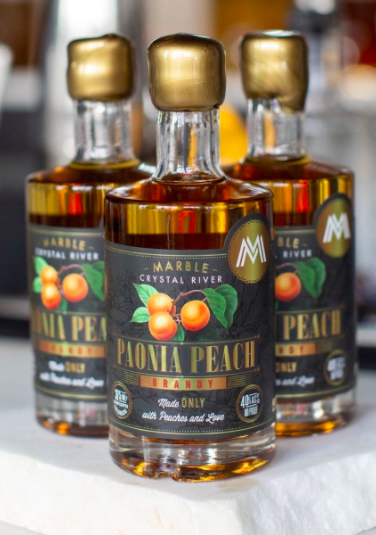 Marble Distilling Co. of Carbondale, Colorado, announces the release of Paonia Peach Brandy, its first peach brandy. The inaugural batch was created with hand-picked peaches from Riverside Orchards in Paonia and aged in third-generation American oak casks, formerly filled with Hoovers Revenge Bourbon and Marble's Gingercello Reserve for three years.
Head distiller and CEO Connie Baker, crafted this as a true labor of love, hand processing five 55-gallon drums of peaches and fermenting for nearly 30 days on champagne yeast. Distilled in a 250-gallon Vendome copper pot still, the brandy was aged three years in Marble's "volatile" rackhouse, where diurnal temperature swings range as much as 70 degrees, using only solar and greenhouse roofing to heat the building.
Marble has committed to being net zero electricity by 2022 and is currently 65% solar powered. The distillery and The Distillery Inn (onsite luxury boutique hotel) have a first-of-its-kind water and energy thermal system that saves more than 4 million gallons of water annually and harvests 1.8B BTUs of energy from the distillation process (20 homes worth of energy) that is used to heat and cool the 7,000-square-foot facility and pre-heat all domestic water and processes. To learn more about Marble's system and its whole systems approach partnering with Siemens, click here.
The brandy has been bottled at 80 proof, and with notes of vanilla and ginger, the silky mouth feel ends with a lite peppery spice. Only 486 375-mL bottles are available at the distillery's tasting room. Purchases can be made in person, over the phone (970-963-7008) or via email for curbside or pre-paid orders. Batched cocktails are also available in to-go 200-mL flasks. Marble's full line of spirits, Marble Vodka, Gingercello, Moonlight EXpresso and Hoovers Revenge Whiskies are available in the tasting room, Colorado liquor stores and online at shopmarblespirits.com with free shipping on three bottles or more.
The tasting room is open Tuesday to Sunday from 3 p.m.-8 p.m. (10 p.m. on weekends) with limited, socially distanced seating. Masked are required to enter. Reservations and private events available.