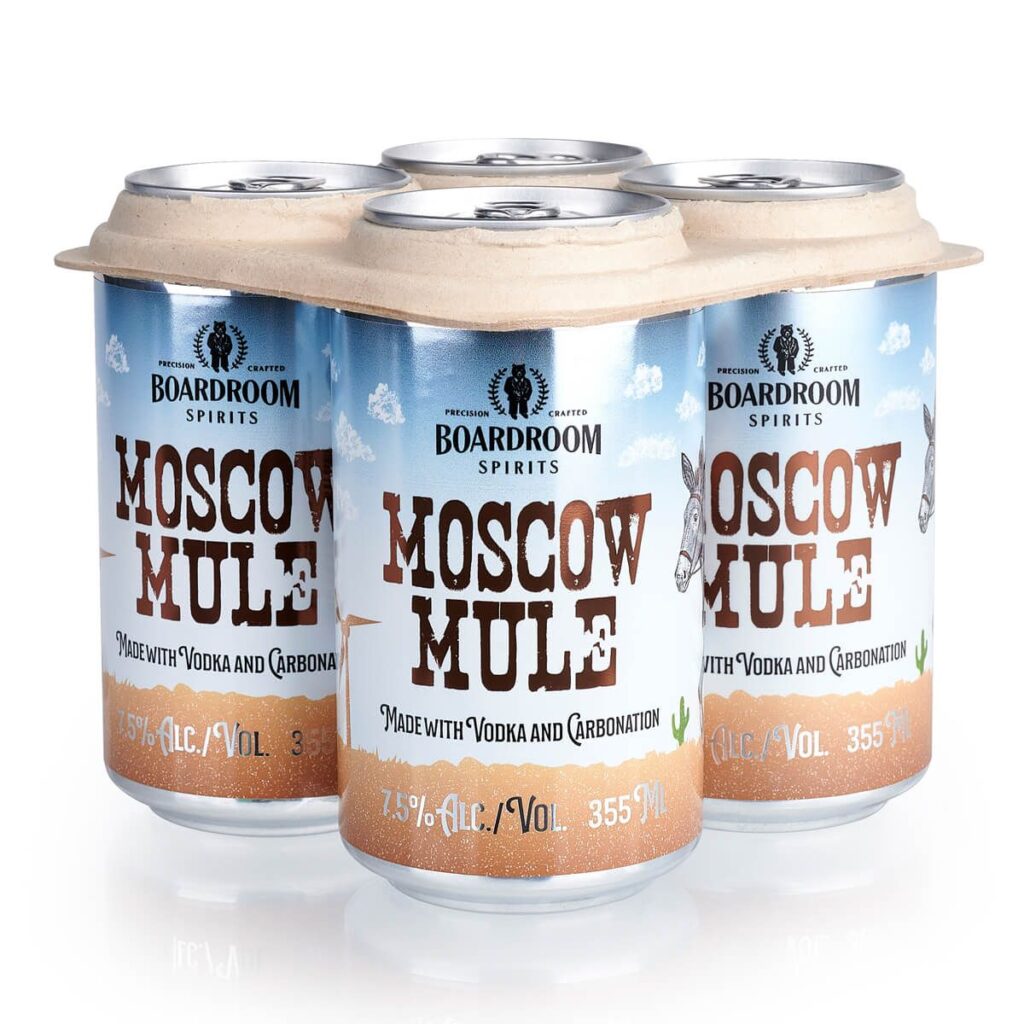 Boardroom Spirits of Lansdale, Pennsylvania, unveils its newest canned cocktail, a Moscow Mule [7.5% ABV], culminating in a month-long social campaign and giveaway to its burgeoning portfolio of premium craft distilled products. Its flavors, made with Boardroom Spirits' flagship premium vodka, include spicy ginger syrup, and lime. They use 100% all-natural ingredients and are sold in eco-friendly compostable packaging supportive of the environmental cornerstones of the distillery.  Sold in packs of four, the canned Moscow Mule is available on Boardroom's online store for pick-up, local delivery (including Philadelphia) and shipped throughout Pennsylvania.
The potent, portable, ready-to-drink canned cocktail retail for $14.99 are sold in packs of four 12-ounce cans (355 ml). Made with the distillery's GMO-free vodka and all-natural products, they also boast biodegradable packaging, promoting an environmentally friendly alternative to traditional packaging. Plastic rings can take as many as 450 years to decompose and serve as cruel traps for millions of unsuspecting marine wildlife such as seabirds and turtles. The decision to join the E6PR movement is part of the distillery's continued commitment to zero waste.
The distilling process is also one of the primary product differentiators, as it imparts a clean, pure, smooth spirit for which Boardroom Spirits has become successfully known. Their premium vodka is then combined with a perfect balance of citrus and spicy ginger to create a delicious and refreshing result.
"We've had so much fun throughout the entire process of bringing this new product to fruition and to the consumer market," said Mike Podlogar, director of RTD program for Boardroom Spirits, in a press release. "Every element right down to its packaging is both symbolic and supportive of what we do, how we do it, and what we care about most.  We sincerely hope our fans see and taste the passion put into and quality ingredients that went into making this delicious, refreshing canned cocktail."