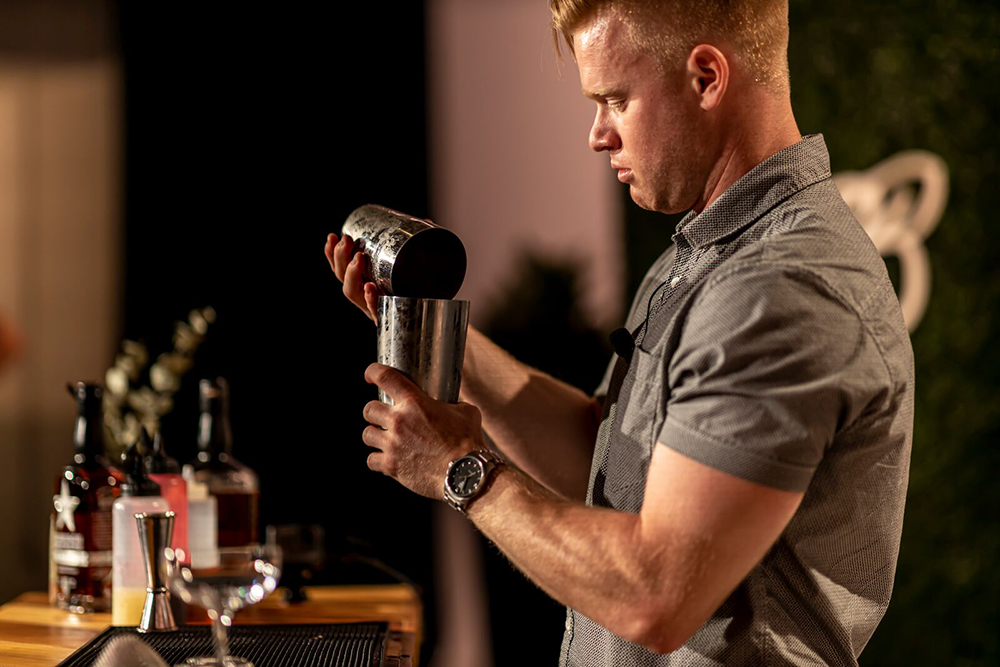 Garrison Brothers Distillery, established in 2006 as Texas' first legal bourbon distillery, and Texas Monthly, have announced the 2021 Bourbon Brawl Bartender of the Year: Josh Davey.
Davey has been bartending for only two years and currently works at The Blind Pig in Rancho Santa Margarita located in Orange County, California. Bourbon Brawl, an annual cocktail competition hosted for the last two years in Texas only, expanded in 2021 to include eight U.S cities; Austin/San Antonio, TX , Chicago, IL, Dallas/Fort Worth, TX, Houston, TX, New York, NY, Oakland, CA, Orange County, CA, Tampa, FL. While the competition was focused in eight (8) markets, all bartenders from across the United States were encouraged to enter.  
Davey's winning cocktail, the Texas Rose is his crafted and modern take on a whiskey sour. It's made using Garrison Brothers Small Batch, Amaro Montenegro, blackberry lemon cordial, lemon juice, and bergamot bitters. 2021 Bourbon Brawl partner, Cocktail Courier, will have the winning cocktail available in the 2021 Bourbon Brawl Kit. The kit is available for purchase through August 12th and ships nationwide. Texas Rose will also be featured on The Blind Pig cocktail menu for guests to come in and try for themselves.
"Possibly the most formidable field of cocktails and makers we've ever had in the Brawl. Certainly the most esteemed panel of judges, myself excluded. Josh Davey stole the show with his Texas Rose. Way to go West Coast," said Garrison Brothers founder, Dan Garrison, in a press release. 
The 2021 Bourbon Brawl finals hosted by Texas' own Daytripper PBS Show Host, Chet Garner, took place in Austin, Texas. This year's seven judges were; Garrison Brothers founder, Dan Garrison, Nathaniel Wilson II – Director of Spirits, The Berns Group (Tampa), Christian Orlando – Beverage Director, The Stand NYC (New York), Thomas Mizuno-Moore – Senior Beverage Manager, Lettuce Entertain You (Chicago), Anthony Cozeck IV – Bar Director, Comstock Saloon (San Francisco), Chris Gialanella -Group Publisher, Modern Luxury (Los Angeles), and Adam Robb- Journalist (New York, NY).
The eight finalists that competed in Austin were Katherine Parsons (Oakland, CA), David Leon Jr.(Chicago, IL), Josh Davey (Orange County, CA), Nicole Salicetti (New York, NY), Madeline Kaye (Tampa, FL), Malachi Boykin (Houston, TX, Chris Hazelwood, (Dallas/Ft. Worth, TX), and Kenny Daniels (Austin/San Antonio, TX). The finalists were judged on overall presentation, balance of flavors, aroma and character, use of Garrison Brothers Bourbon, creativity/use of limited ingredients, and story/thought process behind the cocktail.
"I feel so blessed to be a part of this competition and words can't describe how great it feels to win the 2021 Bourbon Brawl. Thank you, Garrison Brothers, for the opportunity. It's been so surreal I can't even describe it. This $10k is going to be immense in helping me pay for school, take a much-needed trip, and invest," adds Josh Davey, Winner, 2021 Bourbon Brawl. 
Josh Davey as 2021 Bourbon Brawl Bartender of the Year wins
• Cash prize of $10,000
• Single Barrel (15-gallon) for personal consumption only
• Judging position in the 2022 Bourbon Brawl Bartender Competition
Prizing and accommodations provided by Good Bourbon For A Good Cause.
Bourbon Brawl 2021 consisted of three phases:
Phase One: Online Submissions (May 3rd – June 11th, 2021)
Bartenders were asked to submit their unique cocktail recipes via ShakeStir hosted by Cocktail Courier. The
submission window was open for six (6) weeks, and bartenders were given a set of parameters to work
within. Semi-finalists were announced on Wednesday, June 16th, 2021.
Phase Two: Influencer Scouting (Semi-Finals, Week of June 21st, 2021)
Five (5) bartenders from each market advanced to the semi-finals round. Influencers from
each market acted as the judges. During this phase, the bartenders met the influencer at
a specified location for them to taste their cocktail and hear their story.
Finalists were announced on Wednesday, June 30th, 2021.
Phase Three: The Finals (June 30th – July 29th, 2021)
The Finals aired on Texas Monthly on July 29, 2021 at 7:30P CT. Once it aired, consumers also got a chance to weigh in on the vote that same evening. Kits of the winning cocktail from 2021 Bourbon Brawl Bartender of the Year are created by Cocktail Courier and sold nationwide until August 12, 2021 on their website.
"I wasn't a bourbon drinker until I read the top-ranking list in our Whiskey issue a couple of years ago, and after trying Garrison Brothers I quickly became one," says Caitlyn Perry, VP of Marketing & Communications for Texas Monthly. "Garrison Brothers is hands-down the finest bourbon in Texas, which means it's also the finest in the world. We were thrilled to work with them on sharing the gospel of Texas bourbon through the Bourbon Brawl cocktail competition."
Bourbon Brawl 2020 garnered millions of media impressions throughout the semi-finals and finals including local Texas broadcast coverage. There were over 85 bartender entries last year. A team of five bartenders from San Antonio won Bourbon Brawl 2020. The competition was adapted to a COVID-safe format through a partnership with Sourced: Craft Cocktails. Sourced packaged and delivered kits of all five team's cocktails to guests, which allowed them to participate in the final round by tuning-in, tasting each cocktail and casting their vote for the best. Twenty-five bartenders, five from Fort Worth, Dallas, San Antonio, Austin and Houston, were chosen to compete in the final round of the virtual competition. The San Antonio team took home a grand prize as well as the title of Bourbon Brawl 2020 Champions. The prize in 2020 and 2021 is provided by 501(c)3 public charity called Good Bourbon for a Good Cause, founded by the Garrison Family and their staff in 2018.
Bourbon Brawl is an annual competition that was created by Garrison Brothers in 2019 to connect and cultivate community within the hospitality industry as well as reward and amplify the talented creatives within craft cocktails world. Garrison Brothers is sold throughout the Continental U.S and across the world in seven other countries including Japan and Canada. For more information on Garrison Brothers and to shop online, go to www.garrisonbros.com
For the competition's complete rules and regulations, go to www.texasmonthly.com/bourbonbrawl.