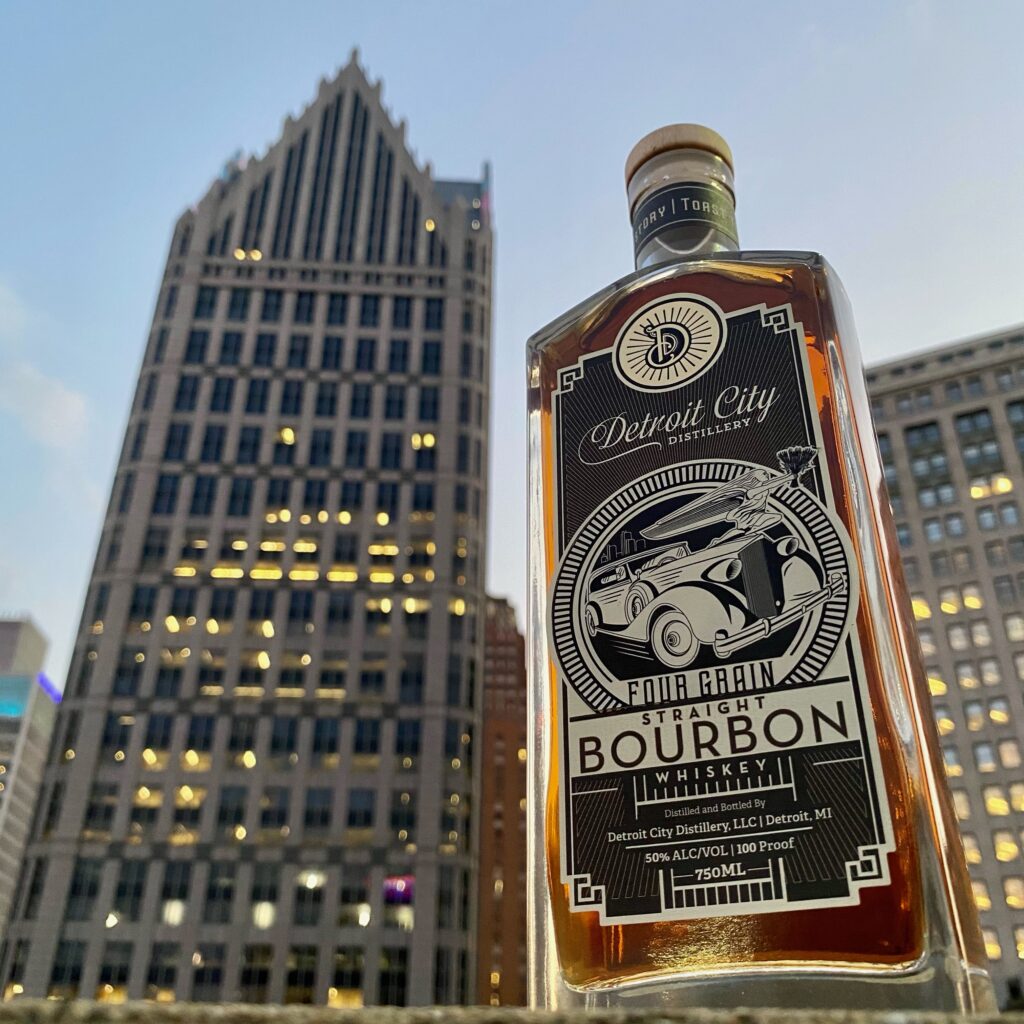 Detroit City Distillery (DCD) is launching a new bourbon to join its permanent lineup of award-winning whiskies: Four Grain Straight Bourbon. DCD will host a special Bourbon ReleaseParty on Friday at Detroit City Distillery's Tasting Room on Riopelle Street in Eastern Market from 4 – 12 PM. Whiskey fanatics and bourbon connoisseurs can purchase bottles from the first batch, sample whiskey flights and bourbon cocktails, and try to score the first limited-edition bottle from DCD's special Four Grain Bourbon Single Barrel Series.
In celebration of this new bourbon, DCD double barrel aged its Four Grain Bourbon in maple, wine, cognac barrels. On the first Friday of each month, DCD will host a single barrel release party at their Tasting Room where customers can buy these rare bottles. Fewer than 250 bottles will be available for each release. Single barrel releases are first-come, first-serve, starting at 6 PM for in-person sales only on September 3 (maple), October 1 (wine) and November 5 (cognac), respectively. Limit of two bottles per person. Statewide distribution of Four Grain Straight Bourbon starts October 1.
"It's a special moment when you bring a new bourbon into the family," said Michael Forsyth, co-owner, in a press release. "When you make whiskey from scratch, you're working on it for years before you get to share it with the world. The addition of Four Grain Straight Bourbon represents everything we love about making whiskey – sourcing the finest Michigan grain, making whiskey inside a historic building that was once home to Goebel's and Stroh's, and creating a label that screams this is Detroit whiskey, and we're damn proud of it. Our Four Grain Straight Bourbon represents the best of the farm and the city, and that's really what we're all about."
How it's Made
Four Grain Straight Bourbon is made from four different Michigan grains with a mash bill is 57 percent corn, 19 percent rye, 12 percent red winter wheat, and 12 percent malted barley. This bold, smooth sipping bourbon has a sweet autumn nose of green apple, caramel, and wheat. The corn and big barley bill come together to produce a silky body with notes of browned butter, walnuts and fig. It finishes with our signature rye spice with notes of pistachio, burnt orange peel, and cinnamon. It's aged for a minimum of two years in new white American oak barrels and bottled at 100 proof.
Four Grain Bourbon adds a new bourbon to Detroit City Distillery's family of award-winning whiskies. Homegrown Rye Whiskey won double gold at the World Spirits Competition in 2020 and Butcher's Cut Bourbon won best young bourbon in America at the American Distilling Institute Craft Spirits Competition in Lousiville.
"It's a great compliment to our award-winning whiskies that brings a new flavor profile to the table. Our Butcher's Cut Bourbon (68% corn, 27% rye, 5% malted barley) and our Homegrown Rye (97% rye, 3% malted barley) were both made to be spicy and dry, where Michigan rye really shines. Four Grain highlights Michigan wheat and our creative use of barley malts, which produces a sweeter, silky smooth body that is loaded will fall flavor," adds Forsyth.
How to Buy
Four Grain Straight Bourbon bottles are $55 each and available for purchase at DCD's Tasting Room at 2462 Riopelle Street in Detroit's Eastern Market or online at detroitcitydistillery.com. Four Grain Straight Bourbon will be available at liquor stores in October. Customers must be 21 and over to buy alcohol.