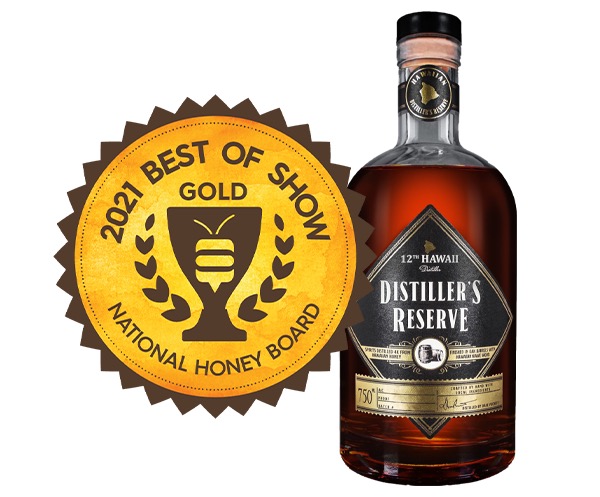 A whiskey spirit distilled four times with Hawaiian honey and whiskey yeast won Best in Show honors at the National Honey Board's fourth annual Honey Spirits Competition. The Kailua-Kona, HI-based 12th Hawaii Distiller was one of more than 70 entrants into the annual competition that recognizes the best spirits in the United States that use honey either as a sweetener, flavor or distillate. 
This was the first year a spirit in the "Distilled from Honey" category took home Best in Show honors. This emerging category of distilled spirits uses honey as its sole distillate.
This year's competition featured 10 gold medal winners, in addition to 43 spirits that took home silver and bronze medals. An expert panel of judges evaluated the submitted spirits on their appearance, nose, palate and the role honey played in the spirit.
"The Honey Spirits Competition is the culmination of planning, organizing and making connections with distilleries all across the country," said Catherine Barry, National Honey Board's director of marketing, in a press release. "After meticulously tasting made-with-honey spirits entered, judges also noted how great of an example honey is in the particular category. From aromas, to color, to flavors, to the presence of honey in the spirit — all are important components of judging and critical in our esteemed medalists."
The Gold Medal winners of the 2021 Honey Spirits Competition:
Best in Show, Spirits Distilled from Honey: 12th Hawaii Distiller Distillers Reserve — 12th Hawaii Distiller, Kailua Kona, Hawaii
Vodka: Glass Distillery, Glass Nectar Vodka, Seattle, Washington
Vodka: Caledonia Spirits, Barr Hill Vodka, Montpelier, Vermont
Vodka: Loggerhead Distillery, Orange Blossom Sweet Tea Vodka, Sanford, Florida
Moonshine: Castle Spirits Distillery, Castle Honey, Oklahoma City, Oklahoma
Honey Liqueurs/Specialty Spirits: Mountain State Spirits, Hazelnut Honey Bourbon Ratafia, Bristol, West Virginia
Honey Liqueurs/Specialty Spirits: Honey House Distillery, Cold Brew Coffee Liqueur,Durango, Colorado
Bourbon/Whiskey: Hatch Distilling Co., Honey Barrel Bourbon, Egg Harbor, Wisconsin
Bourbon/Whiskey: Golden Beaver Distillery: Honey Run, Chico, California
Bourbon/Whiskey: Manatawny Still Works, Honey Whiskey with Natural Flavor, Pottstown, Pennsylvania
For a full list of winners, more information and pictures, please go to honeyspiritscompetition.com/2021-awards.
The National Honey Board (NHB) is an industry-funded agriculture promotion group that works to educate consumers about the benefits and uses for honey and honey products through research, marketing and promotional programs. The Board's work, funded by an assessment on domestic and imported honey, is designed to increase the awareness and usage of honey by consumers, the foodservice industry and food manufacturers. The 10-member-Board, appointed by the U.S. Secretary of Agriculture, represents producers (beekeepers), packers, importers and a marketing cooperative.