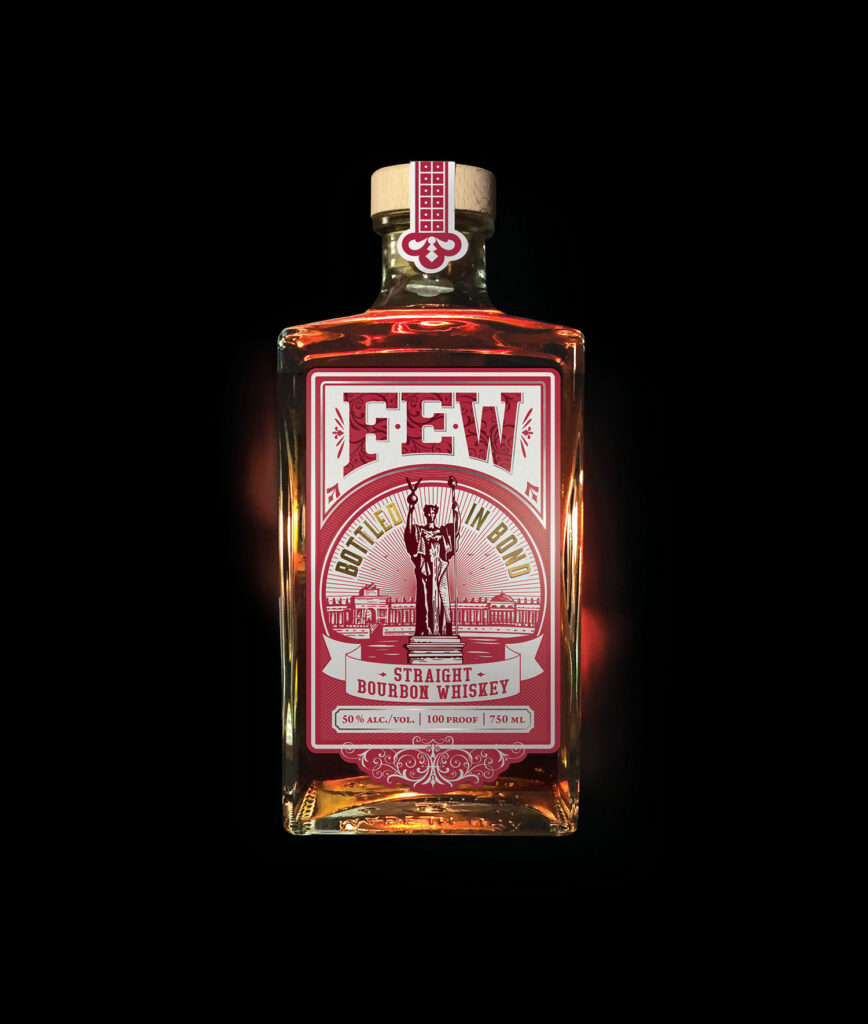 FEW Spirits of Evanston, Illinois, introduces FEW Bottled In Bond Bourbon Whiskey, a four-year-old, one-of-a-kind bourbon created in accordance with the Bottled In Bond Act of 1897. The product will hit shelves in key markets and through a direct-to-consumer channel in November with plans to expand in 2022 and beyond.

The product is being introduced in celebration of the brand's 10th anniversary and as a look forward to 2022, which marks the 125th anniversary of the passage of the Bottled In Bond Act.

Said FEW Spirits founder Paul Hletko in a press release, "FEW Bottled In Bond Straight Bourbon Whiskey is a nod to the inspiration we pull from the past, but also an indication of what's to come. We've expanded our facilities and laid down thousands of barrels of aging whiskey stock for decades to come. Moving into 2022, all FEW Whiskey that comes to market will be aged at least four years and the distillery will continue to release bottled in bond products as well as new, innovative, and sometimes quirky releases that reflect the DNA of FEW Spirits. We will continue to focus first and foremost on releasing the highest caliber whiskeys with world-class credentials that our consumers expect from us."  

FEW Bottled In Bond Straight Bourbon Whiskey by the numbers:
2000 initial cases
750 ml bottles
Bottled at 100 proof/50% ABV
Mashbill: 70% Corn, 20% Rye, 10% Malted Barley
Aged in Minnesota oak barrels for min of 4 years
Initial availability: NY, IL, CA, FL, CO, and the direct to consumer channel at BuyFEWspirits.com
SRP: $50
What does "Bottled In Bond" mean?
Bottled in bond is a label for an American-made distilled beverage, usually whiskey, that has been aged and bottled according to a set of legal regulations contained in the US government's Standards of Identity for Distilled Spirits. It was put in place as a government-backed guarantee of a product's quality and authenticity at a time when adulteration of spirits was relatively common.

To be labeled as bottled in bond or bonded:
The spirit must be the product of one distillation season by one distiller at one distillery.
It must have been aged in a federally bonded warehouse under US government supervision for at least four years and bottled at 100 (US) proof (50% alcohol by volume).
The bottled product's label must identify the distillery where it was distilled and, if different, where it was bottled.
Only spirits produced in the United States may be designated as bonded.
Hletko continued, "FEW Spirits is built on defiance and an outright refusal to accept the status quo that started when we chose to build our business in the home of Prohibition. From proofing spirits with cold brew to experimenting with oolong tea and collaborating with rock bands before it was de rigueur, we've celebrated the past while embracing the spirit of innovation and new ways of thinking and doing things."