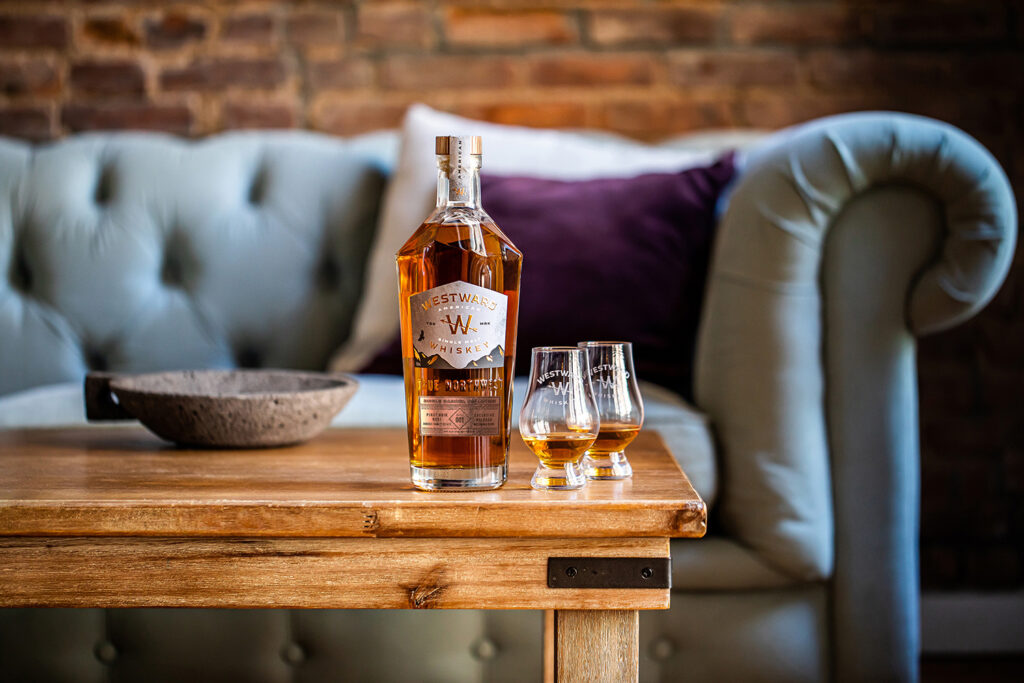 This week, Westward Whiskey of Portland, Oregon, proudly announces its first national Westward Whiskey Club release, Westward American Single Malt x Dobbes Family Estate Pinot Noir Rosé. This seasonal offering, an American Single Malt aged in tequila casks that most recently held Pinot Noir Dessert Rosé from Oregon's innovative Dobbes Family Estate, is exclusive to the Westward Whiskey Club, a distiller-owned national direct-to-consumer whiskey club, with shipping to nearly 30 states around the country.
This special whiskey selection pays homage to the collaborative culture of Westward's home in the American Northwest, the incredible winemaking talent found nearby in the Willamette Valley, and the whiskey maker's ongoing commitment to experimentation. Finished in Pinot Noir dessert wine casks, this fruity and festive whiskey perfectly complements Westward's bold, robust flavors and the careful and creative finesse of our whiskey making talent. Bottled at 90 proof and priced at $89.95 for 750ml, the release is available for pre-order until Nov. 11 at westwardwhiskey.com. 
"Dobbes Family Estate is a renowned producer whose winemaking ethos is 'unbound by convention,' a notion that resonates deeply with the team at Westward, who has proudly reimagined what a Single Malt can be," said Thomas Mooney, founder and CEO of Westward Whiskey, in a press release. "In our ongoing effort to celebrate the flavors of Oregon while producing world-class results, we naturally turned to our friends at Dobbes, whose fortified wine casks have yielded incredible flavors in our whiskey."
Tasting Notes
Aroma: Black cherry, salted plum candy, strawberry jam, red currants, vanilla cream
Palate: Dark ripe fruit, soft pepper, herbaceous grain, caramel, berry jam, light baking spice Finish: Caramelized sugar, cedar, light salinity, raspberry, apple tart, slight mint
The Westward Whiskey Club
Launched in 2019 and previously available exclusively in Oregon, the home of Westward Whiskey, the Club reaches consumers in nearly 30 states — by far the largest and most national reach from any whiskey distillery. Members are granted exclusive access to club-only whiskey releases, club-only events led by Westward's team of experts, and fellowship with others who celebrate American whiskey innovation.
Members can choose from two different tiers: Expedition Club and Founder's Club. Expedition Club members will receive one bottle of whiskey in Westward's four yearly Club releases (approx. $90 quarterly), and Founder's Club members will enjoy three bottles each quarter (approx. $270 quarterly). Shipping is available to nearly 30 states, reaching more than 70% of the U.S. population, according to the 2019 U.S. Census Bureau.
Other membership perks include The Westward Experience, a distillery tour and tasting offering an in-depth look into Westward's four-step production process of brewing, distillation, maturation and mingling and a guided tasting featuring several expressions of the brand's award-winning American single malt whiskies. Westward Whiskey Club members are also eligible to participate in exclusive custom mingle sessions hosted at the distillery, where they can purchase an entire batch of their very own whiskey blends. Expedition and Founder's Club members receive exclusive distillery access to taste and purchase archived whiskey, rare whiskey the company has laid down in its vault from previous years.
For more information, visit WestwardWhiskey.com and follow @westwardwhiskey on Facebook and Instagram.